How much is a good night's sleep worth? More importantly, have you ever wondered how many years you'll spend laying in bed over the course of your lifetime? Is there bedding for athletes that can actually promote recovery?
Here's our picks for great bedding for athletes:
Best Mattress For Athletes
Knock, Knock goes the UPS driver and alas my new bed has arrived. However, one thing has me a bit concerned though, the box is the size of a water heater if not smaller?
How on earth is a performance bed hiding inside this tiny box and a Queen size at that? I dragged the box upstairs (best with 2 people) and then started the unpacking.
Once out of the cardboard I got my first look at the "mattress' that had been rolled up into a tight package, just like how you would roll a sleeping bag for a camping trip.
I cut the plastic away from the Nolah Mattress and instantly, almost magically the bed started to take shape.
Within a few minutes, the form was there and I thought how on earth did this bed go from being stuffed inside a cardboard box to a 3 layer foam bed this quickly. More importantly was it actually going to be comfortable?
Perhaps you've heard of memory foam before or maybe pressure relief bedding however the Nolah Mattress company has taken comfort a step farther with the introduction of the Nolah AirFoam™.
Each Nolah mattress is designed to offer maximized cooling and pressure relief that sleeps cooler than memory foam with decreased pressure transfer from the mattress through your back, shoulders, and hips.
Honestly, everyone should try one of these beds and I'm not saying that because they sent me one to test, instead I want to talk about how much my life and sleep cycles have changed for the better since unpacking my Nola Mattress.
Let's just say the first few times you sink into a Nolah bed, with its unique memory foam density it simply is heavenly, a feeling that I can guarantee you have never experienced with another bed before.
Nolah is the gift that keeps on giving as not only is the bed super comfortable and supportive it's actually working directly with your body to find YOUR perfect nights sleep.
Over the past few months, my entire sleep patterns have changed for the better.
* I'm actually sleeping in long blocks throughout the night. In the past, I would wake up a half dozen times or more. Now I'm sleeping much better and only waking up a couple of times a night. (usually to eat and pee)
* I have stopped waking up with a sore back thanks to my Nolah Mattress, and actually as I type this and think about the old bed I had been using, there's no amount of money you could pay me to go back to a traditional worn out mattress.
* I wake up feeling refreshed.
It takes me all of a half a second to drift off to sleep on a Nolah Mattress, there is no more tossing and turning trying to find that "sweet spot" on the bed, its exactly where you are, however, you're positioned it's always the perfect night's sleep. That's what makes these mattresses so incredibly unique.
I was introduced to Nolah via the companies commitment to protecting wildlife. You may be thinking what?
Nolah has teamed up with Defenders of Wildlife to adopt an animal for every Nolah mattress sold. When you buy a mattress you'll receive an official adoption certificate for your chosen animal, I picked the wolf and have my certificate proudly displayed on the refrigerator.
Talk about giving back and feeling good while getting a great nights sleep. Win-win.
How does free shipping sound to have the mattress delivered to your home?
Or what about a 120 day trial period?
Nolah is onto something here…
They will send you a bed, and if you don't like it return it and get your money back. The catch is you're going to LOVE this bed and it won't ever be returned. Most likely the companies return rate is slim to none.
These mattresses are designed for side sleepers and for people that run hot. So if you always sleep on your back the mattress may feel a little soft.
I have yet to experience the sleeping on the mattress when temperatures are below freezing outside, however on hot days and nights the cooling comfort that mattress offers = a really restful sleep without much moving around.
Nolah Mattress Pricing Delivered
The mattress ranges in size and price:
Twin – $519
Full – $749
Queen – $849
King – $949
California King – $949
$75.00 OFF COUPON CODE – MOUNTAIN
https://www.nolahmattress.com/pages/our-mattress
Performance Sheets
Now that your performance mattress has been dialed in its time to talk about sheets, performance sheets specifically. The days of heading to your local big box store to pick up quality sheets are long gone, especially for anyone that values a good nights sleep.
While researching performance sheet manufactures two brands jumped out from the competition, SHEEX, and SOL Organics.
Why are performance sheets important? Or better yet why can't I just order a set of 1,000 thread count sheets and call it a done deal?
It turns out when you buy sheets with a higher thread count they actually trap more heat. Marketing and gimmicks aside the perfect thread count are actually right around 300 with a max at 370.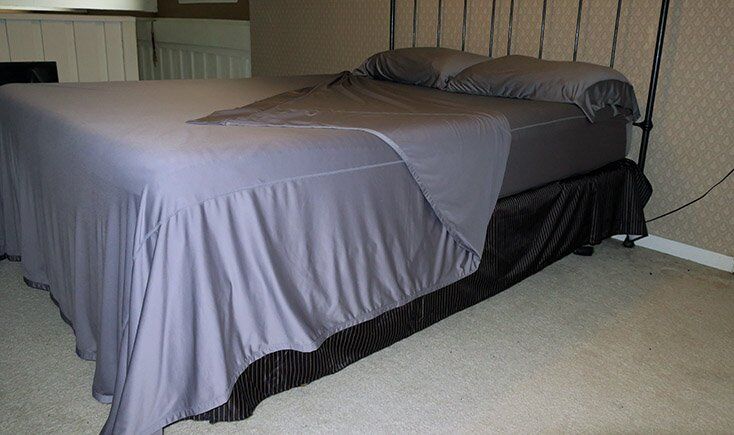 Have you ever heard of Under Armour before? We've revived a bunch of there gear in the past so when a box of SHEEX Performance Sheets arrived at the office something looked and felt very familiar with the material.
It turns out SHEEX founders Michelle Brooke-Marciniak and Susan Walvius were working as basketball coaches at the University of South Carolina when a brilliant idea came to mind. Why not make a set of sheets that felt like their teams favorite comfortable, breathable, loose-fitting athletic workout clothing.
And with that SHEEX was born.
SHEEX is based in South Carolina, so for a brand to be making sheets in a very humid part of the country they better work wonders, and they do. Sleeping on a set of SHEEX Performance Sheets is unlike any sleep experience I have ever experienced and here's why:
The silky feeling these sheets offer makes me want to spend more time in bed. Remember when you were a kid and you had a favorite blanky, well that's how I feel about these sheets. They offer just enough warmth, just enough cooling, and are just about perfect.
Another really cool feature of these sheets is how they look out of the washer/dryer. 100% perfect and ready to be draped across your bed. I used the word draped as I have yet to tuck the top sheet in, it looks amazing hanging off the bed and comes out wrinkle free every single time.
The only problem I had with these sheets came for user error. Turns out grapeseed oil works amazing for massages, however not so amazing on polyester – spandex sheets.
How much do SHEEX Cost?
Twin – $159
Full – $169
Queen – $179
King – $199
Split King – $229
Have you ever dreamed of what it would be like to sleep in a private cabana overlooking the ocean on a small island in the South Pacific? Or perhaps you have spent time at a luxurious resort in a warm locale and experience the benefits of organic cotton sheets.
Now you can bring that magic home with you via a set of SOL Organics Hemmed sheets.
Some sheets feel perfectly soft out of the box, however after time and a few wash cycles they can lose that soft feel. SOL sheets is actually the other way around when I first got the sheets to test I was told to run them through the washer and dryer a few times.
After a few times washing and drying the Hemmed Sheets they were ready to be put on the bed. The pure cotton organic material and feeling was very noticeable from the first second I crawled into these sheets, and surprisingly the wrinkles had all but dispersed making for a very smooth sleeping surface.
SOL stands for Sustained Organic Living, and the company actually stands behind their name. SOL Organics uses Fair Trade Certified organic cotton, non-GMO seeds and donated $7.50 from every sheet set sold to the charity you nominate. These are the best organic sheets on the market today.
Clearly, the company has a positive message and is giving back. However, I wouldn't buy anything on that alone.
SOL Organics Hemmed Sheets would be the best fit for someone living in a warm climate. Better yet if you own a hotel, luxury resort or just want to pamper anyone staying in your guest room, a set of SOL Organics Sheets are a must have.
These sheets are some of the best value that money can buy. My advice is to order a second set so you can always have fresh cool sheets available.
SOL Organics Sheets Pricing
Twin – $109
Full – $149
Queen – $159
King – $169
CA King – $179
Hopefully, this article has shown you why performance bedding for athletes works. Bedding is easily one of the most overlooked tools in our mountain adventure, beach surf lifestyle quiver. If you play hard, you should sleep well and allow your body the time it needs to heal and recover while you dream up your next adventures or re-live the days highlight real in your mind.
Nolah Mattress, SHEEX Performance Sheets and SOL Organics all provided beds and bedding for this article. I use them daily!!
Slumber Cloud Sheets
Never underestimate the power of a good night's sleep. If you want to get the best rest you've ever had, wrap your bed in Stratus Sheets. This Slumber Cloud sheet set features an ultra-soft 350 thread count and the breathability of an Outlast®/cotton blend. Outlast technology was designed to automatically absorb body heat and so these sheets are never too warm or too cold. You will always have the right temperature under the covers. Just imagine never spending a cold, or sweaty night in the sack again.
A Good Nights Sleep
REM cycles occur in a burst of 90-120 minutes throughout the night, which accounts for about 25% of total sleep time in adult humans.
Do you fit into any of these categories when trying to get to sleep?
I try to force myself to sleep.
Take sleeping pills.
Drink alcohol.
Work-out.
Do something relaxing like reading.
Work or surf the internet.
Ask yourself a few of the following questions and if the answer is Yes, you most likely will benefit from a bed designed for athletes:
Do you like to sleep on your side?
Do you have a bad back?
Does your mattress sag?
Have you rented a furnished place in a ski town with a bed already in place?