JACKSON, WYO – I wanted to share some of the recent rental home and condos available in our community. The housing market in this area is no longer geared toward the local workforce. These rents reflect a new group of people moving to the mountains, ones that can easily telecommute earning big city wages while living in a ski town.
4 Bedroom Home for $9,800 a month

Let me just start off by saying you will need around $30,000 USD to move in. If you are still reading, this home sits on seven acres where you can easily enjoys privacy and beautiful surroundings – I can attest to this as I run by this house daily and was in awe to see it listed on the rental market. Best of all we would be neighbors.
4 Bedroom Home for $20,000 a month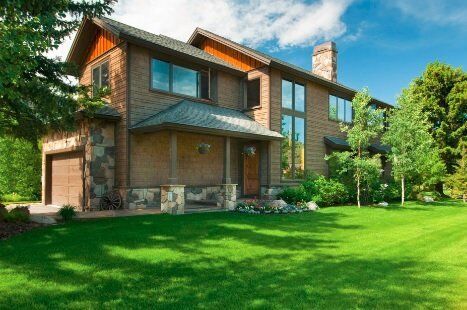 I have no clue why anyone would want to spend this sort of money to live in a "rental home" however this is Jackson so.. This exquisite home is conveniently located in downtown Jackson Hole. Three blocks away from the Famous Town Square is even listed as being on the bus route, however one would think that someone dropping $20k on a rental would have some sweet cars to put in said garage.
Studio Apartment for $1260 a month

If you don't own too many toys (how could you with these rental prices) a Studio apartment at the Aspens may just be right for you. The Price/Square foot on this rental is $33.60, its still lower than Manhattan however way above the average rental price $1.00 per square foot in the United States. Even with the studio being *small still count on a few hundred in utilities each month.
1 Bedroom Condo for $3,000 a month

This Picturesque Log Condo Located in the Heart of Jackson Hole can be yours for only $3k a month. It does come with free Internet and DirecTv, Trash, water and electric are included as well – gee thanks. Now don't get me wrong the location of this condo rocks and it's log so you can now actually claim to your friends that you live in a cabin in Jackson Hole.
2 Bedroom Home for $3,200 a month

Let me be fully honest, I have been ogling over this house for months since I first saw it on Craigslist Incredible 360 Degree views of Grand Teton, Sleeping Indian, Glory Bowl, and Wilson Faces. One thing that caught my eye was the double fireplaces in the living room, (it gets cold in Jackson) plus the house features a 2 car attached garage. Now depending on what year this home was build, heating such a place could get costly, even with wood.
When looking through the list of rentals for this piece I couldn't help but notice how many people are in NEED of rental homes by the plethora of wanted ads displayed. And just like other parts of the world we have homes sitting empty and people in need of places to live, makes sense right?