Wanna help indigenous communities living without running water or electricity we pass on our treks decked out in gear worth more than their biannual income? Or how about fighting the rash of attacks currently being levied on our environment by politicians, corporate greed-mongers and nihilist consumers? What about just helping disadvantaged kids find the strength and sublime goodness we've all discovered by playing in nature (in most cases only because we were upper middle class or above)? Yeah, of course, you do.
So here are five action athletes whose foundations are making the world a better place, and five foundations tied to our love of adventure in the natural world that will take your money and clean oceans, extend winters, save our public lands, extol salvation, give the underprivileged an outlet and basically ensure our world and our passions will last long beyond ourselves. This is by no means a comprehensive list but rather a few ideas championed by rad athletes and supporting rad causes that inspire us.
ALEX HONNOLD – THE HONNOLD FOUNDATION
"Free Solo" has taken in more than $10M at the box office, an unheard-of number for any documentary, much less a climbing flick. That makes Alex Honnold officially the first mainstream rock star of the climbing world (no insult meant to Lynn Hill, Yvon Chouinard, Edmund Hillary, etc… but c'mon). And I hate to lead with the foundation I find the most novel but his idea is to provide tech, specifically solar, to poor people around the world who don't have energy. Think of how distraught you feel when the power goes out for a couple hours. Some people live like that permanently — no access to light, to our electrically-pumped water, to the endless font of knowledge found online, to communication. Gives them a great disadvantage in our world and yet we walk right past them with our sat phones and GoalZero rechargers. Honnold wants to fix that.  http://www.honnoldfoundation.org
JEREMY JONES – PROTECT OUR WINTERS
Jeremy Jones is the guy people love to hate; it's almost part of the transformation to being a "core" split mountaineer that you hate on J Jones. He's corporate; he's not a "real" mountaineer; he doesn't ice climb and when he shreds, he doesn't even do airs. But lets look at facts: He's one of the pioneers of big mountain riding (pretty sure he got big mountain rider of the year for, like, every year in the 90s and early 2000s while all the others were jibbing); he single-handedly introduce a wide swathe, including likely you, to splitboarding; he could also be considered a pioneer of winter sports athlete philanthropy. He's gone to D.C. to talk about climate change while putting his money and time into fighting global warming with the foundation he started, POW ("Protect Our Winters"), not to mention the example he's set for dozens of up-and-comers as to what's possible shooting videos without those costly and environmentally-rough heli trips. I once heard Jones talk about how deep the snow was he used to see in old paintings of Boston, and how he didn't understand why it wasn't like that when he was a kid. As the temps' rise and more and more ski resorts are threatened with obsolescence, POW couldn't be more important for those of us who suffer from mad pow disease. https://protectourwinters.org
ROB DYRDEK – SLS FOUNDATION
Okay, Rob Dyrdek didn't found the SLS Foundation. He founded the Rob Dyrdek Foundation, which merged with the SLS Foundation to give an outlet for urban kids all around the world. In many communities, especially urban communities, kids don't have a ton of positive outlets. The stereotypical neighborhood playground for the cities are basketball courts. But kids from L.A. to Rio di Janeiro might want other options. Those more into individualism and self-expression especially can find an outlet in skating (and while we 're mountain based and play in dirt and snow, our loves are firmly grounded in water and concrete). The SLS Foundation, while a product of Street League Skateboarding, really became what it is now when it took over the one founded by Rob Dyrdek (you might remember him from "Rob and Big," but he also was central to blowing up Alien Workshop and DC Shoes). The idea of creating urban skateparks has added outlets and opportunities to struggling communities all over the world and even if we live in the mountains, that's something we can get behind. http://streetleaguefoundation.org/get-involved/
EXTRA CREDIT: If you like the idea of kids from disadvantaged communities breaking the cycle thanks to the beauty of skateboarding, there's also the https://tonyhawkfoundation.org. And https://www.stoked.org , co-founded by Sal Masekela. And if you're obstinate about snow, there's Burton's Chill Foundation [https://www.chill.org/ ]
LINDSEY VONN – THE LINDSEY VONN FOUNDATION
Action sports have for too long been all about the bros. There are few pursuits better at fostering strength, independence, self-reliance, focus, and determination than mountain and action sports so it's a damn shame how men outnumber women when it comes to publicity and attention, evidenced on a palpable level by the number of women who move to ski towns (and that's not just because it's hard for a bro to find that special someone). Strong women bring so much to the table and in many instances, female athletes like Kit Deslauriers [https://kitdeslauriers.com/ ], tick off firsts for all of humanity regardless of gender (and yet how many of you have heard of Kit Deslauriers? Exactly). Lindsey Vonn knows how action sports can empower women in their march to topple the patriarchy, being the winningest downhill and super-G ski racer (of any gender) ever and, incidentally, a woman. So her foundation encourages, strengthens, and supports young women, especially through the sport that has given her so much, skiing. Or as the org so eloquently puts it, their goal is "Providing scholarships and programming for education, sports, and enrichment programs to give future generations the tools they need to reach their goals and discover their grit within." Because there's no reason why women shouldn't be charging as hard as and harder than any bro out there, whether in the snow, in the lab, or in the corner office. https://www.lindseyvonnfoundation.org/
YVON CHOUINARD – 1% FOR THE PLANET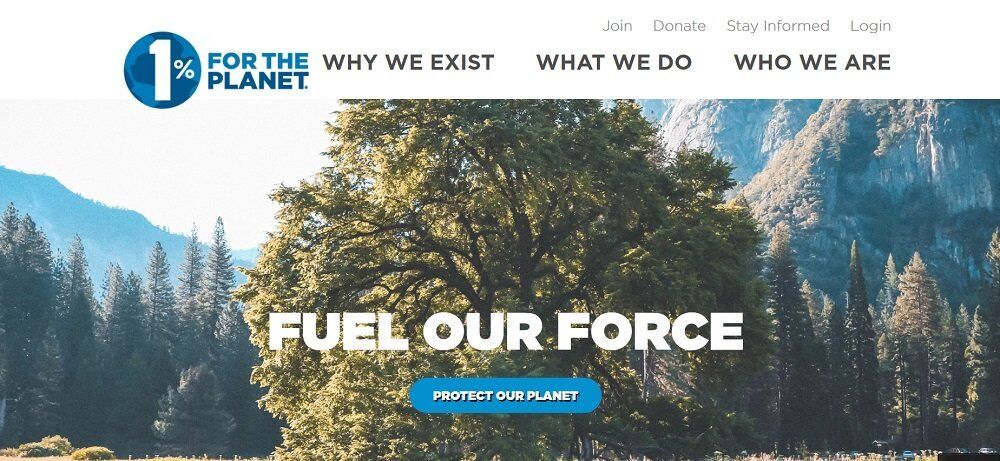 Yvon Chouinard is basically just a better person than you. He was really one of the first great American climbing dirtbags who, when not ticking off Yosemite/Teton/South American first ascents, was inventing the tools and gear necessary to evolve climbing and then accidentally founded arguably the best outdoors company in Patagonia (and if you include Black Diamond, spun off of Chouinard Tools, there really is no argument). But he also founded 1% for the Planet with Craig Matthews which encourages companies to give 1% of their profits to benefit environmental funds. "Patagonia is an experiment, an attempt to prove that being ecologically responsible works," Chouinard claims. And Patagonia, both under his leadership and simply inspired by it, has campaigned tirelessly to get people to recycle instead of buy gear, to push for more worker-conscious and environment friendly manufacturing, and even this year the company is donating its $10-million-dollar Trump tax cut to the environment [https://www.forbes.com/sites/angelauyeung/2018/11/29/patagonias-billionaire-founder-to-give-away-the-millions-his-company-saved-thanks-to-tax-cuts/]. You'll be hard-pressed to find an environmentalist who more literally puts his money where his mouth is. If you don't have a company worth billions that could benefit the world like Yvon, that's okay; you can just donate some cashish to his baby 1% for the Planet. https://www.onepercentfortheplanet.org/
4OCEAN – BECAUSE PLASTIC WILL SOON OUTWEIGH FISH IN OUR OCEANS
A while ago I wrote about our world's big problem with plastic [https://mtnweekly.com/mountain-lifestyle/greenwashing-over-our-plastic-pollution-epidemic/ ]. Since then I've been struggling to cut plastic out of my life (good luck buying dish soap or, like, lunch meat) and raise awareness. The thing is, remote mountain towns aren't the frontlines for the war against plastic; those frontlines are in our seas, where plastic islands the size of US states are threatening to kill marine life. The problem keeps growing thanks to everything from our love for cheap plastic junk made in Asian nations with few regulations to our high-end ocean vacations (check out Alison Teal's photo shoot at the Maldives' rubbish island [https://www.adventuresportsnetwork.com/lifestyle/culture/naked-afraid-contestant-fights-plastic-waste/]). 4Ocean, founded by a couple surfers, is leading the charge to pull plastic out of the water and off our beaches. And as an added benefit, when you donate not only do you get the satisfaction of telling somebody they made the world a better place, you get a little bracelet so the gift box isn't empty. http://www.4ocean.com
AMERICAN RIVERS – BECAUSE YOU CAN'T DRINK SLUDGE OR KAYAK DRY CREEKBEDS
Founded in the 70s by a group of concerned boaters, conservationists, and sportspeople in response to the golden age of dam building (when our government thought it would be noble to tame every river possible) their central goal was originally to keep rivers wild. Wild rivers are fun to kayak and canoe; they're fun to fish and hunt alongside; they're also just pretty. Since then, hydroelectric dams have become one of our lesser problems, especially as the EPA's soulless big coal shill Andrew Wheeler strives to turn our rivers into transcontinental sewage drains. And then there's the basic fact that even if it's not toxic sludge, whatever trash we throw in our rivers usually ends up in the ocean, which already has its own problems. So if you like playing on, in, or next to rivers — or just like clean drinking water — this brainchild of a couple of river rats could use your help. https://www.americanrivers.org/
SIERRA CLUB – BECAUSE YOU WANT TO BE PART OF A LONG AND STORIED HISTORY OF FIGHTING THE MACHINE
John Muir, the godfather of all conservation efforts, first founded the Sierra Club in 1892 in an effort to foster love of public lands through adventure. But it wasn't until the 60s when America's environmental movement really caught up with corporations' longstanding golden might. That was when, among other things, they took on attempts to dam the Colorado River and turn the grand canyon into a placid trickle, led by David Brower (celebrated mountaineer, 10th Mountain Division hero and all-around badass). They succeeded, and for the first time showed how environmentalists and adventurers working together could pull together the muscle and money to successfully fight the machine. The Sierra Club continues leading the charge (and as an added benefit, they're matching all donations through December 31, 2018). https://www.sierraclub.org/library/books-journals
ACTION SPORTS FOR DEVELOPMENT AND CHANGE – BECAUSE YOU'D RATHER CHOOSE YOUR OWN ADVENTURE
There is an option that's really more of an aggregator than a single org but it gives you the opportunity to pick and choose from a ton of really awesome smaller foundations (and some larger ones, like the Tony Hawk Foundation). But really, the beauty is you can find anything that applies to your life or the lives of your giftees. Know somebody who got really worked up about the devastation heaped on the poor country of Haiti? Surf Haiti's answer. Being a kid who grew up in downtown Baltimore, I was lucky to have dedicated, hardworking parents who gave me the opportunity to become a semi-dirtbag (before becoming a respectable-ish cog and dad who occasionally dirtbags to keep sane) but for many who grew up in Baltimore, they may never experience the exhilaration found when soaring at top speed on a board; So there's the Chill Foundation's Baltimore chapter [http://www.actionsportsfordev.org/partners/chill-foundation-baltimore/] (and it should be noted that Chill was founded by Jake Burton Carpenter over 20 years ago; he also started a snowboard company you may have heard of…). Or maybe Malala got you thinking about women's rights in Afghanistan and trying to justify your selfish obsession with the mountains; you can share the fun with her fellow female Afghanis through Ascend. [https://www.ascendathletics.org/ ] Seriously, if you can get through this page without dropping some cash somewhere to make the world a better place, you might just not have a soul. http://www.actionsportsfordev.org/
What's your favorite outdoors/action sports/adventure lifestyle charity? Add it in comments.