"The one-time cowboy hangout of the 1940s and hippie pit-stop of the 1960s – a valley with the town of Jackson at its center – now caters to a new clan: the Forbes 400." Warner, Gary. (Jan. 1995) "The Wealthy Have Taken A Liking To Jackson Hole"
At some point in our history people starting to migrate out of populated cities in search of a better life. The mountains have always called adventures, hippies, artist and nature lovers alike. So it made sense that mountain towns across North America become a cluster for like-minded folks wanting a simpler, healthier way of living. Houses were cheaper, jobs barely paid anything but when you have the outdoors in your backyard,  all the other B.S. that comes with living in a city is quickly forgotten once you step foot out into your backyard.
In recent years the often greedy real-estate market caught wind of what was happening in these hippie mountain towns. Ski resorts changed their business models from selling lift tickets to selling base area condos and luxury homes.
"I doubt anyone in this room over 30 was raised in Jackson." – American Avalanche Institute founder and longtime Jackson, WY local Rod Newcomb.
Jackson Hole Land Trust
A total of 25,000 acres of open space in Teton County has been donated for preservation to the Jackson Hole Land Trust over the years making the land off-limits to any future developments. As a conservationist, I like this idea a lot.  Keep open lands the way they once were while allowing animals to exist in their natural habitat.
Take a look at the image below, the areas in bright green are annexed to the Jackson Hole Land Trust. While the dark green parts of the map show the national parks/forest areas. Most if not all of the land in and around Jackson Wyoming is protected from future development, 97% of it to be exact.
However, some in the community have started to question if such a large scale holding of land benefits anyone but current property owners. Surely the wildlife appreciates the open space in and around Teton County, but what about the next wave of seasonal workers, where are they going to call home?
If you had the financial means to buy the land next to your home and donate to a group like the Jackson Hole Land Trust what would your reasoning be?  To preserve open space in Teton County, to give wildlife a place to call home, or to make sure a neighbor never blocks your view of the Tetons.
Who Owns the Majority of Land in Jackson?
The most expensive ranch for sale in the United States according to the WSJ happens to be located in Jackson, WY at the Jackson Hole Land and Cattle Ranch. This 1,750-acre ranch is currently for sale for $175 Million.
Could a developer with deep pockets build a community of sorts located minutes outside of town, slowing Jackson's housing crisis on the Jackson Hole Land and Cattle Ranch property?
Thankfully the 1,750 acres, for the most part, will remain intact when sold.  As the buyer will not be able to subdivide the land thanks in part to the former Jackson Hole Alliance for Responsible Planning and current Teton County regulations. The land will stay as is forever for generations and generations to come.
Lockhart Cattle, Leeks Canyon Ranch LL, Callahan River Ranch LLC, Porter River Ranch LLC owns a good portion of the remaining undeveloped land around Jackson, Wyoming.
Along with their sprawling ranch south of the town, the families above own all the land from the Snake River Bridge in Wilson along the Snake River levee all the way to the Snake River Bridge South of town.
We're talking thousands of acres, millions if not billions in land value.
Cody and Chase Lockhart, run the Lockhart Cattle Company, their brand a heart with an L inside. Cody also doubles as a financial adviser for Wells Fargo so clearly, his family understands the value of their land. In recent years numerous court rulings have taken place between the families regarding ownership and access to these open spaces used for cattle grazing.
Money does funny things to people, especially families fighting over ranching land or better yet millions and millions of dollars. Wonder what their grandfather would think of all of this?
Will families like the Lockhart's and Gill's consider donating land to the Trust? Or will they get into the real estate market once ranching is no longer profitable? Perhaps the younger generation will take a look at the long-term sustainability of raising cattle in the Tetons?
Jackson Wyoming Housing
Resort towns with limited housing could potentially allow landowners to build an extra "rental" structures on their land, provided the units were restricted to long-term rentals.  The problem becomes the "not in my backyard" mentality. It's easy to want additional rentals when you're in need housing, the flip side becomes once you have purchased your own place.  Attitudes and opinions quickly shift once you start paying property taxes. I like my neighborhood as is, you might feel the same way too.
Another option would be to allow creative, small-scale solutions to rental housing. The tiny house movement is taking off globally. A landowner, for instance, could set up Tony Homes on their property, fully hooked up with power, water, and even sewer.
But ask yourself this, as property owner living next door would you really want to see a bunch of tiny homes lined up on your street, more cars out front, more people and more noise?
This article is in responsive to the current housing crisis that is gripping resort towns across the United States. Its such big news these days that VICE wrote an article titled "Homelessness and Housing Shortages are a Big Problem in Luxury Resort Towns like Jackson Hole" on 12 January 2016.
Jackson Wyoming Rental Market

This home sits on seven acres where you can easily enjoy privacy and beautiful surroundings – I can attest to this as I run by this house daily. Best of all we would be neighbors.  4 Bedroom – $9,800 month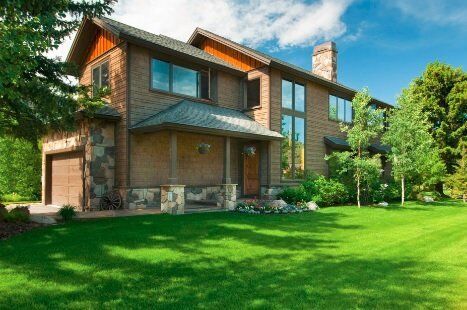 This exquisite home is conveniently located in downtown Jackson Hole. Three blocks away from the Famous Town Square 4 Bedroom – $20,000 month

Incredible 360 Degree views of Grand Teton, Sleeping Indian, Glory Bowl, and Wilson Faces. Double fireplaces in the living room, (it gets cold in Jackson) plus the house features a 2 car attached garage. Now depending on what year this home was built, heating such a place could get costly, even with wood. 2 Bedroom – $3,200 month

This Picturesque Log Condo Located in the Heart of Jackson Hole can be yours for just over $3k a month. It comes with free Internet and DirecTv, Trash, water and electric are included. 1 Bedroom – $3,200 month

If you don't own too many toys a Studio apartment at the Aspens may just be right for you. The Price/Square foot on this rental is $33.60, it's still lower than Manhattan yet above the average rental price $1.00 per square foot in the United States. Jackson Wyoming housing can be hard to come by, snatch this up when you see it on the market again. Studio – $1,260