The following is a list of Essential Dog Items that every pet lover and their four legged family members should check out. All of these products have been tested in the Tetons over the past 3 months in a variety of weather conditions.
Best Dog Vests
Ruffwear Track Jacket (shown above) & Ruffwear Quinzee (shown below) -Ruffwear's dog coats and vest are great way to safely and comfortably travel with your four legged friend in the backcountry. We tested the Track Jacket this fall while out mountain biking, hunting and hiking and found the high visibility to be a life safer when trying to spot a dog who's coat has been bread to blend in with the surroundings.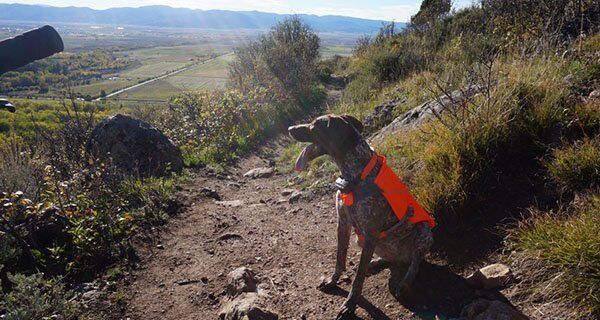 The blaze orange color was a must during hunting season, we actually had numerous people stop us on the trail to tell us how smart it was to have such a bright colored vest on our dog. Another great feature was the reflective material that allowed us to run at night knowing that we were highly visible to on-coming traffic. The only downside to this vest is it will get dirty quick.
Trail Jacket available direct from Ruffwear ($39.95)
Once winter hit we switched out the Track Jacket for the Quinzee. My first thought was "wow I have really been a bad dog owner over the past 4 years since I am now just putting a winter coat on my dog" that is all however in the past as now anytime my little girl goes outside in the snow she HAPPILY lets me put her into the aptly named Quinzee. The material is so soft, it feels like something I would like to wear and my dog surely enjoys it.
Getting the Quinzee on and off is a breeze, you simply slide the coat over your dogs neck and attach buckles on each side. And just like the Track Jacket the Quinzee has areas of high reflective material on the jacket which allows you to safely walk your dog at night. One thing to note is we did make sure to measure our dogs girth so that we would have the proper sized vest and coats, be sure not to forget this step as it would be like ordering the wrong sized shoes..
Quinzee is available direct from Ruffwear ($79.95)
Best Dog Toy
Booda Tuff Plush Toy – For under $8.00 the Boda Plush Tuff Toy seems to good to be true, especially since it's typically found in the pets section at your local chain grocery store.
Your probably smirking right now and wondering just how long a $8 grocery toy will last? Well my German Shorthaired Pointer who systematically can deconstruct any toys I put in front of her in a matter of minutes has been intrigued with this toy for over 14 months and still can't figure out how to get inside!! Well done Booda, Well done..
Best Dog Shampoo
Mud River Dog Shampoo – During the spring, summer and fall I found my dog getting dirty all the time and since she sleeps in my bed it was important for her to be clean. In the past I had used whatever shampoo and conditioner I had layering around the house, however this summer we received a bottle of Mud River Dog Shampoo to test and fell in love with the product from day 1. My first impression after washing Char was, wow this is how her coat is supposed to look and feel.
The shampoo is all natural, anti-fungal, eliminates bacterias and contains a built in conditioner.
Best Dog Snack
TurboPUP Complete K9 Meal Bars – Do you pay attention to what you feed your dog? Or better yet what ingredients are in your dogs snacks? With TurboPUP you can rest assured that your dog will be dinning on delicious 100% natural ingredients that are packed into a thick meal bar. Typically I only feed my dog half a bar as they weight 2.2 ounces and very thick, that being said with TurboPUP you know your dogs needs are being taken care of. I doubt there is a single dog in the world that wouldn't be interested in the flavor options that TurboPUP offers, bacon or peanut butter anyone.
Best Way to Remover Dog Hair
Metrovac Metropolitan 500 Watt Hi Performance Stainless Hand Vac – Not all vacuums are created equal, in the case of the the Metropolitan 500 Watt Hi Performance Stainless Hand Vac which is advertised as the most powerful hand vac on the planet we can honestly say that you might be grossed out by just how much dirt, hair and gunk this powerful little vacuum will pick up.
Upon first glance you can tell that the Metrovac vacuum means business. With a 5 year warranty on the motor and a price tag of under $100 you really can't go wrong with this vacuum, especially considering it's a fraction of what some of the other high performance vacuums cost. The Metropolitan Stainless Hand Vac was designed to be used to clean your automobile as its lightweight and easy to move around into tight spaces. I find myself vacuuming frequently these days as it's almost a game to see just how much I can clean up.
Best Way to Carry Your Dogs Sh*t
Nite Ize Pack-a-Poo – Say your out in the backcountry, skiing along the trail and your dog decides to drop a load on the skin track. You have a couple options, first one would be to make a new skin track and toss some fresh snow over the poop, this however will surely lead to bad karma down the line.
The second option that seems a little better is to pickup your dogs poop and leave it sitting in a bag on the side of the trail for when you "hopefully" return via the same route.
The third option that's just right is to pickup your dogs poop, throw it in a bag and then toss it into the Nite Ize Pack-a-Poo Storage bag, seal the top and then put the sh*t in your backpack. I know this may sound awful to some, however there really is no smell or mess and best of all no bags littered along the side of the trail.
Best Car Seat Cover
Mud River Car Seat Cover – "Dirty Trucks, Lonely Wives, Happy Dogs" sounds about right! Thanks to Mud River I know no longer worry about having a dirty, muddy or wet dog in the backseat of my truck. Simply install the Two Barrel Double Seat Cover over a bench seat and let your dog, well be a dog.
The seat cover is reversible, easy to clean and comes in hunt friendly colors. I don't have head rest on my backseat so the cover is actually just laid over the bench and it's been working great that way for months. The nylon / ripstop material is bomber and has held up well with my dogs long nails, while other seat covers we tested wore out in days or weeks. Also another bonus is on cold days the seat covers seems to offer a bit of extra warmth, your dog and friends will thank you, and maybe your wife too, however odds are if she's riding in the backseat your already in the dog house..
Mud River Double Barrel Utility Mat Seat Cover available at Cabelas ($89.99)