Our favorite green pet products that we use on our four legged friends (and a 3-legged one too.)
Going green has gone to the dogs (and cats)! It's a fact that being environmentally friendly not only helps you but it also helps our four-legged friends. If keeping your home filled with sustainable items for yourself isn't enough and you want to find the best eco-friendly pet products out there, we've got you covered.
Here are the 20 best green pets of the year.
Vermont Soap Organics Pet Shampoo.
Introducing the first 100% non-GMO, USDA certified organic pet shampoo on the market! Get your lather going… this organic pet wash not only delivers non-toxic suds for your pets, but Vermont Soap Organics Pet Shampoo also won't harm your skin if Fido hops into bed with you. And it won't hurt the ground water supply as runoff.
Ingredients are gentle enough for human use (as our editor can attest to) and include: coconut oil, jojoba oil, and olive oil for healthy skin & a soft coat, essential oils of rosemary and lemongrass to keep the bugs away PLUS aloe to soothe any irritations.
Eco-Pup Dog Clothing.
This Canadian company makes some of the coolest eco-friendly products for dogs and cats. You can pick up everything from cozy sweaters to cool collar charms on their website. Rest assured that Eco-Pup provides an Earth friendly option for everyone!
The Eco-Pup commitment to our environment is so deep that even the hangtags are printed on eco-friendly card stock, and the employees opt to take public transit into the office whenever possible. This company is one to back! Everything they DO is eco-friendly! So stock up on pet supplies here because every item they carry is made with all natural, organic and recycled materials.
Adventure Medical Dog Wipes.
These pre-moistened towelettes are perfect for cleaning off muddy noses and other dog-park aftermath. Just stash the little packet inside your pocket and take these wipes along for a romp. Natural ingredients in Adventure Dog Wipes include: Aloe vera, rosemary and witch hazel to clean, disinfect and soothe skin all at the same time.
The herbaceous fragrance is naturally fresh to keep your four-legged friend smelling clean! You can even use the wipes for bath time, or on furniture to clean away pet germs & odors. A must-have for any eco-friendly dog owner on the go.
Cycle Dog Trail Buddy Dog Treats.
When you take your little buddy out on the trail, give them the
protein-boost they need
, without anything they don't. Cycle Dog Trail Buddy Dog Treats are made with 100% meat sourced in the USA. Use them on long trails for a snack, or to reinforce good behavior at home. Every travel packet of treats is made from only 100% lamb, beef or chicken.
The treats contain NO filler grains and NO additives – Ever.
Earth Dog Hemp
Made from the finest quality hemp, Earth Dog offers collars, leashes and harnesses that are ultra-durable and even toys, tags, beds, blankets and healing salves. Earth Dog products are all made in the eco-conscious USA and feature the amazing versatility of hemp.
PoopBags
The makers of these biodegradable bags have been making poop scooping eco-friendly since 2003. Designed with an easy-to-use roll and a leash attachment dispenser, PoopBags won the Pet Business Industry Recognition Award for 2014 (for the second year in a row). Made from corn, vegetables and starches in the USA.
World's Best Cat Litter
Need some high performance litter that you can flush or even dump into your garden? They don't call it the Worlds Best for nothing… This litter is made from whole-kernel corn and offers outstanding odor control and clumping. Pick it up in a variety of natural scents including lavender. This awesome company also helps shelter cats in need through a program called GiveLitter- they've already donated 346,651 pounds and counting!
Organic Oscar
Your pet's products can contaminate their skin, your home and our environment. Switch over to these natural and organic pet grooming products and reduce those toxins! Organic Oscar carries an entire line of non-toxic options including shampoos & conditioners, pet wipes and holistic remedies. This line is a great option for new puppies.
Ruffwear's Highlands
This is for you true Earth lovers out there who actually make it a high priority to spend your time in the great outdoors. Taking your pet along with you? Don't forget that they'll need a comfortable place to spend the night.
Pick up this lightweight, durable and eco-friendly dog bed from the good folks and pet lovers over at Ruffwear designed specifically for backcountry adventures with your pup. It stuffs into a small sack and is made with recycled synthetic insulation for protection from the ground. Plus it keeps your dog off your sleeping bag 😉
Another bed we really like for our four legged family members comes from Carhartt.
Diatomaceous Earth
If you haven't heard of this stuff yet, I'm glad to tell you that DE is a natural way to kill insects in your home or garden and on your pets! Not only does Diatomaceous Earth act as a non-toxic flea and tick control option it's also a great natural alternative to wormers. Just mix this food-grade powder in with your pet's food to rid them of intestinal parasites.
And one for good luck!
The following is a list of Essential Dog Items that every pet lover and their four legged family members should check out. All of these products have been tested in the Tetons over the past 3 months in a variety of weather conditions. see below for our editor's favorite pet products. by Mike Hardaker
Ruffwear Track Jacket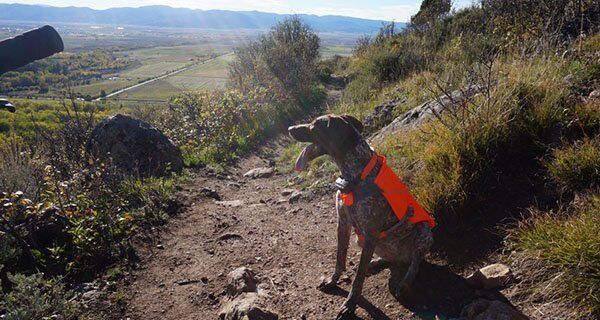 Ruffwear Track Jacket (shown above) & Ruffwear Quinzee (shown below) -Ruffwear's dog coats and vest are great way to safely and comfortably travel with your four legged friend in the backcountry. We tested the Track Jacket this fall while out mountain biking, hunting and hiking and found the high visibility to be a life safer when trying to spot a dog who's coat has been bread to blend in with the surroundings.
The blaze orange color was a must during hunting season, we actually had numerous people stop us on the trail to tell us how smart it was to have such a bright colored vest on our dog. Another great feature was the reflective material that allowed us to run at night knowing that we were highly visible to on-coming traffic. The only downside to this vest is it will get dirty quick.
Once winter hit we switched out the Track Jacket for the Quinzee. My first thought was "wow I have really been a bad dog owner over the past 4 years since I am now just putting a winter coat on my dog" that is all however in the past as now anytime my little girl goes outside in the snow she HAPPILY lets me put her into the aptly named Quinzee. The material is so soft, it feels like something I would like to wear and my dog surely enjoys it.
Getting the Quinzee on and off is a breeze, you simply slide the coat over your dogs neck and attach buckles on each side. And just like the Track Jacket the Quinzee has areas of high reflective material on the jacket which allows you to safely walk your dog at night. One thing to note is we did make sure to measure our dogs girth so that we would have the proper sized vest and coats, be sure not to forget this step as it would be like ordering the wrong sized shoes..
Booda Dog Toy
Booda Tuff Plush Toy – For under $8.00 the Boda Plush Tuff Toy seems to good to be true, especially since it's typically found in the pets section at your local chain grocery store.
Your probably smirking right now and wondering just how long a $8 grocery toy will last? Well my German Shorthaired Pointer who systematically can deconstruct any toys I put in front of her in a matter of minutes has been intrigued with this toy for over 14 months and still can't figure out how to get inside!! Well done Booda, Well done..
Mud River Dog Shampoo
Mud River Dog Shampoo – During the spring, summer and fall I found my dog getting dirty all the time and since she sleeps in my bed it was important for her to be clean. In the past I had used whatever shampoo and conditioner I had layering around the house, however this summer we received a bottle of Mud River Dog Shampoo to test and fell in love with the product from day 1. My first impression after washing Char was, wow this is how her coat is supposed to look and feel.
The shampoo is all natural, anti-fungal, eliminates bacterias and contains a built in conditioner.
TurboPUP Complete K9 Meal Bars
Do you pay attention to what you feed your dog? Or better yet what ingredients are in your dogs snacks? With TurboPUP you can rest assured that your dog will be dinning on delicious 100% natural ingredients that are packed into a thick meal bar. Typically I only feed my dog half a bar as they weight 2.2 ounces and very thick, that being said with TurboPUP you know your dogs needs are being taken care of. I doubt there is a single dog in the world that wouldn't be interested in the flavor options that TurboPUP offers, bacon or peanut butter anyone.
Metrovac Metropolitan Vacuum
Not all vacuums are created equal, in the case of the the Metropolitan 500 Watt Hi Performance Stainless Hand Vac which is advertised as the most powerful hand vac on the planet we can honestly say that you might be grossed out by just how much dirt, hair and gunk this powerful little vacuum will pick up.
Upon first glance you can tell that the Metrovac vacuum means business. With a 5 year warranty on the motor and a price tag of under $100 you really can't go wrong with this vacuum, especially considering it's a fraction of what some of the other high performance vacuums cost. The Metropolitan Stainless Hand Vac was designed to be used to clean your automobile as its lightweight and easy to move around into tight spaces. I find myself vacuuming frequently these days as it's almost a game to see just how much I can clean up.
Nite Ize Pack-a-Poo
Say your out in the backcountry, skiing along the trail and your dog decides to drop a load on the skin track. You have a couple options, first one would be to make a new skin track and toss some fresh snow over the poop, this however will surely lead to bad karma down the line.
The second option that seems a little better is to pickup your dogs poop and leave it sitting in a bag on the side of the trail for when you "hopefully" return via the same route.
The third option that's just right is to pickup your dogs poop, throw it in a bag and then toss it into the Nite Ize Pack-a-Poo Storage bag, seal the top and then put the sh*t in your backpack. I know this may sound awful to some, however there really is no smell or mess and best of all no bags littered along the side of the trail.
Mud River Car Seat Cover
"Dirty Trucks, Lonely Wives, Happy Dogs" sounds about right! Thanks to Mud River I know no longer worry about having a dirty, muddy or wet dog in the backseat of my truck. Simply install the Two Barrel Double Seat Cover over a bench seat and let your dog, well be a dog.
The seat cover is reversible, easy to clean and comes in hunt friendly colors. I don't have head rest on my backseat so the cover is actually just laid over the bench and it's been working great that way for months. The nylon / ripstop material is bomber and has held up well with my dogs long nails, while other seat covers we tested wore out in days or weeks. Also another bonus is on cold days the seat covers seems to offer a bit of extra warmth, your dog and friends will thank you, and maybe your wife too, however odds are if she's riding in the backseat your already in the dog house..
Just because we live in a globally economy doesn't mean we have to subject our pets to products coming from foreign markets when there are a handful of companies (and pet owners) manufacturing goods for our pets right here in the United States of America. Here are a few of the brands that should be on your radar if you really care about your pets and the products they use too.
The Best Pet Products Made in the USA are as follows:
Basis Pet Bowls
Basis Pet out of Vermont is a small business owned by Michael Florucci that's manufacturing stainless steel bowls for dogs and cats too. What sets basis pet apart from the pack is they are the only company that's actually making stainless steel pet bowls in the United States. Think about last sentence while considering how many pet bowls you have used over the years, food for thought..
My dog's food comes from the United States (nutrisource) so it's sort of ironic that the bowls I was placing this natural, grain free food were coming from a place I wasn't sure of.
Thanks to Michael and his Basis Pet bowls, I now have full trust in the bowls my dog uses throughout the day! Not only can you feel good about these, they look really nice and will surely fit into any home.
Planet Dog Toy
Since 1997 Planet Dog has been creating non-toxic recyclable products for pets and their lovers along with promoting a message of educating consumers about canine-related issues. This is a company that truly puts their dogs first. How many companies have mug shots up of dogs instead of their staff? Well this one does, and as mentioned earlier these are dogs people, focused on making products in the Northeast that are sustainable, ethical and environmentally conscious.
We have been testing the brands popular Orbee ball, which is extremely durable with a strong chew rating of 5 out of 5, is non toxic and fully recyclable. There are many different shapes and sizes of the ball available, we settled on the Coal version "For the dog who promises to be better next year!" I couldn't resist. Add in some of Planet Dog Eats or any filler your dog enjoys and you can sit back and relax for the next hour or so as your dog sitter has just arrived…
My only complaint was the company attached a hang tag to the ball that was a pain in the ass to remove, looks like I wasn't the only one though as the brand has a tutorial here, hang tag aside Thank you Planet Dog, truly we are so thrilled to have found your products.
KONG Extreme
Pet owners in the know have trusted the KONG brand for the past 36 years as a great way to their keep dogs occupied. There are times after a long day of work when I get home and just want to make some food and go to bed, I'm sure you know the feeling too. That would be easy enough however there is always, without fail a 5 year old German Shorthaired Pointer waiting for me at the door. In the past I would need to find a toy and play with my dog regardless of my own energy level. Well thanks to KONG this is starting to change.
What I do now is fill up a KONG Extreme toy with a mixture of KONG's Stuff'N (veterinarian based Peanut Butter), some kibble, a couple Planet Dog treats, some more KONG Stuff'N and if I have any leftover meat I toss a little piece in there as well. Needless to say as this concoction starts to come together my dogs gaze is no longer directed towards me, but on the KONG where it belongs. Now depending on how smart your dog is this toy can keep them entertained for a good 30 minutes or longer. The only hiccup comes when your dog starts to learn that its much faster to throw the KONG toy in the air and let all the contents come spilling out onto your floor, carpet or in our case my bed.
Aside from the sound of the KONG toy bouncing around and some spillage, I feel these are a must have for every pet owner. Even if its just so you can have 30 minutes a day to yourself, sort of like giving a child an iPhone right?
Purrfectplay
Last but surely not least I am super excited to introduce you to Purrfectplay. This company is run by an animal lover named Pam and when you check out the cool stuff they are making it makes sense that Purrfectplay was designed with animal safety in mind first and foremost.
One of our favorite toys and I say "our" as I seem to enjoy it just as much as my dog Char is the 100% organic Wool dog ball. Just holding this feels unique and my dog will play with this for hours on end. She still hasn't figured out how to dismantle it either which is awesome, especially with a hunting dog. The company also has cotton and wool tug ropes that are once again made in the United States of America. If you care about your dog like I do, they may as well be your child.
I only buy American made these days and would encourage you to do the same. A huge thanks goes out to all the brands mentioned in this piece for providing my dog and I these incredible items to review. Keep in mind if you have a dog, every day is Valentines Day, every day is their birthday, Christmas, Hanuka ets.
So why not make your life easy by allowing some of theses American made pet products to enter your home, giving you and your dog piece of mind and more importantly something to stay occupied..
Do you hunt with your dog?  These is even a line of Green Hunting Gear.