DENVER, CO – Heavy metal music is alive and screaming when Slayer and Megadeth teamed up to bring the Slayer American Carnage Tour to Magness Arena on the campus of Denver University. Both Slayer and Megadeth hail from southern California and were some of the first bands to play loud thrash metal. At the time it could have been called punk rock but has evolved into much more. Fast guitar riffs, deep bass lines and fans singing along make for a high energy show.
Slayer is known to dance with the dark-side, recent album titles like: "God Hates Us All" "World Painted Blood", "South of Heaven", "Reign in Blood", "Hell Awaits" and "Show No Mercy" might lead one to believe the band has ties with "the other side". Rock-N-Roll doesn't always have to be fluffy..
The band played their entire album "Season in the Abyss" from front to back, much to the delight of the devil horn throwing fans.
Not a band to shy away from controversy, Slayer recently had 17 bus benches promoting the album "Christ Illusion" removed in Fullerton, California as city officials deemed them inappropriate. The Antichrist and skull logos didn't fly well with the city, nor the name "Slayer" which they thought pertained to murder, hey Fullerton we are living in 2010 aren't we??
And it's not just here in the states that Slayer has been known to raise hairs, In India one of Slayers recent albums was recalled after protests with Christian religious groups. The Christians didn't seem to like the cover of the album featuring Christ with amputated arms, one eye, all while standing in a sea of blood covered with severed heads.. Slayer has a dark underbelly, but if you don't like it look the other way or turn down the radio.
Also on tour with Slayer are Megadeth featuring former Metallica front man Dave Mustaine. The band has found recent sobriety and are kicking ass from city to city across the United States. Megadeth also played one of their entire albums in Denver " Rust in Peace" Along with Megadeth and Slayer on the American Carnage Tour were openers Testament. The crowd was a trip, most fans were wearing black from head to toe, everyone seemed to be drinking and getting rowdy with the music. I even noticed one of the photographers with a tattoo covering his entire head, what might the tattoo be, were at a Slayer, a skull of course..
Slayer Denver Photos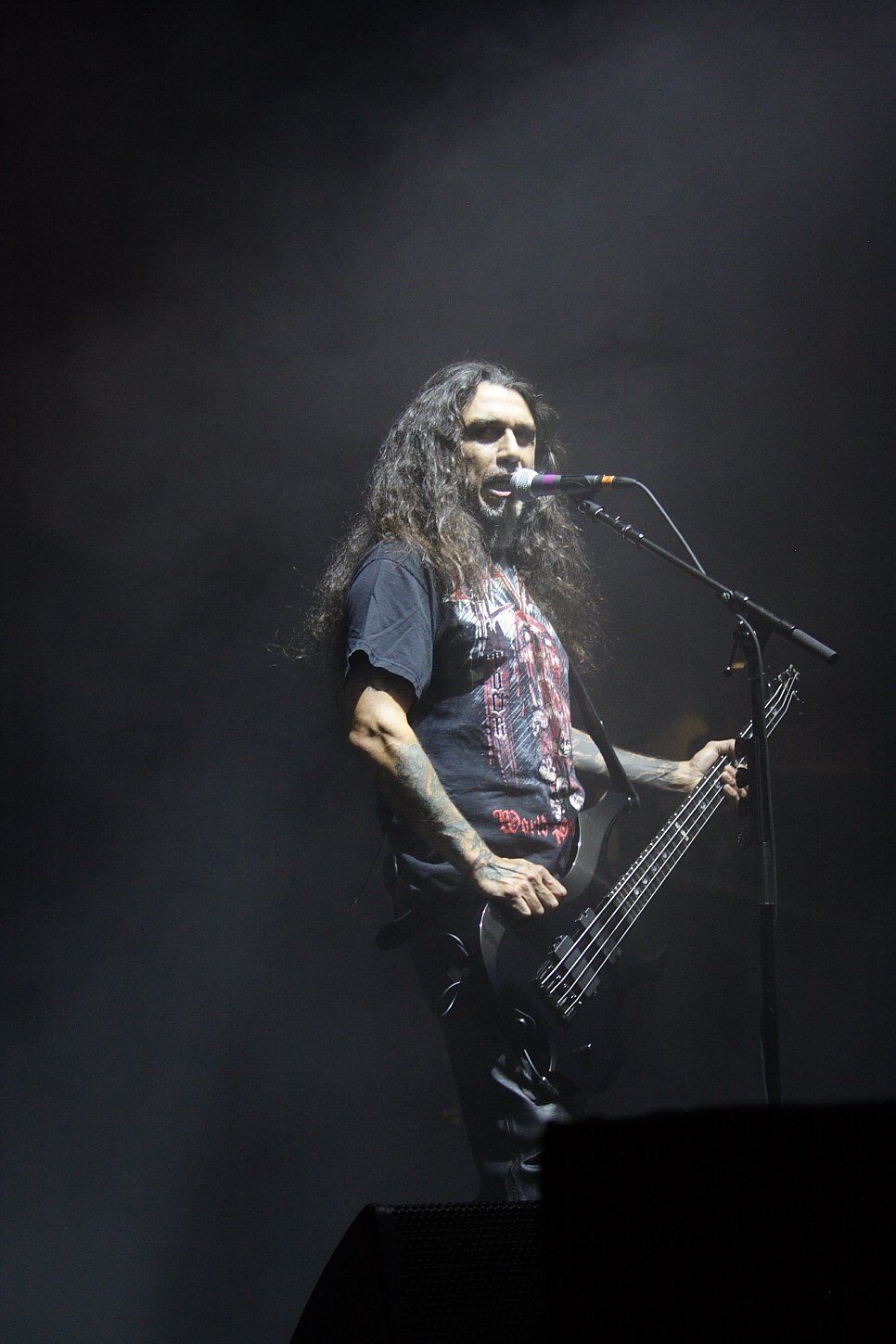 Megadeth Denver Photos