MORRISON, CO – The Summer keeps chugging along and so do they great concerts at Red Rocks, this time it was Grace Potter and the Nocturnals and the Avett Brothers rocking out to a packed house.
Grace Potter and Nocturnals are the real deal and if you haven't heard of them yet, you soon will and when you do you'll understand. Let's break it down, she has a soulful voice, like Janis Joplin or Susan Techschi, she plays a mean guitar, brings the heat on the piano keys and she is hot and knows how to own the stage. No Wonder Kenny Chesney had her open up his third sold out show at Red Rocks the night before, yeah the one that Joe Walsh sat in for the Encore.
Anyway back to the show at hand, where was I, oh yeah Grace Potter is hot, knows how to sing, play and has a hell of a band. She brings a great mix of rock, soul, blues and funk. The rain started three songs into her set, but didn't last too long and certainly didn't slow down her or the Nocturnals, nor did it slow down the Colorado music fans. By the end of her set she had the sold out crowd singing along, over the set break I heard many people talking about her and how great she was.
It won't be long before Grace Potter will be headlining Red Rocks, give it a year or two.
Grace Potter Red Rocks Photos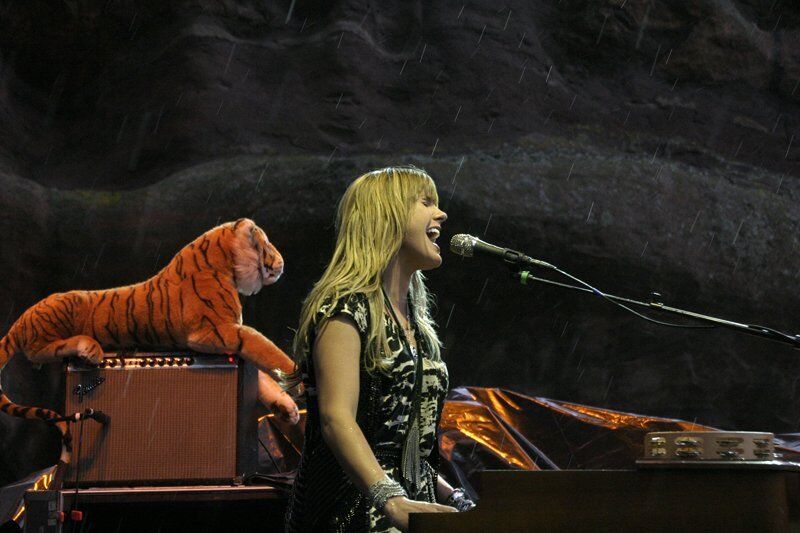 (Editor's Note: I couldn't agree more Grace sings with passion and can pack the seats full of fans that really appreciate her music, it's no wonder she got signed by Disney!!)
John Denver Tribute by AEG Live
Before the Avett Brothers came on AEG Live's own Chuck Morris came out and honored the late John Denver, by inducting him into Red Rocks Hall of Fame, Governor John Hickenlooper helped Morris with this and introduced the Avett Brothers. He mentioned how iClips was filming the show, and also streaming it live to a speedway in North Carolina, where the Avett Brothers call home.
Avett Brothers Red Rocks Review
The Avett Brothers opened the show with Head Full of Doubt/Road Full of Promise the crowd ate up every beat, the Avett Brothers played Red Rocks last year with Gov't Mule, but this time they were headlining this stage. Going into the show, I knew a couple Avett Brothers songs from KBCO, but I didn't know that they played the banjo with a punk rock vibe. To be honest I have never been a huge fan of the banjo, bluegrass or twangy music. But I love music and musicians that play with raw energy.
The Avett Brothers perform with passion and throw it down for real. These guys won me over after a couple songs; it never gets old getting turned onto a band. It's even better when they are rocking a sold out show at your favorite concert Venue. The band played homage to John Denver by playing his song Back Home Again other hits they played were Kick Drum Heart, I Killed Sally's Lover and I and Love and You. Very talented band, glad I went, really enjoyed the songs they played with a punk rock edge, but also enjoyed some of the more subtle songs as well. Below is the Set List from the show.
Avett Brothers Red Rocks Photos