MORRISON, CO – This Summer Red Rocks had multiple nights of stunning Electronic music, with Bassnectar, Global Dance Festival, Pretty Lights and Deadmau5. Deadmau5 had played Global, but this was the first time selling out this historic venue as a solo headliner. Going into the show you knew it was going to be a big deal. Not since Daft Punk at Red Rocks has a light show and visual show truly enhanced high-energy dance music. Some of the songs had the visual aspects of video games, in a Mario world but instead the Deadmau5 Red Rocks hero saves the day.
Opening the show, were Tommy Lee and DJ Aero. I had seen Motley Crue play Red Rocks, but never seen Tommy Lee DJ, I was actually pretty impressed. The beats and vibe built up the crowd, and next came Excision who played a really solid set.
The lights grew dim right be Deadmau5 to the show. He was at least 10 feet up on stage behind a crazy light board that looked kind of like a stealth bomber, the light board light up, it was a rubix cube, the crowd lost their shit as the rubix cube started swirling. This was just a small taste of the lights and screens could do. Sit Down Shut and Hold on, take a ride on the Deadmau5 dance party at Red Rocks. He played the crowd like a well-oiled machine; kids came out in their various Deadmau5 heads. The best one I saw was made with two different size globes, I saw dad's with kids dressed in Deadmus5 heads, I saw sexy dancers with Deadmau5 heads, I saw how much work some people put in and how they have lights the turn of and on. It's pretty cool, I've never been to a show were people make glow in the dark mua5heads at home and bring it to the show. It must take lots of time and really is homage to favorite DJ.
Back to said DJ also know as Joel Zimmerman who has been taking the electronic music world by storm. He has also been playing many high profile music festival across the globe and earned his right to headline Red Rocks. He even inked a deal with PUMA to sell a special edition line of PUMA shoes and clothing called the Streetjump with the Deadmau5 logo, you go Joel.
Some of the songs that we huge hits with the crowd included Ghosts N Stuff, Animal Rights and Raise Your Weapon. With the success of this show, look for future dates at Red Rocks for Deadmau5, I wouldn't be surprised if he has an other headlining gig next year.
Deadmau5 Red Rocks Photos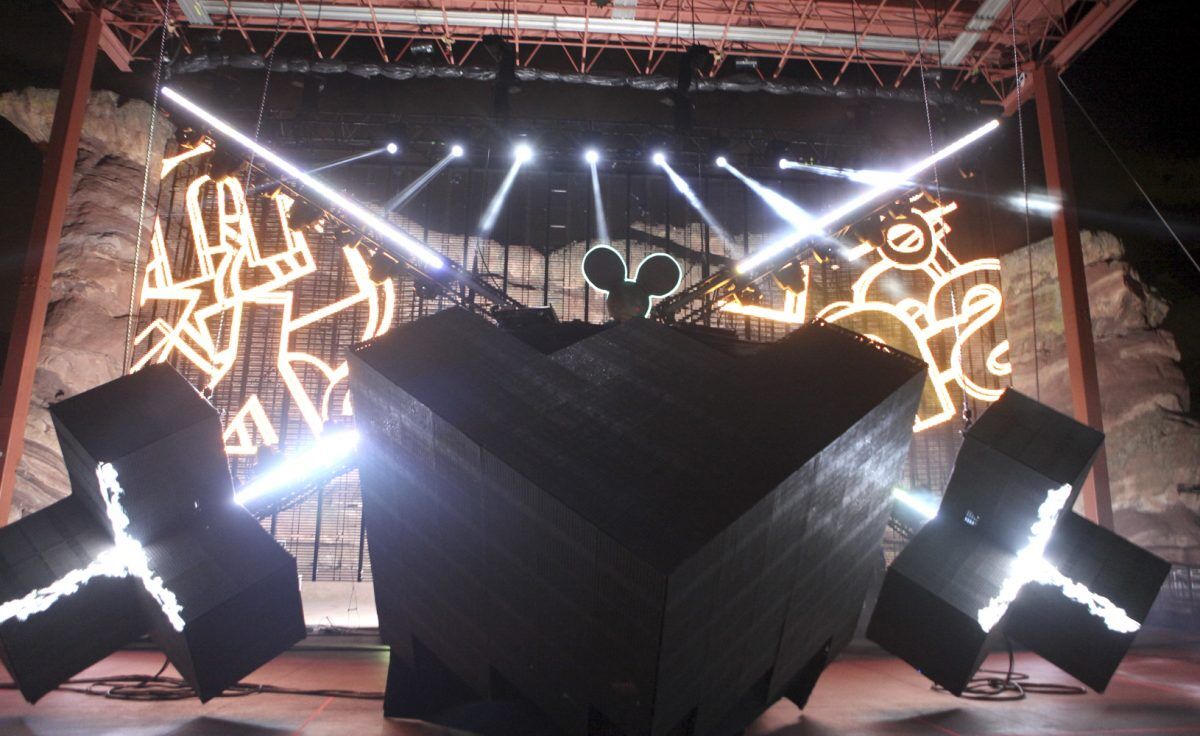 Deadmau5 is heading to Pemperton Festival, be sure to checkout our coverage.