MORRISON, CO – Norah Jones and Corinne Bailey Rae brought a mix of jazz, soul and rock-n-roll to Red Rocks Amphitheatre for an special night of music. Norah is on tour to support her new album, The Fall which has her collaborating with Producer Jacquire King. The two have put together a group of musicians, including drummers Joey Waronker and James Gadson, keyboardist James Poyser and guitarists Marc Ribot and Smokey Hormel for a sound Norah said she, "had in her head, "I wanted the grooves to be more present and heavy. And I also just wanted to do something different.." With the addition of a full band, Norah Jones sound has changed, a departure from the slow piano songs to more of a blues based guitar group.
Corrine Bailey Rae is a stunning British singer, song writer and guitar player from Leeds. Bailey Rae is also on tour supporting her new album titled, The Sea which was released her on January 26th 2010. Both Nora Jones and Corrine Bailey Rae have been nominated for numerous awards in the music industry including the Grammy's, MTV, BET and numerous soul and jazz awards.
Corrine Bailey Photos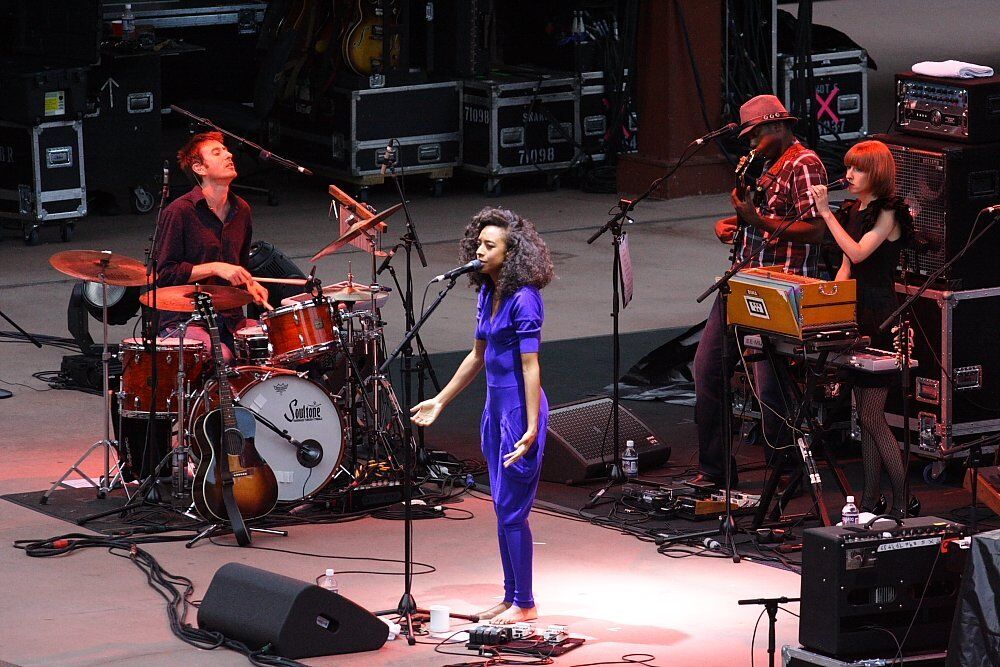 It turns out Mother Nature is also a fan of Norah's and Corrine Bailey Rae's work, as the show started some of the darkest and meanest clouds of the summer hovered over Red Rocks, the rain started to come down in buckets forcing Corrine's set short. Between set's AEG Live founder Don Strasburg the promoter for the event came out and told the crowd of soaked fans the rain would be passing. Luckily the promoter was right and by the time Norah Jones took the stage you could see bright stars against the sky.
During Norahs performance patrons were asked to refrain from walking thru the isles while Norah was playing, also excessive talking and loud cheering would not be tolerated. Photographers were instructed to shoot from the 14th row to keep from blocking the the most expensive seats, combine that with the no talking and walking rule and you have a balance for the concert goer that came to enjoy nice quite peaceful musical experience. Maybe some other bands and venues can take note..
Norah Jones Red Rocks Photos