MORRISON, CO – What's in a name? Pretty Lights pretty much says it all, the hottest DJ in Colorado known for bringing some funky beats, wicked samples and one hell of a light show. This was Derek Vincent Smith aka Pretty Lights second headlining show at Red Rocks, he sold them both out and they were the hottest ticket in town. Also on the bill were Skream, Big K.R.I.T as well as Gramatik and Michal Menert who are both on Pretty Lights record label.
Not only was the concert sold out, there was a full moon and a meteor shower overhead, some times the stars align and everyone knew this was going to be a special show. The production quality was top notch and the music was on point, Pretty Lights wall of light was something to see which was leaps and bounds compared to his previous light show. He played new material as well as classics such as Hot Like Sauce, Aiming at Your Head, More Important Than Micheal Jordon, I Can See It In Your Face and many others.
Pretty Lights also played some of his newer remixes, which blends artists like, Pink Floyd, Steve Miller, Eric B and Rakim, Radiohead, NIN and Nirvana. It's great to see a kid from Colorado take the electronic music world by storm and come home and take Red Rocks by storm.
Pretty Lights Red Rocks Photos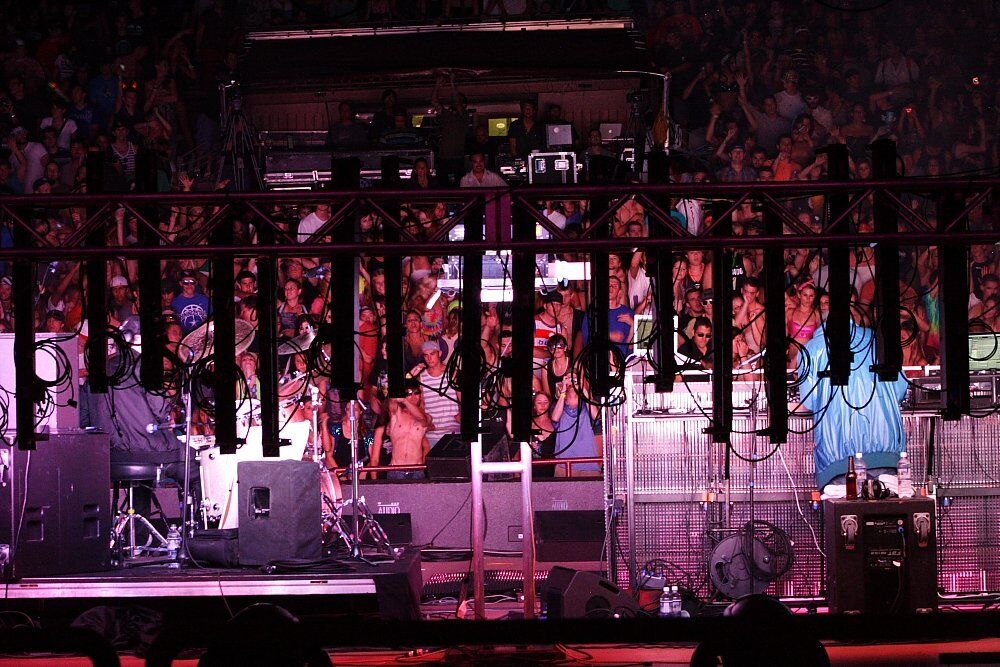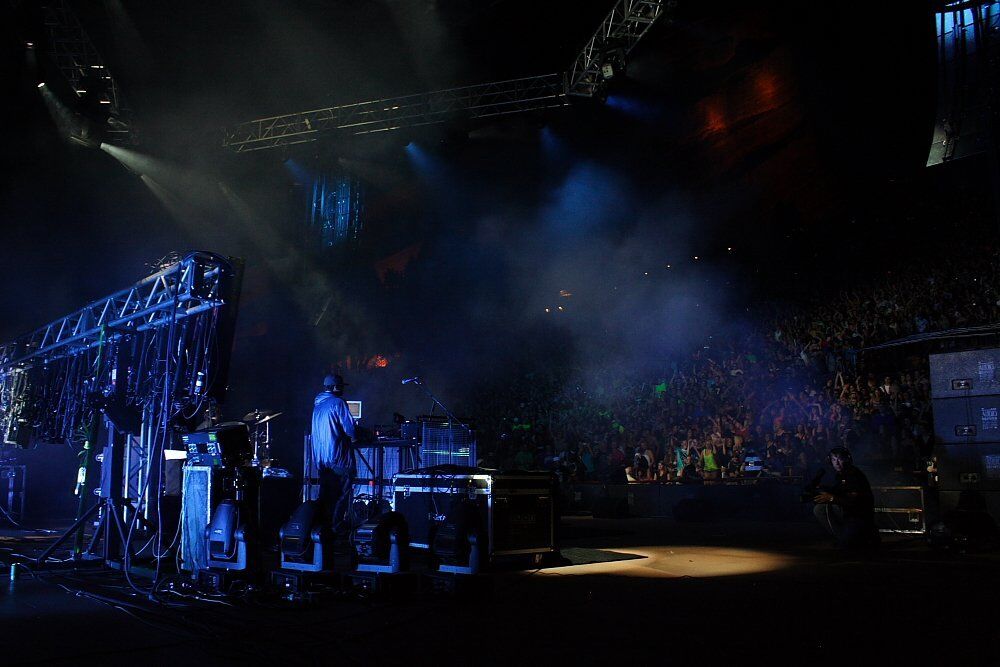 One of the most talked about shows of the summer took place at Red Rocks Amphitheatre featuring the DJ – Drummer duo known as Pretty Lights. Derek Vincent Smith a Ft. Collins Colorado native and new drummer Adam Deitch performed to a sold out crowd. Pretty Lights music take digital samples and transforms them into a new kind of music that crosses over many genres from down tempo to glitchy hip-hop beats, and vintage funk soul samples.
Also on the lineup for the night were MiMOSA, Emancipator & Zion-I. Over 9,500 people packed into Red Rocks for a night of dancing and heavy beats. Along with the music Pretty Lights brought along its name sake, in the form of a huge light show. Complete with backdrop LED screens, light screen on the floor and a lifted dj booth with lights built into the front. Top that off with serious green lasers bouncing back and forth of the rocks from the stage.
Derek produces all the Pretty Lights music and plays a machine that almost looks like Simon Says. All 3 Pretty Lights albums have been released online, for free. It's no wonder this was one of the hardest concert tickets of the summer to get, you release free music and gain lots of fans. Along with the fact the music just makes you want to dance.
MORRISON, CO – Pretty Lights played two Sold-Out shows at Red Rocks this past weekend. Opening the show on night one was Talib Kweli, who raps on Pretty Lights new Album" A Color Map of the Sun". Kweli got the crowd pumped, and DJ Mikey Thunder kept the beats going between sets.
Derek Vincent Smith also know as Pretty Lights brought a new mix to his DJ set, he had a band playing with him live. This was the perfect element to bring to his amazing light show and powerful DJ performance. He even played Bass himself on a few songs, which just goes to show his talent as a musician. The new songs were great live and the band is a great addition to the show. Pretty lights played classic songs without the band as well. It is great to see a Colorado DJ get as much recognition as he has on a global scale, but it is also really cool to see him get overwhelming respect in his home state.
Pretty Lights Red Rocks Video