With music festivals growing in popularity across the globe, and the cancellation of the PNW's blockbuster Sasquatch, Pemberton, and Squamish Valley music festivals over the last three years, there was clearly a gap in destination festival offerings for the Vancouver, Canada crowd. Enter Constellation Festival, a fresh alternative, three-day music event showcasing many of the best artists from British Columbia and beyond. Featuring two alternating stages of music in one beautifully lush grassy field surrounded by glacially carved mountain peaks. It was a stress-free weekend of amazing musical acts in a glorious natural setting. To many, it was a welcomed alternative to the previously overcrowded Squamish Valley Music Festival, which required fans to crisscross a half-mile between stages through tight bottlenecks and dusty roads, or Pemberton Fest campers dragging their loaded tents miles across wood chips. In contrast, I never waited in a line at constellation festival and enjoyed a pleasant grassy stroll from stage to stage among welcoming crowds and entertaining art exhibits. One didn't need to worry about scheduling her/his day or missing any artists, as the two nearby stages alternated perfectly with enough time to grab a beverage, or a bite, or relieve oneself before watching the next act. Speaking of the music; it was an excellently curated selection of established and emerging artists, many premiering new songs from forthcoming albums, some for the first time.
Constellation Festival Day 1, Friday
While the Constellation festival showcased mostly Indie artists, Friday focused on the Rock side of things. Coming from Vancouver, the Boom Booms warmed things up with a lively set prepping the crowd for what was to come. Next on, Parker Bossley introduced new tracks alongside his first two solo releases. Back on the Main Stage, the Fast Romantics also dropped new music into their exhilarating performance with passionate vocals from the six-piece band.
Dear Rouge kept the excitement going with an incredibly lively act, flashing a zebra-striped cape/tie under the growing evening lights and dropping a deep purple smoke bomb to add some extra flair to the already dramatic performance. Immediately following was Scenic Route to Alaska, stepping up the level of rock even further as a tight-knit trio ripping up the guitars and drums.
As the late nightfall descended on the first night of the festival, Serena Ryder brought on the largest crowd yet, filling the field with eager fans. Bringing out a new guitar for nearly every song, Serena really showed her prowess, effortlessly switching between vocal tones and rock genres.
Constellation Festival Day 2 Saturday
If Friday was the day for Rock then Saturday was the day for grooves. A great set of smooth rock rhythms and clean vocals from Art d'Ecco raised the day's tone. After signing off with "Peace, love, and death metal", they were followed by a new young act from Vancouver, the Sunset Kids bringing up the energy through the afternoon heat as they introduced a set of new tunes in recording. Next up was Jocelyn Alice, with exciting vocals and bassist Lisa Jacobs delivering some of the grooviest riffs I've heard throughout the performance.
Following Jocelyn Alice were the mellow rock vibes of Foxwarren. Delivering smooth melodies reminiscent of their longtime growth as a family/friend band out of Saskatchewan, Foxwarren was a welcome chill-out from the higher intensity music to come later in the day. Picking the pace back up was Peach Pit, with a high-intensity set including hair swinging and solid rock ballads. Taking style and rhythm notes out of a previous generation and tweaking it into a stellar new sound out of Vancouver, they ushered in the evening properly.
A genre switch came next with Shad and A Tribe Called Red bringing in the beats and pumping up the volume. Native dancers showed off a great mix of traditional dancing and hip-hop moves for the earth-thumping Tribe Called Red set. Perhaps a little too loud up close for my ears, but nothing the sound system didn't handle flawlessly.
In stark contrast, the evening mellowed off with the eclectic rhythmic looping of Cosmo Sheldrake, mixing in live singing, random noises, and animal sounds to round out a new-age medieval toned jam. Next up, the event's headliner, Jessie Reyez capped off the night with an emotional and passionate set for Constellation's largest crowd yet as her first show since a back injury left her focusing on rehab the last month plus. She was clearly frustrated to not be able to bring her standard dancing and stage movement to the show but still carried a ton of excitement, bringing the whole crowd along with her lyrics.
Constellation Festival Day 3 Sunday
The final day of Constellation was full of Jams, with Victoria BC's Current Swell really bringing the heat on through the fiery late afternoon sun. With horns blazing and a diverse selection of music to draw from, the tone of the night was set high.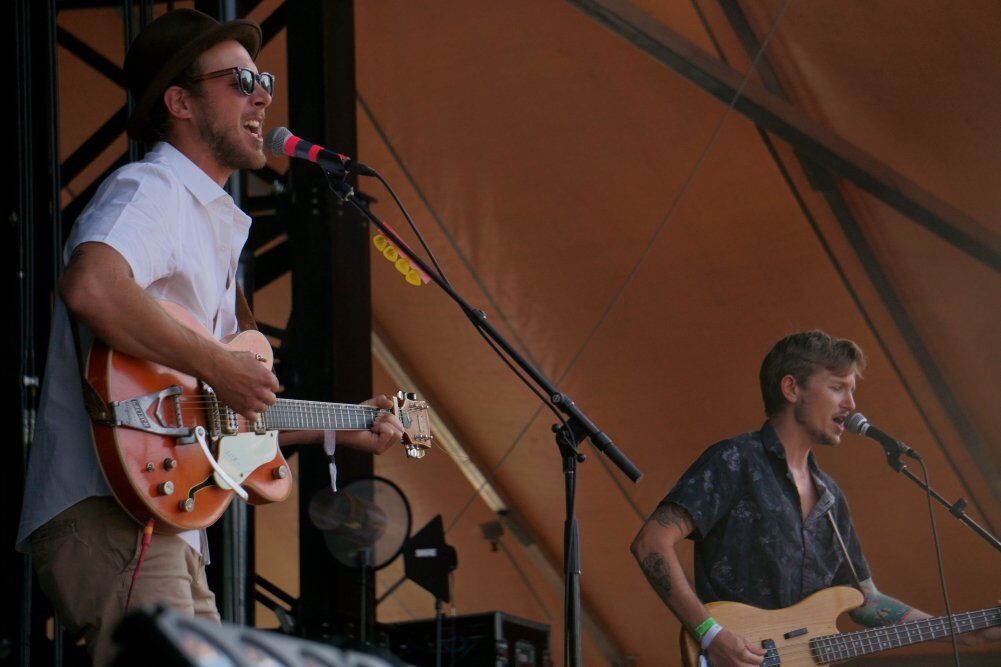 Next up was the Jerry Cans, including very unique Nunavut throat singing interspersed among indie rock jams. Half Moon Run was the next to steal the show with a heartfelt set of indie folk-rock. The crowd was amazed and managed to convince the band and organizers to let an encore proceed – rare with the rapid-fire scheduling between the two stages.
As dark descended, Nova Scotia's Wintersleep kept the theme going with heavy rock and solid guitar solos. A super-energetic show ensued, leaving no doubt of their amazing stage presence and solid performance.
For the closing act, the Bahamas took the main stage for what seems to be their standard Sunday festival timing. What followed was definitely a headliner performance with an incredibly dialed sound and serene vocals. Conversing casual comedy frequently with the crowd, Alfie Jurvanen delivered resonating riffs and crispy passionate vocals into the night, re-imagining his hits and interspersing with guitar solos. After belting out all their best tunes, the Bahamas finished off with an encore as promised, leaving the audience with a few more mellow songs as the Constellation festival wound down the final night.