Over the weekend, Red Rocks was the place to be to get Funky and Dance. Three great bands known to bring the heat were in town, and they didn't disappoint. Hometown heroes the Motet were heading a show with New Orleans funk masters Galactic and a band new to me Moon Hooch. Sounds like a party, let's do this.
Moon Hooch
Moon Hooch is made up of two Saxophone players and a drummer that also knows how to play sax as well. Ok, that has my attention, Moon Hooch started by playing on Subway Platforms in New York City. Now they are on tour with larger bands and traveling the world. Mike Wilbur is not only a great Sax player but he has the energy of Iggy Pop, fellow sax player Wenzel McGowen was amplifying his sax sound by playing through an orange construction cone and drummer James Muschler was holding down the for on percussion. Definitely impressed with these guys, looking forward to seeing them play again. Their music is so full of passion it's inspiring. They are currently Touring the UK throughout the rest of July before returning to the East Coast later this summer.
Galactic
Galactic hails from the great city of New Orleans and knows how to get the crowd moving . The band recently bought legendary New Orleans music venue Tipitina's, because they wanted to help preserve some of New Orleans rich musical history. How cool is that, not only are the guys from Galactic great musicians they care about the cultural history and affect that music has on a community. Speaking of they know how to make sure the Colorado concert community leaves their shows with a smile on their face. Galactic has been playing the 90's and has had various singers and guests over the years. The band is made up of the core members Robert Mercurio (Bass), Jeff Raines (guitar) , Richard Vogel (Keys), Stanton Moore (Drums) and Ben Ellman (Saxophone ). Currently singing vocal with them on tour is Erica Falls and she has a hella of a voice. Having seen various versions of them over the years, the band never disappoints. They are on tour throughout the United States through the end of the summer. If you are not familiar with them yet, remedy that ASAP.
The Motet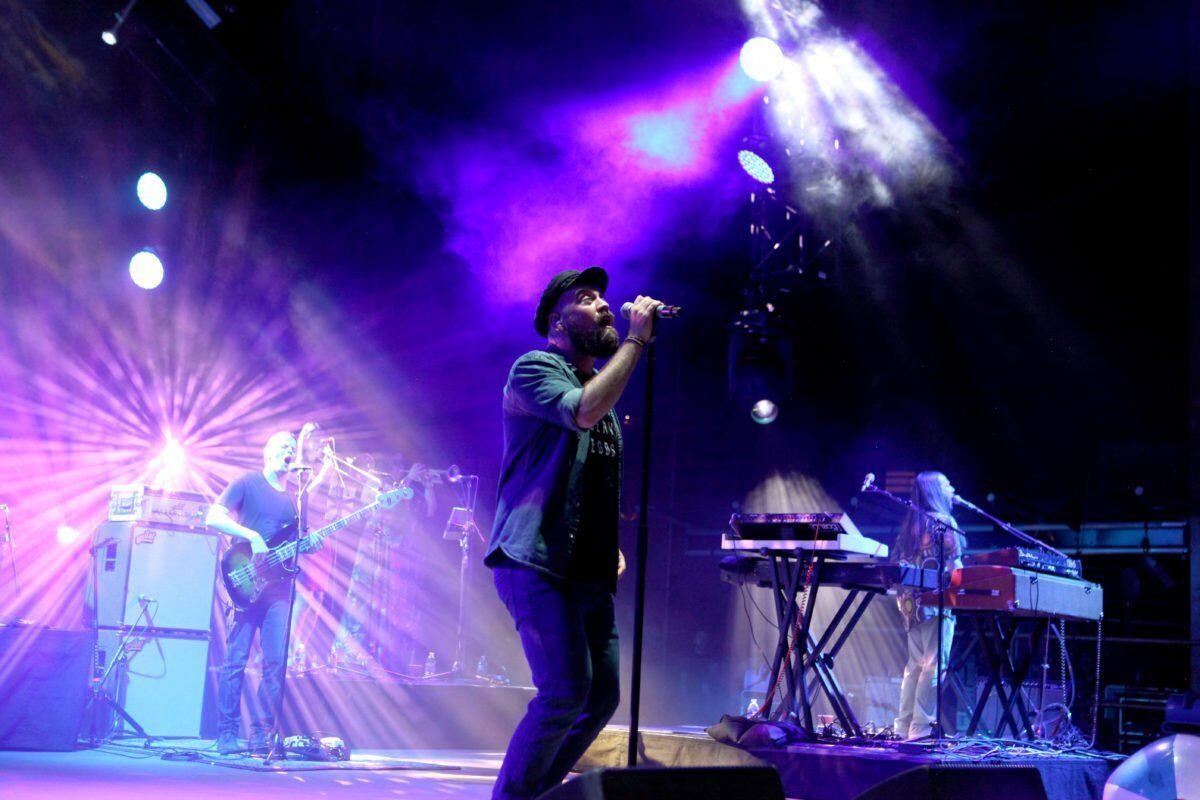 If you have lived in Colorado the past 20 years or more you have seen the Motet either at one of their Funk parties at the Fox Theatre in Boulder, opening for someone at Red Rocks or at one of the many Festivals around the city. These guys know locally as one of the greatest dance parties in the mile-high city. So when they are playing a co-headlining gig with Galactic at Red Rocks it's a no brainer.
The Motet is currently made up of Dave Watts on Drums, Keyboardist Joey Porter, Bassist Garrett Sayers, Ryan Jalbert on Guitar, Lyle Divinsky on Vocal and the Brass section of Drew Sayers on Sax and Parris Fleming on Trumpet. Drew and Lyle joined the band in 2016 bringing their distinct style to The Motet. The show was great so full of energy and emotion with a soulful funky sound. The band was on fire and just so much texture and such full sound going on, they can do everything, from a downtempo soulful moment. To collaboration with guest percussionists and featured musicians. So glad to see the local guys put their time in and get the love from the local music community. It shows that you are rewarding for working hard, playing go music and making people smile. Keep it up!
They released their latest album  "Death or Devotion" early this year and it has been great rave reviews, either way, they know how to get you moving and grooving. They are touring pretty consistently throughout the rest of the year. They will be playing two more concerts in Colorado later this summer with a stop at the Belly Up in Aspen on August 10 and a week later in Durango on August 17th for radio station KSUT's Party in the Park.
The Motet has a couple of cool collaborations going on currently: Sweet Cow Ice Cream has a special Motet flavor Motet Mocha the Motet has as partnered with a dispensary The Clinic to release their first strain StarMatter 303, which is a blend of 303 OG and Stardawg Guava.