The hang tag on the 686 SMARTY Form 3-in-1 Jacket reads like a pretty impressive list of qualifications. But it's priced at $270, a price point that's not exactly compatible with cutting-edge performance. And it does that using the more involved (and therefore more expensive) SMARTY construction that gives you the performance of a shell and insulator technical layering system in a simple to buy package deal.
How are they able to do that? Well, there's no denying some corners have been cut. But that doesn't change the fact that for the right snowboarder this could be the right jacket.
Men's 3-in-1 Jacket
By no means did 686 invent the idea of technical layering. But they are certainly among the first to offer a "three in one" style jacket in a snowboard (and eventually skiing) focused design. By combining the versatility of a shell with the necessary warmth of an insulating layer, they claim to deliver more value to the customer.
Granted, saying this is "three" jackets in one is a bit generous. The outer jacket absolutely functions as a serviceable shell on it's own, and worn together the liner jacket and shell make the 686 SMARTY Form 3-in-1 Jacket as warm as any other off-the-rack jacket. Two down, one to go.
But the liner jacket comes up a little short of a "real" puffer. It's warm enough, but the styling, between the fleece liner on the sides and collar, the awkward open handwarmer pockets, and the ungainly fit, won't make it the first thing you reach for in a closet full of hoodies, fleece, or puffys. It's not bad, it's just not a solid stand-alone piece. Which is supposed to be the whole point of SMARTY technology.
But focusing on that aspect might be missing the point. This style of jacket still gives you tremendous versatility right out of the box, with the ability to adjust and adapt your setup depending on the weather. The 686 SMARTY 3-in-1 Form Jacket is perfect if you live somewhere where weather can vary significantly even while there's snow to ride.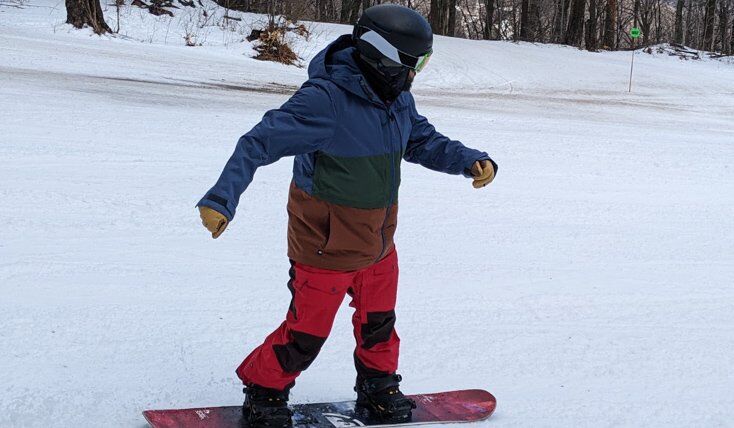 The old saying is that between aesthetics, performance, and price you can only choose two. And for the most part, that holds true. You can get a top-shelf shell that looks alpine-ready, but you're going to pay for it. Or you can get a deal on a jacket that does everything everyone could ever need, but it will look like it came from the discount rack at a Columbia outlet in the 90s.
But the 686 Form Jacket side steps that whole problem by doing a good, but not great, job with all three. Aesthetics are subjective, but the best and worst thing you can say about this Vintage Navy Colorblock (or any other colorway the Form is available in) is that it's inoffensive. You're not going to wow anyone with your style in this jacket, but you're not going to embarrass yourself either.
Performance gets a lot of points at first glance; with 20k waterproofing, fully seam-sealed construction, and of course SMARTY warmth. But closer inspection reveals a few cut corners. Most glaring is the open zipper at the front; no storm flap, no waterproof zipper. Just open metal teeth undoing all the work the seam-sealing was doing.
Finally, price- the MSRP is $270. Right in the middle of the most crowded part of the snowboard jacket market. It's not a cheap jacket by any means, but it's also not so high that new or casual snowboarders will think it's an "expensive" jacket. And that is exactly who should be looking at this jacket.
Who is it for?
The 686 SMARTY Form 3-in-1 Jacket is perfect for the first-timer that subscribes to the buy once/cry once philosophy. The 686 Form SMARTY Jacket will instantaneously move you into the realm of technical layering, allowing you to fine-tune your kit to suit the conditions. Or down the road allow for easier upgrades.
Instead of having to replace a whole jacket, you can swap in a different shell if you find the waterproofing compromises aren't compromises you're willing to make. Or if you're running cold even with the SMARTY liner on, swap it out for a more advanced down or synthetic insulator. Instead of having to completely replace your jacket, you're simply customizing your kit to suit your needs. This gives your money a lot more flexibility to really fine tune your setup for you.
This 686 3-in-1 Jacket is not for anyone looking to upgrade, even though it's got stats that are obviously an upgrade over most entry-level snowboard jackets. That's because realistically speaking if you're already thinking about seam-sealed 20k Waterproofing, or switching to a technical layering system, you probably already own a fleece, a puffer, or some other insulating layer that you could wear under a technical shell. And that's where your money should go, because at $300 you could wear the insulator you already have under a Volcom L GORE-TEX Shell, or 686's own GLCR GORE-TEX Jacket. Like the name suggests, both of those jackets feature GORE-TEX, and are free of the compromises the Form has to make in order to stay at it's price point.
Overall Impression
As a result, the 686 Form Smarty Form 3-in-1 Jacket ($269.95) gets five out of five stars for first-time snowboarders, but only three out of five for anyone who's already got a closet full of gear.
Related Articles: