Under that tucked-in button down (or tucked-in t-shirt) and that respectable haircut is a wildman kept in check by his responsibility, by his dedication, by his love, you may know him as dad. So give him something he deserves something truly great. Some of our favorite fathers day gifts can be found in our roundup below.
Fathers Day Gift Ideas
Dad deserves cold beers and steaks when he decides to put up with the family for a week of car camping. Pelican's 50QT Elite Cooler can handle it. The gasket, thick outer shell, and polyurethane superstructure keep ice cold for 8 days. Which is twice as long as it'll take for Dad to have his first big explosion about everybody complaining on the family roadtrip. And it's grizzly-proof so if that bruin tries to get into the 34-rack pops brought along, it'll get rebuffed like a kid with a homemade fake ID. Dad's a wildman but he's nothing if not civilized. Like that dad from "Mosquito Coast" ranted, without the ability to keep our food and drink cold, we're mere beasts. [Purchase: $299.95]
I am Iron Man. A legendary lyric from super-dad Ozzie, a generation-defining bit of cinema dialogue from literal super-dad Tony Stark in "Endgame," and what Dad yells every time he has to iron a shirt for some high-profile formal event. Iron is tough, it's strong, it's beautiful and, in Marquette's No. 10.5 Skillet, it represents nothing less than perfection. Dad likes cooking over an open flame and this pan was made for searing fajitas and his morning steak and eggs over the campfire. But he also likes to talk about craftsmanship, about how they used to make things and specifically used to make things better: longer-lasting, better-performing, with more attention and pride. Marquette uses Investment, or lost wax, to cast their iron cookware, which ensures that this is literally the best pan he will ever own and even more, that it will eventually be the best pan you will ever own – this thing will last forever. I mean some serious family heirloom type ish. And every time you cook on it many years from now, you'll be able to hear in your mind's eye Dad screaming "I am Iron Man." [Purchase: $174.95]
It's 845PM, after 15 hours on the trail and the ridges, when he realizes he left his lights on and there are no other cars at the trailhead. But luckily he has his Weego 66, able to jump start basically anything with an engine. But he can also use it for charging his phone, his lights, his laptop, all those tools he uses for posting his Adventure-Dad blog. And since it's tough to do anything in the dark, it works as a flashlight too. With 1000 charging cycles and up to 3 years of standby power on a single charge, the Weego 66 gets it started better than a Lil Jon track. The best gift for dad DIY type of guys. This is one of the best most reliable fathers day gifts you can buy.[Purchase: $199.99]
A great lock-back is an outdoorsman's favorite tool, like a katana for a samurai, or fried meats for an NFL lineman. It's essential for peak performance. And Victorinox has been the greatest pocket knife maker since they invented the Swiss Army Knife in 1884. Enter the Hunter Pro, a most single-blade basic knife (no corkscrew on this one, sorry Dad) but for that reason also one of their most useful. Instead of trying to excel at a bunch of doohickies (why are there two mini-saws?), this focuses that dedication into one bad-ass constant companion. Ergonomic handle and a 5-inch polyamide blade is the perfect tool for cleaning that deer. But even if the closest Dad ever got to hunting was that one time his work buddies convinced him to come get lit up by paintballs, a 5-inch lockback is useful for everything from cutting rope to lashing that table mom just had to have onto the roof, to prying splinters out of his old, callused palms. [Purchase: $99.95]
Dad likes his gadgets, especially in the middle of nowhere. The GPS and the lights and the electric mosquito repellent and the DSLR. He really dreams of setting up that Dodge ProMaster, living on rubber for a summer … this is where Renogy's Phoenix Generator comes in. It's a solar system the size of a briefcase that can harvest the sun with 20 watts of built-in solar, capable of expanding up to 120 watts with additional panels. Bring it car camping, on those van life adventures, or even backpacking since at less than 13 pounds it's pretty portable. You can load it up using AC or car power, and when you put it out in the sun it recharges pretty quickly, especially when you add a few solar panels. Get Dad the briefcase he really wants, not another sad "Falling Down" lunch holder. [Purchase: $479.00]
You'll notice throughout these options are references to some of Dad's favorite tunes because, y'know, even the squarest Dad has fond memories of his wild youth. And music is the best way for him to trip back down memory lane or even let the tiger out to play. That's why the Como Audio Amico is a perfect gift for pops – it marries classy "current dad" styling with high-end audio to rip out the tunes that made/make him feel alive. With its marine-grade wood substrate and a bass port that doubles as a carrying case plus a custom 2200mAh rechargeable LI-ion battery providing 8 hours of playback time, this audio temple is just like dad – as rugged as he is refined. Throw in some custom woofers with oversized magnets to really kick up the bass, standard Internet radio and full iOs and Android compatibility (plus a laundry list of cutting-edge specs) and you've got about the best audio tech Dad could ever want (even if he doesn't even know that he wants it). Because Dad rocks real music, not that lame Bieber/trap rap/auto-corrected weak sauce you mislabel "good music." [Purchase: $279]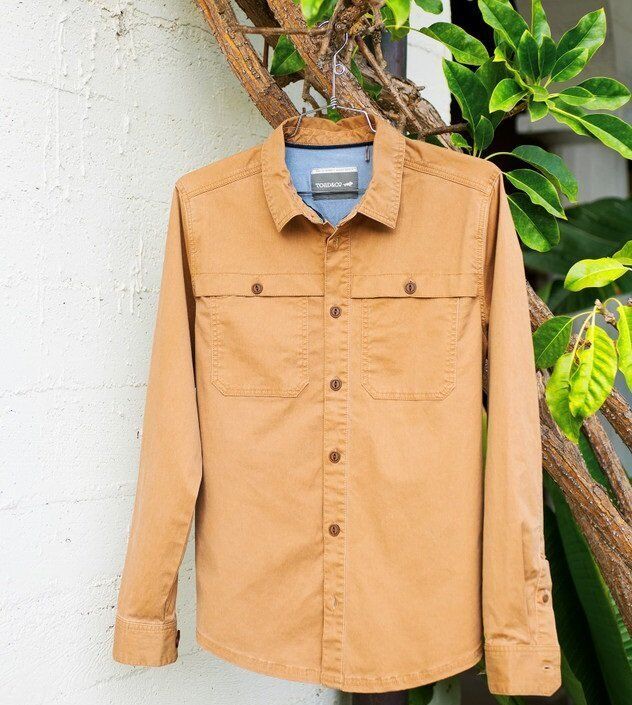 Dad has style. Whatever you may think about those beat up old slippers, or his ugly shirt/tie combos, a big part of him still digs clothes that are functional and look cool — and Toad & Co's Highroad Shirtjac fits that to a tee. It's 100% organic, with Toad&Co's perfect blend of cotton, polyester, and elastane so it can stretch when he reaches for that next hold. Or when he tells his favorite "remember when" story, with arms flailing and the bonfire raging. One of those great new categories, the Shirtjac, along the lines of the shacket, is great for recreating or chilling and wearable year-round. It also wicks moisture and has a built-in UPF of 40+ to protect his back. And when he wears it, he's gonna look every bit the outdoors wildman who first attracted that beautiful free spirit ingenue you know now as Mom. [Purchase: $125.00]
Coffee. It's what keeps Dad alive; without it he'd collapse onto the floor, jabbering about economics and life before smartphones as he falls into a weeklong nap. The GSI Java Press ensures he's got the goods even in the middle of nowhere, and not the instant stuff but primo black java. Throw in a GSI Pocket Rocket, about the same size as a tall shot glass, and Dad's going to be performing at his best. Because really, the man has a problem. He needs coffee like a narcissist needs selfie likes; like a crackhead needs, well, crack. The last place you want him getting the caffeine shakes is in the middle of nowhere. I mean, then, you'd have to fill the water filter yourself. And who's gonna dare you to glissade down with a full pack? [Purchase: Java Press $29.95] [Purchase: Coffee Rocket: $9.95]
Pops works 40 hours a week. Another 10 on his side hustles. And still makes time to take you skiing. Give him the Sena R1 to help the old man have fun on a few hours he gets to bike for himself. Biking's a strong low-impact endurance challenge, and if he gets seriously into road biking, he'll never have money for a mistress. The R1 not only protects his dome but also thanks to its Bluetooth 4.1 connection, he can take urgent calls from the office and rock out Snoop – or Phish – or the Stones – or the audiobook of Chris Froome's autobiography "The Climb." The built-in Bluetooth intercom also connects him to up to 3 other riders over a half-mile distance so he can communicate with his wingmen as they fly down the road in "Top Gun" formation. [Purchase: $229.99]
I once asked a Navy SEAL friend of mine what weapons he takes into battle. "Whatever we want," he answered. "One of my guys takes a tomahawk." That was the example he chose. Because really, what's more badass and useful that a small axe that doubles as a hand-launched projectile? The folks at SOG understand how to make a blade my boy and his team would be proud to carry into elite missions. Founded in 1986 and named after the Joint Special Operations unit that made its own knife in Vietnam, the need for life-or-death quality and dependability imbue every product they make. Their Voodoo Hawk is a combo hatchet and throwing tomahawk, with a blunted knifeblade off the back and a handle reminiscent of Thor's hammer. Just holding this 12.5" inch, pound-and-a-half tactical axe will get the old man's blood flowing. And since Axe throwing has replaced darts as the best projectile-centered bar and man-cave game, Pops can become a rock star in the axe throwing bars that have popped up everywhere from London to Brooklyn to Victor, Idaho. It also has its own sheath so Dad can loop it on the belt for the backpacking trip, you know in case he has to fend off a vicious mountain lion, because let's be honest, that would really be the Father's Day gift he wants. To be able to tell the story about that time he saved his family from a mountain lion using his tomahawk. [Purchase: $49.99]
Few things are as satisfying as watching a tree fall that you know will keep your family warm for the winter. But when Papa does that himself with an axe, that's the kind of thing that transports him back to his youth, when he was a strapping golden God and he made fun of people who whined about aches and pains. The Hults Bruk American Felling Axe combines classic American styling with Swedish steel that's been made the same way since 1697 when papas of old used these axes to build America. And the leather sheath ensures it'll be Papa's favorite tool, guaranteed to be an heirloom handed down father to son (or daughter) with pride. Making this an incredible gift from dads from daughter. [Purchase: $239.99]
Dad's done for the day but he's not ready to return to life inside 4 walls yet. So he opens the truck bed and pulls out the flat grill, attaches legs — or even just leaves it on the tailgate — and within minutes he's cooking with 90,000 BTUs. It's the modern-day mess for the rambling grill master who means business. And for car camping, it blows the doors off any of those little mini propane grills they throw at you from your neighborhood super-mart. A perfect gift for dad from son. [Purchase: $319.99]
Because he taught you to love the outdoors, you know the last thing he wants is another tie; this year, get Dad something he'll truly love. Don't wait until the last minute and get him some junk nobody really wants because, shit, no gift is worse than the gift you have to pretend you like. After everything he's done for you, doesn't Papa deserve the best? Yeahhh…
The problem with regular coolers is that they're not very portable. ICEMULE answered this by making a cooler that's a backpack, capable of carrying 24 drinks with ice and keeping them cool for days thanks to the PolarLayer XT™ Insulation and their IM Airvalve. Really, what's better after a long hike than some frosty beverages on a mountaintop — or going out on the river with a couple of cold brews and coming back home with a few trout in their place? One of the best gifts for daddy. [Purchase: $299.95]
Gotta love the sun — bluebird days let dad play for hours and summer adventures are much more easily shared with the family than avy-prone sketchy winter missions. But when Pops is out in the sun all day, the skin ripens pretty quick. Orvis's Wide-Brimmed hat can be shoved into a pocket so he's always packing a tool to ensure he'll still have a face to smile in those wedding pictures 20 years from now. [Purchase: $39.99]
This year, give dad what he really wants: A weekend in the wilderness. Getting away from the smartphones, the business calls, the yardwork, the cars that always need fixing and house projects that never end. With a colorful flair that'll set his free spirit apart from all those standard blocked tents, more than enough room for 3 people and 3 doors for those midnight bathroom breaks, there's nothing better for the family man who's got a wild animal trapped inside. [Purchase: $249.95]
Papa needs his eyes and with the wrong glasses (much less no glasses) those eyes can get destroyed pretty quickly on adventures. Bolle's Kaymans deliver the protection of more expensive glasses (impact-resistant B-20.3 polycarbonate lenses) and prescription compatibility with leisure styling and Thermogrip to make sure they won't fall off when he goes over the handlebars. Especially perfect for those summer high-altitude lines he's gonna bomb on his solid. [Purchase: $99]
It's an old joke that Dad always gets stuck with socks as gifts. And in the old days, socks were boring and did little more than separate your feet from your shoes. Today, every outdoorsperson knows that socks are some of the most important items you can purchase. Sockguy Socks combine industry-leading wicking (and something called TurboWool) with a Stretch-to-Fit system and Easy-Fit cuffs for unbeatable comfort. And not only are these foot-covers technologically advanced, Sockguy knows how the psychological impact of cool designs on socks can help papa survive the daily grind or add some flair to his backcountry mission — and if you really want to get special, you can even put a custom design on them. Dad really wants you to get him socks. [Purchase: $11.95]
For starters, TREW's NuYarn Merino makes the greatest 4-season base layer, hands down — and during warm summer expeditions, it's perfect just by itself. It's a bit pricey for a t-shirt but worth every penny and then some thanks to all the science put into this chest-hugger. Which is about the best thing you can say about a gift for the man who raised you. [Purchase: $69.99]
Hot coffee in the middle of a cold morning hike is what Dad wants. Coldwater in the middle of a long hot run is what Dad wants. GSI's microlite keeps hot for 10 hours and cold for 20 while beating the competitors in the weight category by a third, with stainless steel ensuring the bottle can take a beating mid-adventure, just like dear ol' tough dad. Even the lid is engineered beyond anything a mere mortal would ever imagine. [Purchase: $24.95]
Give your dad something that he'll pass down…someday.
With a little bit of love and care, there are few things that last longer than something made from high-quality full-grain leather. Our cycling friends over at Selle Anatomica craft leather saddles and accessories using premium American leather. Unlike other leather saddle brands that wet their leather before molding, Selle Anatomica hot molds their leather dry. No water. This produces a much more pliable leather that forms to your shape in weeks rather than years.
Your dad will want something comfortable and that he can trust. These saddles break in quickly and are 100% waterproof directly from the factory. With adjustable hex tensioners, these saddles provide some owner input and will give your dad something to fiddle with and be proud of. Selle Anatomica "make them like they used to" but just better.
For the casual cyclist dad that likes to climb hills just as much as he likes to cruise the quiet streets, you can't go wrong with an NSX series. These saddles are stiff yet forgiving and work great for the cyclist that rides around 100 miles per week. [Purchase: $179.99]

For the conseur of the perfect morning, there are few things finer than a hand-crank coffee grinder. Our friends at Texas Coffee Grinders have been crafting old-fashioned coffee grinders built to last forever. Their timeless method is rooted in the 1800's and are complete with heavy-duty cast iron hardware and 100% solid hardwoods.
The old burr mechanism grinds the beans in a way that lets the coffee's natural bean oil soak into the fine grounds. Thus, the aromas from a mechanical grinder are superior to an electric blade grinder. Each grinder is individually built and tested for durability.
The part your dad will love most is that the hardwood looks better over time. When he finally hands it down to you it'll shine with the care and attention that he's put into it for years. This'll become an heirloom that you and your family will use forever. Grind a cup a coffee with your dad, and thank him for being him.
Styles range in wood type, grinder mechanism, size, and are priced from $89.00-$120.00. Despite the model, you're sure to receive a quiet and smooth coffee grinder that'll stay in the family forever. [Purchase: $99]
Happy Father's Day.