There's nothing worse; Pumped out on a route, trying to squeeze a rest before executing the final moves to the anchors, when you realize how hard it is to chalk up when pumped. On the ground you had no difficulty sticking a hand in to chalk up. But now you can barely seem to get any chalk past your first knuckle.
Due to the lack of chalk, you pump off the last move and decide to buy a better bag for the project. This is a common experience for many climbers, including me. Until I used one of the Allez Chalk Bags, I was unaware of how easy chalking up could be.
The Allez Outdoors Chalk Bag has plenty of room for both hands, as well as plenty of room for chalk, making it an excellent choice for sport climbing and bouldering. These Artist Series Bags have a small strap that can fit most brushes, so you can clean the crux when you're on the wall or on the ground.
Materials
At first the color scheme of this climbing chalk bag seemed a little too punchy, but by the end the my first session with it I found the colors attractive and perkier then my last bag.
This chalk bag is also light enough so that it won't feel in the way, or interrupt the flow of climbing. The construction is solid with a mix of 50% Polyester and 50% Recycled Polyester that is a lot more durable than it sounds.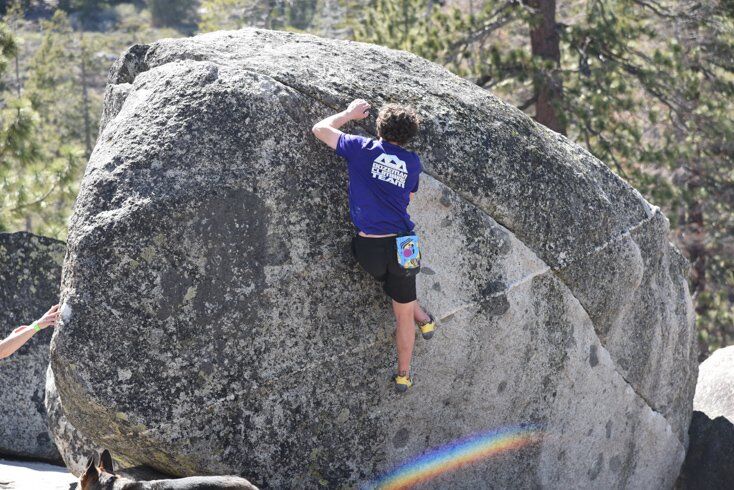 Only thing to watch out for is when the bag is new the wide inner strap makes it hard to get a good seal with the draw string but I think this will work out with use.
Overall Impression
I would recommend the high quality Allez Limited Edition Artist Series Chalk Bag ($30.00) for anyone interested in a good all around chalk bag for bouldering and sport climbing that enjoys a little added style while recreating outdoors.
Related Articles: