The Aquaglide Cascade SUP is a great board for paddlers of any skill level and is an affordable beginning paddleboard package for those interested in recreational paddling. The inflatable board is easy to travel with and comes with everything you need to get started. Included with the Cascade SUP package are a carrying backpack, paddle, fin, ankle leash, hand pump, and repair kit.
Size
The board measures 11' x 32" x 6." The Aquaglide Cascade Inflatable Paddle Board stands out with some unique features but can be unstable unless you are paddling at speed. Overall, it is a solid board that is made of high-quality material and is built to last.
The River Crossing carrying backpack fits the deflated paddleboard, paddle, fin, and pump.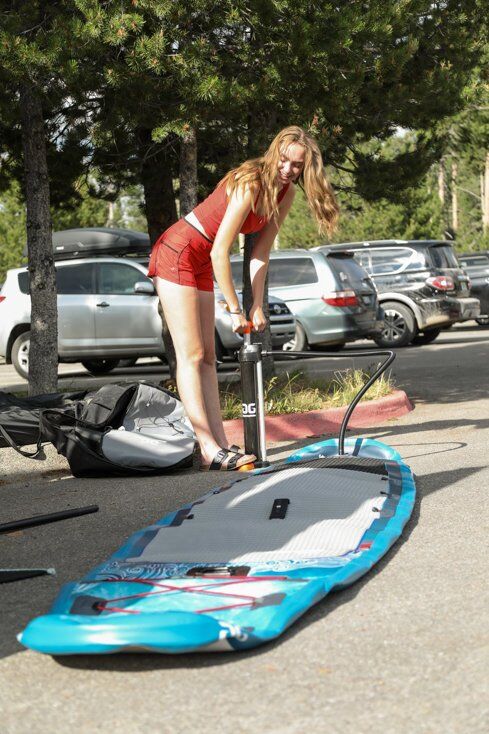 Inflation and deflation were easy with the hand-pump that includes a Halkey-Roberts type valve so that you do not lose air when you are not actively pumping. Inflation and deflation take about 10 minutes total, so you won't waste much of your time pumping up the board. The carry handle in the center of the board is comfortable and allows for easy carrying under the arm.
Carbon Paddle
The Wayfinder carbon fiber paddle is lightweight and adjustable with a Leverlock system to easily change the length of the paddle. The micro EVA deck creates a strong grip to prevent slips and falls. The drop stitch construction helps the board remain firm and stable. The board has an upturned snub nose to keep the board above water when encountering choppy water, waves, or wake from boats.
The board includes an accessory mount to add a cupholder, GoPro mount, fishing rod holder, or other tool to conveniently customize your board. The front of the board has cargo bungees to haul any luggage or equipment on longer paddling trips. There are also tie down loops to attach a cooler in the back.
We only noticed a few downsides during the test paddle. When you are paddling at a steady speed, the board is stable, but when you are first getting started or when you slow down, the board can be a bit tippy and difficult to balance on. Also, the length of the fin (9 inches) is designed for deep water use and may be difficult for paddling in shallower waters.
In addition to the included items in this paddleboard package, Aquaglide also has accessories that are sold separately to customize your board for different activities. The Aquaglide frame seat adds some more comfort to your board, adds some storage space under the seat, and can be adjusted to a low or high seated position for your comfort.
Overall Impression
The Aquaglide Cascade 11′ ($899.99) would be a great board for paddlers who aren't looking to break the bank but still want a high quality inflatable paddleboard. It is convenient to travel with, lightweight, and is a solid board on the water. One of the best inflatable paddle boards under $1,000 we tested in 2022.
Related Articles: