With a medium flex, the Arbor Abacus Splitboard is easy quick to maneuver and extremely fast from edge to edge. Find out how the true twin-tip Arbor Abacus Splitboard designed for backcountry riding and pow shredding, held up in the legendary terrain around the Tetons.
Reverse Camber & System Rocker
The Arbor Abacus Splitboard has a nice blend of Reverse Camber and System Rocker. Obviously, the Reverse Camber works great for plowing through fresh snow just like a surfboard floats and planes on top of the water's surface. It's one of those rare snowboards that eliminates the need to think, you want to go left, it goes left, you want to go right the board will take you there.
Grip Tech – every snowboard should have this! While I am not a fan of snowboards with aggressive Magne-Traction, Arbor's Grip Tech offers a nice blend with 4 added points of contact for superior edge hold. Not only will you be able to notice the added contact points while riding the Abacus but this tech really works wonders for touring on the uphill.
More points of contact will help keep you from sliding off those icy ski tracks, it's really as simple as that.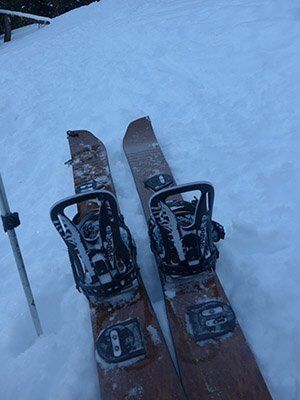 Arbor is using fully wrapped metal edges around the Abacus sidewall, the way all snowboards should be built! Throw in a 3-year warranty, a new production facility that's creating boards at a high standard and you can rest assured that there won't be any quality issues with these snowboards.
How Durable Are Arbor Splitboards?
The Arbor Abacus comes with a Sintered base, a reinforced Carbon Fiber tip, and tail and lots and of natural wood materials that can be found throughout the construction of this splitboard.
Arbor has completed dialed in the right mix of green efforts and modern-day tech in these incredibly lively snowboards. Any time a brand is building boards using materials like Eucalyptus and Poplar while throwing around terms like "Real Wood" you better believe these snowboards are going to have some life to them.
Overall Impression
The Arbor Abacus Splitboard ($799.99) is truly driving circles around most of the other splits currently on the market. Once locked into place the Abacus fits together nicely with no gaps between the feet, has zero loss in responsiveness which is rare with splits and will easily take you deeper into the mountains to find the goods.
Related Articles: