The ATN Binox 4K Binoculars are said to be some of the best tech heavy binos you can get on the market. I was in the market, so I decided to test them out for myself to see if the claims held water. These binoculars are a bit of an investment, so I bet that you guys want to know if they are worth it too before you pull the trigger. Well I have done that for you, and I'm here to tell you the truth about the ATN Binox 4k Day/Night Binoculars.
Weight & Feel
The first thing that I noticed is that the ATN Binox are a little heavy. They weigh 2.5 lbs., which is about a pound more than a large pair of normal binoculars. Although you get a lot of impressive technology with the Binox. That tech comes with an added cost though, extra weight.
So both an ATN scope and the ATN Binox would be best for people hunting on horseback or going in on ATV in my opinion. If you are not moving around a lot, I would also bring a tripod and attach the Binox to it while you are glassing.
Night Vision & IR Illuminator
If you are doing any predator or hog hunting, you will love the night vision mode on the ATN Binox. The image quality on the night vision view is tough to beat. It is definitely impressive the first time you try it out at night. You can even get up to 10X magnification at night with no resolution loss.
ATN also says that they have improved the IR illuminator in the Binox 4k, and I would say they did after seeing how much range you get with the Binox at night. I was also worried about all of this tech being over complicated, but the menus are also fairly easy to use, and I was able to get the night vision up and running in no time.
Video Quality and Live Streaming
The ATN Binox 4K Day/Night Binoculars are also able to record what they see in full HD video. The image looks great while you are looking through the Binox, but you can record that footage as you go in 1080p. ATN also focused on making the colors look vibrant so that the footage doesn't get washed out at longer ranges like other recording optics.
Your ATN Binox will also pair with your phone through an app. Using bluetooth, your Binox will stream its view to the app and your buddies will be able to see the exact same thing that the Binox can see. Streaming to a phone screen is pretty handy, especially when you are glassing together. If you just want to record video to show off later, you can input a 4 to 64 gb micro sd card to store footage on.
Range Finder
The laser range finder in the ATN Binox 4-16x Smart Binoculars is pretty great. It goes out to 1000 yards (well past hunting range), and it can be used to automatically adjust your reticle in your ATN scope. Yup, you read that right.
You can range with the Binox, and have the reticle of your ATN scope automatically adjust to the correct position. The Binox takes your range and sends that information to your ATN scope which does the ballistics calculations and moves your reticle instantly.
Ballistic Information Exchange (BIX)
Once you have everything set up it is easy to use, but there is a bit of leg work you have to do on the scope first. If you have an ATN scope, you know that it can store all sorts of ballistic information and use that information to help you make much better shots. As you should with any rifle, it will also help to have your dope charts filled out.
When you are setting up your scope, you have to input information like your caliber, sight height, ballistics coefficient, zero height, and of course your muzzle velocity. It is very important that all of these values are correct, because they are going to be used in the ballistics calculations that the scope is making for you. ATN suggests using a chronograph and knowing your real muzzle velocity before trying out BIX.
After you have your scope ready to go, it is as simple as ranging something with your Binox and then picking up your rifle. It works seamlessly via bluetooth and after trying it out at the range, I couldn't break it. The BIX system was super easy to use, and it honestly feels like a cheat code. You can be on a hillside glassing, and as soon as you see what you're after, range it with the Binox and take the shot. No need to think about your reticle.
ATN Radar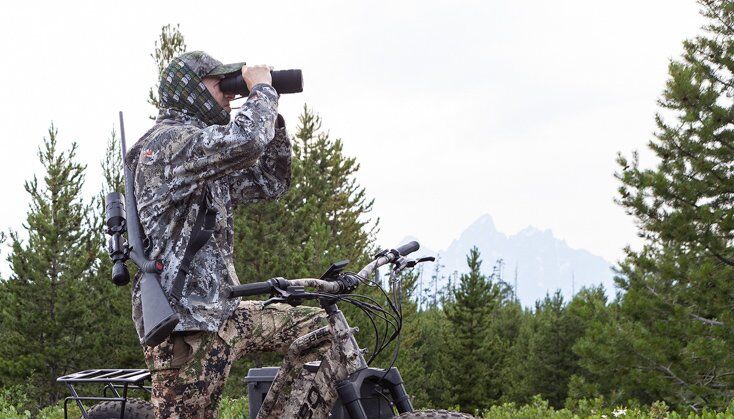 Another cool thing you can do with ATN gear is mark your targets. If you are hunting in a group, this is super useful. You can tag game with your Binox and it will be automatically displayed to a map overlay in your phone and other ATN connected devices. If your buddy is also using an ATN smart device, they will see a mini radar popup in their field few with both your position, and the target's position clearly marked. Then it is super easy for them to know the relative distance and direction of your tag in a matter of seconds.
This would be especially helpful if you are spotting for someone using an ATN smart scope. Then once you find something, they can get it in their scope quickly without you having to play the "oh do you see that crooked tree over there, look 50 yards left of it". It is just a more efficient system, and it is pretty fun to use too.
Overall Impression
The ATN Binox 4k Day Night Binoculars with laser ($899.99) are the total package. They are a great pair of binos, and come with a bunch of game changing technology that makes you even more dangerous in the field.
Related Articles: