The Aventon Soltera has been vying for the top spot among e-bike hybrids for quite some time now. We recently tested out the original version of this popular lightweight urban e-bike to see how it stacks up against the newer iteration. Now available at a bargain price of just $899, there are still some big reasons to ride the first-generation Soltera— dive into the details below!
About Aventon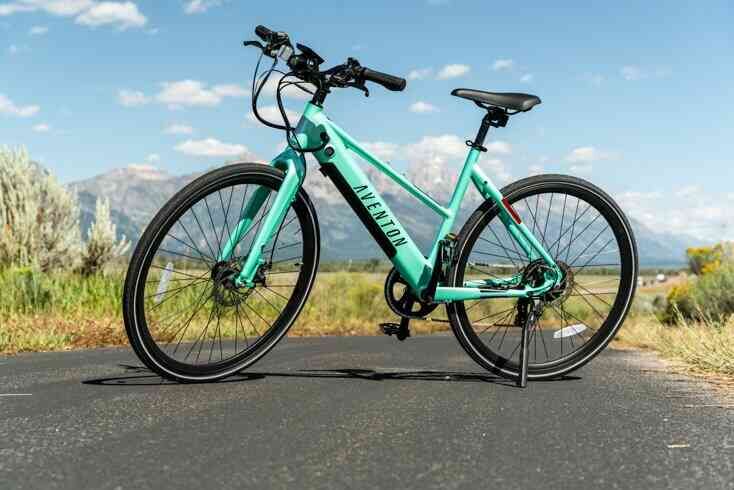 By now, Aventon has become one of the biggest fish in the e-bike pond and offers an impressively diverse fleet of bikes. The company pays special attention to design and aesthetics in order to make some of the most attractive e-bikes out there.
Aventon's accessible price range hovers between $1,000 and $2,000 depending on the model, meaning you can get your hands on a new e-bike while staying within budget. The bikes won't have the top specs of more expensive premium models, but most recreational riders don't require the latest and greatest tech on their outings.
Aventon's Hybrid Bike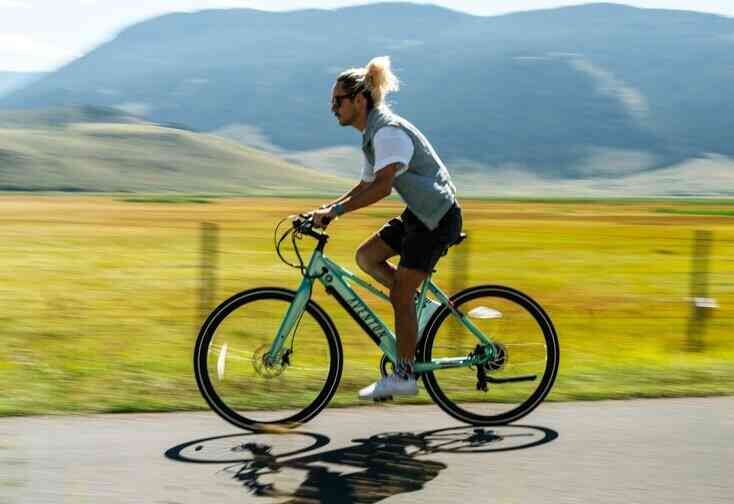 The Soltera slots into the brand's lineup as its lightweight model, boasting a sleek appearance that rivals that of standard— dare I say "analog"— bikes. It's a hybrid bike with a comfortable step-thru geometry and relatively skinny 700c tires for an efficient and zippy ride feel.
Frame Sizes
There are three attractive, pastel frame color options in the mid-step version and three more on the high-step model. Both versions are available in two frame sizes: S/M fits 4'11"-5'7" and M/L is recommended for riders 5'7"-6'1". We tested the S/M frame and my 5'8" body did feel slightly cramped on the frame, so the frame suggestions seem to run true to size.
Overall, the Soltera is a great option for smaller riders who may not fit on other e-bikes only offered as a one-size-fits-most setup.
Soltera.2 Upgrades
As mentioned, the second-generation Soltera.2 is now available for $1,199. That upgraded model comes with a fancier torque sensor, integrated turn signal lights, and larger disc brake rotors. Those are are nice tweaks but they do cost an additional $300 compared to the original version that has the largely the same power specs.
I enjoyed the super-smooth ride feel of the original Soltera— even with its lack of torque sensor— and I would be hard-pressed to justify dropping a few hundred extra bucks on the newer version.
350W Motor
The Soltera is pushed along by a powerful 350W rear hub motor with 5 levels of pedal assist and a throttle mode. The Class 2 e-bike consistently reached a top speed of 20 mph that's allowed on most local trails that permit electric bikes. The speed distribution of pedal assist levels feels natural and evenly spaced, gradually working its way up to the maximum pace. Some other entry-level e-bikes I have tested don't have as fine-tuned of acceleration and jump out of the gate far too quickly. The torque was sufficient to make it up rolling hills with ease.
While the rear hub motor shifts the weight balance toward the back of the bike, there's no extra bulge around the bottom bracket as with mid-drive motors— this is one reason why the sleek Soltera blends in so well with the analog bikes out on the road. The left-side thumb throttle is a good choice and sits next to the control pad with lights and pedal assist functions.
I would prefer higher raised buttons on the control pad so I could press them based on feel without looking. The entire pad felt very homogenous and the symbols were very lightly embossed which made it difficult to quickly toggle between settings and not pressing the wrong button.
9.6Ah Battery
The 9.6Ah battery is neatly hidden inside the downtube and preserve's the bike's sleek silhouette. Aventon claim there's a maximum range of 41 miles on a full charge but that will decease to just 20 miles if you're only using the throttle. That's a long way off from other e-bikes on the market but remember that the Soltera's main advantages are its accessible price point and lightweight profile.
This bike isn't trying to be a long-range superbike— it's a motorized hybrid that camouflages right in with analog bikes and, at 43 lbs., it's still light enough to still carry upstairs or onto some standard bike racks.
Components
On the mechanical side of things, the Aveton Soltera E-Bike boasts a Shimano Tourney 7-speed drivetrain and rolls on 700c wheels. The 35mm Kenda tires have a versatile tread for smooth-surface riding that'll channel away water in wet conditions. The Revoshift grip shifter works fine, but I would appreciate a higher-quality trigger shifter.
The Tektro mechanical brakes work great for this lightweight urban model even though I am a fan of hydraulic brakes on almost everything.
Integrated Lights
Aventon typically do a good job with finishing touches on their e-bikes and the Soltera doesn't disappoint. The coolest feature is arguably the integrated rear brake lights recessed into the seat stays. They look great and shine bright to let other bikes and other motorists know you're slowing down. It's worth noting that these lights are larger than the ones on the Soltera.2 model. During testing, we wished these lights would double up as turn signals and seemed like Aventon had the same thought because the newer version includes that extra functionality.
Additional nice details include the accented headset cap and the water bottle mounts along the top tube. In front of the stem sits the center-mounted LCD color display. It shone bright even in direct sunlight and connects with the Aventon app. This way, riders can adjust settings inside the app and access additional features.
I also enjoyed the Selle Royal saddle that felt sporty and comfortable.
Overall Impression
Aventon has gotten things right with the Soltera Urban E-bike ($899.99). It makes for an ideal lightweight commuter or recreational ride any day of the week and won't set you back stacks of cash. For cyclists on a tighter budget, or that might need to carry up a flight of stairs this model offers most of the features of the newer model for $300 less, so it's a compelling deal.
With some seriously cool colors and a smooth ride feel, the Soltera is a sure bet.
Related Articles: