The BCA Shaxe Speed Shovel turns your ice axe into a "what if" addition (along with the medkit, firestarter, extra food, etc…). When BCA sent us their Shaxe Speed Shovel, I jumped at the opportunity to review it. And while the tool left me wanting on a few ticks, all told it has become my favorite new toy for the backcountry.
BCA Shaxe Weight
My standard shovel, the BCA B-52, weighs 2.1 pounds; my ice axe is 1.1 pounds. This Shaxe is 1.8 pounds. Which saves me almost a pound and a half. Doesn't sound like much. But every pound counts, especially when you're pushing up the mountains, especially when even a 5% reduction in speed over 8 hours works out to close to a half an hour. On a recent tour up the East Hourglass couloir in GTNP, we were racing a wet storm blowing in hard from the west.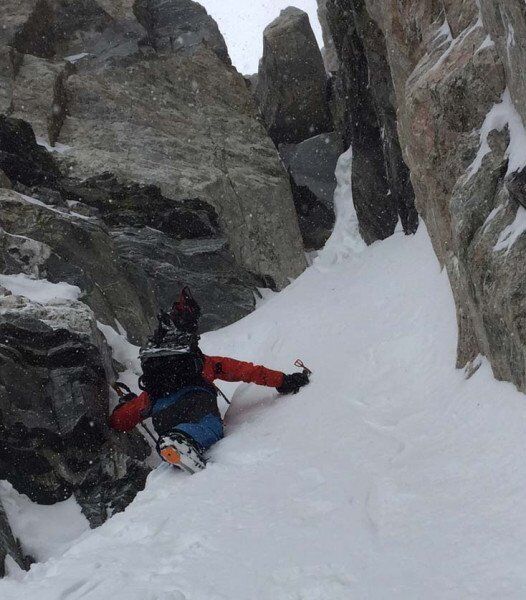 If there is a weakness with the Shaxe Speed, it's the shovel.
The Shaxe Speed is considerably small. While that makes it lighter and makes it fit the pack better, the simple fact is it takes more stabbing to move less snow, which can be the difference between unburying your buddy alive or extracting a corpse. For my first test, I saw how big of a pile I could dig in about a minute while my son was urging me on (the piles would become his little snowboard ramp). The Shaxe's pile was considerably smaller.
Test two dug some snow caves in frozen plowed snowbanks, the best imitation of avy snow. The metal blade didn't hesitate even for a second; it plowed through ice like one of those Antarctic dredgers and hardpack like it was chalk.
Finally, I took it up into the Big Holes to dig a snow pit. Because the blade is slightly curved, it took some serious patience and attention to get it straight. And the curved blade also wasn't very conducive to smacking the column for a standard ECT.
Shovel Handle with Removable Pick
The axe digs in deep. You wouldn't even know it's a shovel handle with a removable pick. I took it up into my favorite backyard spot for self-arrest on some blind rollovers and the pick never shook or gave way. My only complaint has to do with not really having anywhere to properly attach a leash. Also, while it's a bit small as go-to mountaineering axe, it's perfectly sized for your split-mountaineering axe. Just make sure you have a good grip on it.
When I booted up one of the steepest couloirs I've climbed in a good while, it dug down deeply and firmly enough to make me feel comfortable nearly vertical on a snow pillar. I climbed a little too high and found myself in a spot where the rock wasn't wide enough for me to put my board sideways to strap in. I then had to downclimb with a board in hand and crampons in pack (I'd already taken them off thinking I was going to strap in). The axe was deep enough to keep the fear of ping-ponging down the chimney from setting in. And when I finally had to slide toeside down a pitch where a fall could quickly turn into a couple-hundred-foot tumble through rock, ice and hardpack, you best believe I had it in hand, digging it in once or twice to keep myself honest. When I got to the wind board ice section I'd noted from the bootup, I dug the Shaxe in to stop and set up for the rocky choke below. It performed perfectly in all occasions.
Overall Impression
The BCA Shaxe is now my big day staple. Again, if I'm looking at some slack or sidecountry treks into questionable terrain with questionable snowpacks, I'm probably just bringing my B-52 and I'm not booting up any couloirs steep enough to require ice axes as that is how you die. But for all the many epics both in the Tetons and beyond, the lightness, versatility, and performance of this tool as both an axe AND a shovel makes it a must-have.
You looking to go big? I mean REALLY big? The BCA Shaxe Speed Shovel ($149.95) needs to be in your pack. Rugged enough and small enough to be the perfect split-mountaineering axe.
Related Articles: