Although I generally cringe when thinking about wearing (let alone buying) the glorified hiking boots that many brands are hawking as "snowmobile boots," I agreed to test a new pair, sight unseen. Negative apprehension faded upon sighting the Baffin logo on the box. I recently spent hard-earned dollars on Baffin's superbly warm Endurance boots, so I was aware of the company's propensity to pack ludicrous warmth into featherweight packages. The Baffin Lightning Boots are no exception, with a weight that will make you feel like a sucker forever stomping around in Sorels.v
Baffin Lightning Boot Fit
Upon slipping on the Baffin Lightning Boots, my first impression can be summarized by "ahhhhhhhh." The beyond-luxurious interior uniformly conforms to the rider's foot in a sensation akin to a teddy bear enthusiastically hugging each foot. The lacing system, however, conjured slightly less pleasant childhood memories. With more laces and loops than any 3 pairs of boots needs, trying to get them snug felt like losing an advanced game of cat's cradle. I eventually gave the top laces a tug and fired up my sled.
Boot Flex
As soon as we got off the trail the Lightning boots easy flex was immediately apparent. After years of riding with nearly fixed ankles, I was surprised how easy it was to jump from side-to-side on the sled, cutting from one sidehill to the next. This, combined with the boots barely-there weight, saved noticeable amounts of energy throughout the day. As expected, the Baffin's 8-layer insulation kept my feet toasty all day. After a few deep days of riding, I inspected the soles, expecting carnage from my extremely aggressive running boards, only to find them virtually unscathed. Whatever this magical rubber is, it puts my Vibram soled snowboard boots to shame.
Overall Impression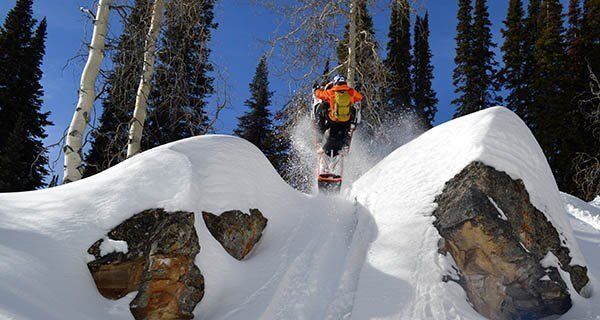 While I may sound smitten by the Baffin Lighting Boots ($279.99), it's because I am. I'm not quite willing to hang up my supportive snowboard boots. I still feel that my uninsured ankles could use all the protection available. But I'd certainly recommend a pair of Baffins for less aggressive rides, or just having the plushest boot around while shoveling the driveway.
Related Articles: