These indoor bike trainers and exercise bikes will give you a great workout anytime day or night. They come at a premium price, which equals premium results! Our picks for the best indoor bike trainers are as follows: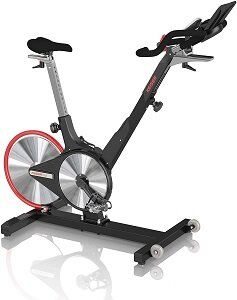 This is the absolute top end of at-home spinning bikes. It's super-sleek, features 24 gears of magnetic resistance (instead of the manual flywheel resistance adjustment), and is likely the quietest spin bike you've ever heard.
The M3i comes with Keiser's Bluetooth display, which can connect to a receiver or another Bluetooth device for better visibility. It keeps you updated on your speed, RPM, power, distance, and heart rate so you can perfect your indoor workout.
Equal parts spin bike and installation art, the M3i doesn't come cheap. You could find a carbon road bike for less than this. But it's the ultimate at-home workout machine, and will keep you in top shape all winter long.
The Road Machine has long been the industry standard for bike trainers, which is why it's near the top of the list for the second time. The large flywheel and fluid chamber give you smooth riding with progressive resistance. Although the resistance isn't adjustable, you'll definitely feel it ramping up as you increase speed.
Large fins on the fluid chamber keep it from reaching the temperature of the sun, and the rubber feet keep you from sliding around even when you're hammering hard.
Most people will find this price tag much more reasonable (though $300+ is certainly a sizable investment). Fortunately, the Road Machine is nearly indestructible and will last a very long time.
The Wahoo Fitness KICKR remains at the top of the rankings—it still gives you accurate power measurement up to 2,000 watts, highly advanced resistance tuning, and bombproof construction. But the latest version also includes an 11-speed cassette, quieter operation, and more device connectivity.
You won't wear out a rear tire training inside, because you attach your rear dropout directly to the trainer and your chain to the cassette. This adds to the great road feel of the trainer and gives you more control over the resistance. You can also simulate hills of up to 20°, so you can prepare for those mountaintop climbs when you're not out on the road.
The downside to the Wahoo Fitness KICKR, as you might expect, is its price. You could get an entire bike for the price of this thing. But if you're serious about training year-round without having to fight through Rocky Mountain winters, it can't be beaten.
(If you're looking for a more traditional trainer that offers power measurement, check out Wahoo's KICKR SNAP ($500), which weighs in at half the price.)
Let's address this right away. Yes, the Feedback Sports Omnium looks really weird. But hear me out. Trainers can be a pain to travel with. They're heavy and unwieldy. Even if you have a sleeker one like the Road Machine or Vortex, it's not really meant for travel. But the Omnium is. It folds up, mounts to your fork, and gives you a standard indoor exercise bike trainer stand.
It even comes with a padded travel bag to make moving it around easier.
If you're looking for an all-the-time trainer, this might not be it. But if you want a trainer for race warmups or travel, it's a great way to go.
Rollers usually give a more road-accurate feel than trainers, but Kinetic wasn't going to just accept that. Instead, they made the Rock and Roll, which uses a pivot system to mimic the back-and-forth motion of a bike on the road.
It won't challenge you as much as a set of rollers, but if you want your muscles to remember what it's like to ride on the road through a long winter of indoor riding, the Rock and Roll is a solid choice.
As part of the Smart line of Kinetic's trainers, the Rock and Roll also measure power, heart rate, cadence, speed, distance, and other factors. You can monitor your ride right from your phone. You'll pay a premium for all of this awesome functionality, but you'll also get an unbeatable workout.
JetBlack S1 Sports Trainer – ($79.99)
When the weather outside gets gnarly, bring your outdoor cycle indoors and train on the JetBlack S1 Sports Trainer, one of the best budget trainers around. Though simple, the single-geared magnetic resistance trainer provides a solid overall workout with a reasonably realistic ride.
To be honest, the JetBlack S1 Trainer gets the job done, but it's not for avid cyclists. It makes for a slightly choppy/rough ride through the frame is remarkably stable at the price point. It's a good choice for those on a serious budget or those that live in an area with year-round good weather that just wants a backup for the occasional rainy day. With that said, the S1 comes with a free training app, fits most outdoor bicycles, and is pre-assembled and ready to ride straight out of the box. When it's all you can afford, you can rest assured this bike trainer will get you sweating.
Tacx might not be the biggest name in indoor trainers, but the Vortex smart trainer is a solid choice nonetheless. It offers many of the features that other smart trainers do; speed and power measurement, adjustable resistance that connects with your phone or tablet, and up to 950 watts of resistance.
But it also includes downhill simulation, 750 watts of sprint power for up to one minute, and it comes with a front wheel support (which not all trainers do). And, let's face it, the design is much nicer than almost any other trainer out there. Should that matter? Probably not. But does it? Absolutely.
The price is similar to other trainers at this level, but if you want an extremely well-designed trainer that offers a lot of features in a sleek package, you can't go wrong with the Vortex.
Don't expect a trainer to boost your level of cycling fitness the same way riding outdoors will do—you simply can't reach the same level of performance by riding indoors alone. However, trainers are a great way to maintain winter/spring cycling fitness and improve pedal stroke efficiency. Practice single leg drills (one foot clipped in, the other not), or high cadence intervals. These types of exercises will translate to smoother pedaling, allowing you to ride faster while expending less energy.
Stationary Bikes
Stationary trainers are relatively small and don't require a large space to store. On most systems, your rear tire rests on a spinning cylinder, while your quick release is connected to the trainer via a clamping system. Fluid resistance systems provide progressive resistance (i.e. pedaling faster-increasing resistance), whereas magnetic resistance systems are not progressive.
Rollers consist of three smooth drums connected by a metal frame and large band. Unlike stationary trainers, these systems do not clamp onto your bike. Instead, they rely upon your ability to maintain balance while pedaling. Rollers require extra concentration but also help to develop or maintain stabilizing muscles while providing a more realistic riding experience.
Interested in more bike roundups?  Check out our favorite commuter bikes, e-bikes, trainers and more.
More Bike Articles: