Whether you are looking for a short day-hike boot for easy treks near the parking lot, or you are looking for a high-ankle stiff boot for long steep walks in the backcountry, this list can show you the hiking boots best suited for your needs.
Best Hiking Boots
In production for two decades, the Vasque Breeze reigns as an amazing hiker year after year.  Vasque recently made some changes to the Breeze boot, incorporating recycled materials and using their new VasqueDry, which promises to deliver excellent waterproofing and is made from 25% recycled materials.  Available in men's and women's, the men's boot weighs in at 2lbs 8 oz. and the women's at 2lbs 2 oz., making these boots a competitive, lightweight hiker.
There is a reason that the Breeze line of boots is still around after 2 decades, and this newest boot in the lineup took the best design principles from previous Breeze series boots and combined them into one ultimate boot.  I don't imagine the Breeze is going away any time soon.
Price:  $159.99
Keen makes terrific boots for hikers and workers alike.  The Targhee III is a bestseller amongst Keen's day-hiker boots and features Keen's classic wide toe block and narrow heel, making for a secure fitting boot with natural toe movements.  The rubber soles are accompanied by a trail running tread pattern, giving the boots a quick, athletic feel.  They are available in waterproof or non-waterproof, with the waterproof line using Keen's own breathable, water repellent system.
The mid boot is constructed of an environmentally-preferred leather from a LWG-certified tannery, making the boot easy to clean and wiped free of debris after a day on the trail, and is also fitted with Keen's Anti-Odor for natural odor control.  And at only 17.1 oz., the Keen Targhee III is light enough for any warm weather, tough terrain hike.
Price:  $175.00
While many know Muck for their classic waterproof, mid-calf rubber and neoprene work boots – loved by farmers, hunters, and workers – the Apex Lace Up is Muck's answer to a completely waterproof hiking boot with improved athleticism and traction.  The interior of the boot features a mesh lining that gives great breathability and the soles are made to grab on everything from loose rocky terrain to the muddy, wet muck.
Neoprene uppers give the familiar feel of traditional muck boots, but the lace up allows for a much sturdier, tighter fitting boot.  This rubber/neoprene material combo does result in a boot made to keep your feet warmer, and Muck recommends using these boots from sub-freezing to 65oF.  The Apex lace up from Muck might be perfect for wet, cold ground or a small skift of snow, but leave these boots at home on a dry, 80oF day-hike.
Price:  $170
Ryan Ariano did an extensive review on the La Sportiva TX Hike Mid GTX boots back in August of 2022.  Ariano compares these boots to a "high-performance SUV" with the "rugged durability of a hiking boot" and "the speed and versatility of a running shoe."  He tested the boots in every terrain from snow and mud to dry ground and wooden dance floors.  The La Sportiva boots passed every category of Ariano's tests.
Like many boots on this list, the TX Hike Mid GTX strive for waterproofness while maintaining breathability. They boast recycled materials as well, including:  recycled uppers, recycled rubber outsoles, recycled laces and webbing, and a recycled Gore liner.  Weighing in at 17.2 oz., the La Sportiva TX Hike Mid GTX are light enough for any warm weather day-hike, but are also suited to walk through thin snow and mud on multi-day trips.
Price:  $179
A great boot for high-elevation hikers, the Salewa Mtn. Trainer Mid GTX M Boot is a lightweight alpine trekking boot with Gore-Tex waterproofing.  With a weight of 25 oz. per boot, these boots are designed to provide great flexibility and comfort during ascents and descents while the dual-density midsole provides comfort during all-day hikes.
While most boots on this list thus far have focused around breathability and day-hikes, the Mtn Trainers are designed for ankle support and aggressive tread for real alpine treks.  The boot uppers are designed to prevent ankle rolls and provide strong support when carrying heavy packs, and the tread is designed to remain grippy, even on wet, rocky terrain.  Try the Salewa Mtn. Trainers if you need a versatile boot for steep-country trips that require long-term durability.
Price:  $249.95
The Salomon Outpulse Mid wear like a shoe but perform like a boot.  At 13.5 oz., these boots are the lightest on our list.  Like many boots, these feature waterproof, breathable Gore-Tex and a tread designed for wet, dry, hard, or loose surfaces.  The Salomon Outpulse Mid are also constructed from recycled materials.
While these boots aren't suited for deep water and mud or snow, they are the perfect boot for short day treks in warm weather or trail runs.  These boots boast great cushion and comfort compared to others due to Salomon's Fuze Surge foam midsole, and the mid-height boot provides better ankle support than the traditional Salomon shoe. Pick the Salomon Outpulse Mid for lightweight hikers in decent weather, but don't get concerned if the weather turns.  Salomon boots can handle it.
Price:  $160
Originally started 90 years ago as a boot company focused on creating the best logging boots, today, Danner Boots is known for hiking, working, and hunting boots.  The 6" Panorama is Danner's answer to a low-rise, all-purpose hiker.  The boots are constructed with suede uppers and Danner Dry technology, providing your feet with breathability and dryness all day long.  This boot also features a removable OrthoLite footbed.
Danner's design with this boot was built around versatility – a boot that would provide great performance on a trail but can also be comfortable for everyday wear.  Danner boots also come with a 365-day warranty, protecting you from any manufacturer defects or undue wear.  Purchase the Danner Panorama for an everyday boot that you can wear at the office and keep on your feet when you hit the trail on your way home after work.
Price:  $160
Adorning the look of a sleek urban boot, don't be fooled by a Blundstone's appearance.  The Chelsea boot was made for cement as well as off-the-pavement.  Blundstone built the Chelsea boot with long term durability in mind, constructed of complete leather uppers, leather liner, and a durable TPU outsole.  These boots also come in a range of black or brown leathers, allowing you to pick the perfect shade for a go-to city-to-trail boot.
While the Chelsea boot does not have laces, meaning you will never have the same snug fit as you would on another hiking boot, it does have Blundstone's SPS Max Comfort System and XRD Extreme Impact Protection, providing up to 90% shock absorption when walking.  The Chelsea Boots from Blundstone can provide good support and durability if you plan to hit a trail at the end of the day or a weekend morning, but they are probably not the choice for multi-day treks.  These are the perfect city-scape to countryside boot.
Price:  $219.95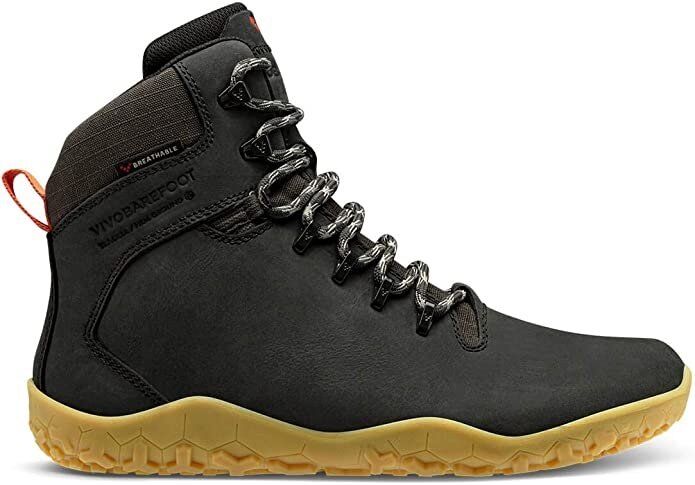 The Tracker II FG boot by Vivobarefoot defies any stereotype of a mid-hiking boot being clunky or prohibitive.  Vivobarefoot focused on lightweight, flexibility, and ground feel with these waterproof, leather peak baggers.  A wide footbed allows for more natural stability and is paired with a removable thermal insole, allowing you to use these boots across a variety of temperatures.
Another focus of Vivobarefoot with the Tracker II FGs is sustainability.  The boots are constructed from leather only sourced from free-roaming cattle and can be shipped back to Vivo for remaking once you wear them out.  Not many boot companies out there are that dedicated to a sustainable product.  Try out the Tracker II FGs if you want a lightweight, flexible boot that you and the environment can feel good about wearing.
Price:  $260.00
The only high-cut boot on this list – at 9 inches – the Schnee's Beartooth Classic is boot that can take you from a creek-side flat trail to the top of a mountain, going through streams and snowpack in between.  The high leg gives great support on steep and uneven terrain, and the sewn tongue design keeps you completely waterproof well past your ankles.  A boot of this style does take some time and trail hours to get broken in properly, but will provide unbeatable comfort once you get there.
Coming from a company founded in Bozeman, Montana in 1946, the Beartooth series of boots are handcrafted in Italy with a custom Vibram Tsavo outsole and a 100% poly midsole.  The boots are heavier compared to mid-hikers, at 4.1lbs per pair, but will provide strength and support that shorter boots cannot on steeper terrain.  Look at getting a pair of Schnee's Beartooths when you need a long-lasting boot that will take you up, down, and across any adventure.
Price: $469.99