Hiking socks are a MUST if you are planning a demanding day on your feet in the backcountry. You need the best hiking socks to prevent blisters, sweat, or exposure to frigid temperatures. So what qualities make high performance hiking socks? After all, the outdoors can throw just about everything under your feet including sand, mud, dirt, rock, snow, sleet … and more.
Best Hiking Socks 2019
SmartWool Hiking socks are not what you might expect either. Not your Grandpa's moth-eaten gray variety, SmartWool socks come in a range of rad colors, prints, patterns, and the overall style … are all good. NOTE: This company also does FREE returns. So sweet! One of the best hiking socks to prevent blisters ever made.
No Fly Zone socks from Farm to Feet are some of the sickest socks I've ever heard of! Check this out: No Fly Zone treated socks are infused with insect repellant. Inside the fabric, the permethrin-based insecticide works to repel all types of nasty pests including flying and crawling insects, including mosquitoes, ticks, ants, flies, and chiggers. Get bug protection that works – up to 70 washes! Helps to reduce the spread of vector-borne illnesses such as malaria, zika, and West Nile: a MUST for outdoor lifestyles. Our picks for the best socks for winter camping, so nice to put on at the end of the day to cozy up in your sleeping bag.
What makes good socks? Well … if you have a community-based mindset, it's socks that give back. Committed to offering everyone with a love for the outdoors a sock that supports green initiatives, this company stands by their principles: Make a durable product, Make it in the U.S.A., Use the highest-quality fibers and Recycle the scraps (for those in need). Wanna buy some outdoor socks? Buy ones that give back from Swiftwick.
If a perfect fit and feel is what makes good socks for you, then Fits has you covered. Made with ultra-supportive construction, these full-contact socks are the best fit and the best feeling. How? Full contact cuff, heel lock, and dynamic toe cup. Oh! And the collaboration of third and fourth generation textile manufacturers dedicated to making the best fitting sock in the industry. You make the call.
OK… if you want socks that you can live in, pick them up from a company that knows how to be tough. Made with space-age engineering, Darn Tough Hiking Socks offer the quality you'll quickly become addicted to, the experts at Darn Tough eat, sleep and dream about socks that last through whatever you throw at them. And we know what you'll be out there hiking, so don't play: you need sturdy socks that are not only comfortable but also durable. So go ahead and get addicted to the best in the game. There's no shame in it.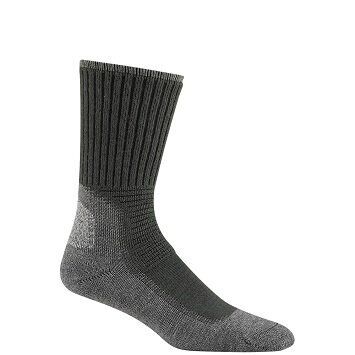 Every pair you take home from Wigwam was born in Sheboygan Wisconsin, and after 100 years of maintaining the highest level of integrity you can find, Wigwam Hiking socks come in classic, traditional and trending styles you'll love. From the green manufacturing facility to the fair trade policies, and even supporting the wool producers in the country by only buying from American yarn spinners and wool growers, Wigwam provides the socks you actually WANT to wear.
Now that your socks are dialed, what about a pair of boots for hiking?  We put together a list of the best men's hiking boots.
Hiking Socks Price Comparison: