As we head into the winter months, you may be looking for a comfortable pair of slippers that are versatile and durable. Maybe you are looking for a pair that is lightweight and comfortable for indoor use but durable and waterproof so that you can wear them outdoors. We have compiled a list of the six best slippers for men that we think will meet this need for you. Each pair is stylish and great for indoor and outdoor wear.
Best Men's Outdoor Slippers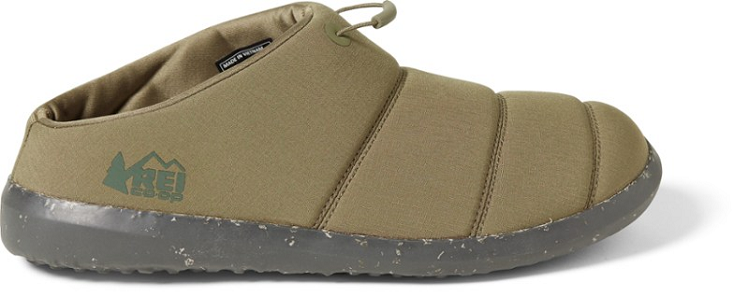 The REI Camp Dreamer Slippers are comfortable, sturdy, and vegan. These cozy camp slippers are great for indoor and outdoor use and have a solid grip, so you won't be sliding around your floors. The outer sole is made from TerraGrip rubber for a solid tread. The slippers are lined with FirmaKnit fabric for a warm fit. The midsole is made with Susterra TrailBed foam designed by podiatrists to provide supreme support. They are waterproof.
They are true to size, but sizing can be a little confusing with these shoes. They are unisex, so be sure to check out the size chart to purchase the correct size. REI Co-Op members can get free shipping with these REI camp slippers as an added perk.
Price: $59.99
The Sperry Moc-Sider Slippers are super comfortable and have a cushioned insole for added comfort and EVA blown outsole for great traction, so you won't have any problems outdoors with these on. The microfleece lining will keep your feet warm, making these a great pick for winter. If you are looking for a shoe that you can wear inside and outside, these fit the bill. The buffalo check print is available in different colors. I recommend the red slippers if you are looking for a fun color.
These are true to size. If you need to return or exchange them, you can do so within 30 days of your purchase for no charge. This is a great option for someone looking for a stylish slipper that they can wear both indoors and outdoors.
Price: $79.95
The Voited Soul slippers are sustainably designed for comfort and convenience. They are lightweight and packable with a sturdy outer sole and can be folded for travel. The Soul slippers are made from recycled plastic bottles and the production process uses water-based gluing to reduce energy use. The REPREVE eco-friendly outer fabric is waterproof to keep you warm and dry in all types of weather. The memory foam inner sole provides that extra layer of comfort and the fleece lining keeps your feet warm during the coldest times of the year.
They are true to size. If you need to return them, you have a 20-day window to do so. These are the most affordable slippers on this list but still provide a premium guaranteed quality. If your slippers have any defect due to workmanship or materials, they will replace or repair them at their discretion. This is a great option for someone looking for comfortable slippers on a budget that they can easily pack and bring with them while traveling.
Price: $45.00
These slides are perfect for indoor and outdoor use. They are comfortable and durable. The outsole is made with high-traction rubber that won't scuff your floors. The inside is lined with fleece to keep your feet toasty during the colder months. The polyurethane insoles are removable and are made with Keen's Eco Anti-Odor technology to keep your slippers smelling pleasant.
For an adjustable fit, they have a lace-lock bungee system to tighten or loosen at your discretion and the slides come in a variety of colors and patterns. As with most of Keen's inventory, these slides are made of recyclable materials. These are great for someone who is looking for comfortable slides to wear in the house and outside and who has an active lifestyle.
Price: $99.95
Best Indoor Slippers
The WoolFit Office Slippers are perfect for working around the house and outdoors. They are made from 100% natural wool, are light and flexible, and are moisture-wicking to allow for a warm and breathable wear. Despite being lightweight, they are also sturdy, making them great for outdoor use. The WoolFit brand is committed to sustainable and fair practices. The Office slippers are crafted by artisans from Kyrgyzstan and are free of plastics and other chemicals commonly used in production. They have a zero-waste policy and ship to you without using plastic.
WoolFit recommends that you purchase your Office Slippers one size larger than you normally would. Included with your slippers is a pair of removable felt insoles to adjust the fit to your comfort level. The shoes also contain an elastic band to allow for unique instep heights. These would be a great option for people working from home or in an office who want a durable slipper for occasional outdoor use.
Price: $109.99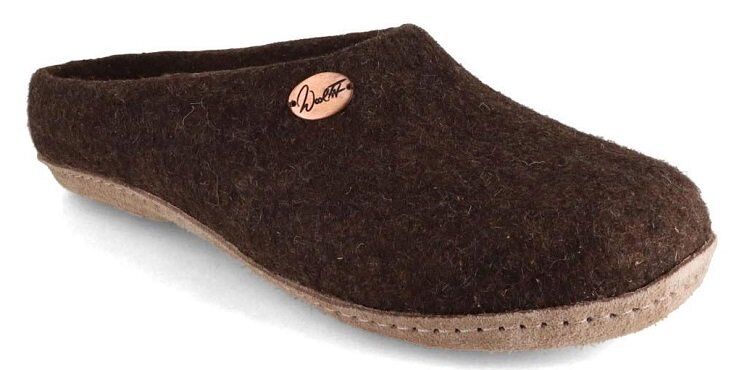 Another great selection from WoolFit, the Felt slippers mold to your unique footbed to provide outstanding comfort. The wool in the footbed is soft to allow the shoe to naturally adapt to your feet. They provide a good grip and, despite the name, will not cause you to slip. As previously mentioned, WoolFit is a company that is dedicated to ethical practices and providing a sustainably produced slipper, so you can feel good about your purchase.
These would best work for someone who wants a slipper that adapts to them for a superior fit. The Felt slippers are slightly cheaper than the Office slippers but maintain that high-quality standard. These slippers are designed in Germany and handcrafted in Nepal. They are true to size.
Price: $109.99
WoolFit Coupon Code
10% off Woolfit Slippers. Free US Express Shipping (please note, the brand ships only to the US)
Code: MTNWEEKLY10