by Mike Hardaker
As one of the old-timers here in Jackson, Wyoming likes to say "any old fool can be uncomfortable in the mountains". Warm dry hunting clothes can make all the difference in the success of your hunt. So we put together a list of the best cold weather hunting gear that will allow you to spend more time in the mountains hunting whatever pursuits you're after instead of being uncomfortable and wanting to head home and warm-up.
Here's our picks for cold weather hunting clothing:
The most important part of any cold weather hunting gear list has to be a pair of boots.  The Danner Pronghorn Hunting Boots are available with either 400G, 600G or 800G of PrimaLoft Insulation.  I used the 400G Pronghorn Hunting Boots in the mountains in and around the Teton Mountains this season in temperatures ranging from 40F down to 0F staying comfortable the entire time.
The outside of the Danner Pronghorn Boots comes in Realtree EDGE camo colorway that helps to blend in while walking in combined with a Vibram sole that can handle the roughest of terrain you may encounter on your hunt. The Pronghorn Boots are waterproof thanks to GORE-TEX and if you add some boot leather from time to time, these boots will keep you dry for the long haul. One of my favorite thing to do in these boots is sidehill up a mountain, they offer great support from front to back and side to side.  One thing I noticed is the boots performed best with the middle lace hook loosened a bit, otherwise, there's a bit if a pinch point where your foot flexes. Tighten up the rest and you got a boot that will go as far as you're willing to take it.
Price: $240.00
What is the best hunting gear for cold weather? It depends on where you cold first, for some its the head. The L.L. Bean Main Guide Wool Cap makes all the difference when spending time outdoors in cold, snowy windy conditions.
Available in 5 different sizes the L.L. Bean Maine Guide Wool Cap is made of wool and polyester and features 40G of PrimaLoft insulation, but not too much though.  I have hiked for hours and hours wearing this cap and it will surely come with me anytime I go hunting with its camo colorway.  Also available in plaid or grey making a nice cold-weather gift even for non-hunters.
Price: $39.95
One of the best and most important parts of deer hunting gear is a jacket that can keep you warm and dry and most importantly hidden out of view from the deer and elk. The Men's Under Armour Ridge Reaper GORE-TEX Shell is perfect for hunting in nasty weather, you know the rain, sleet snow mix. With a mix of GORE-TEX and UA Storm technology water beads directly off this jacket.  Sizing does run small so I recommend sizing up one size, I wear a medium in ski jackets a large in the Under Armour Ridge Reaper.
The jacket has 6 built-in zippered pockets that are great for storing snacks, headlamp, hand warmers and all the other comfort things we like to bring along hunting. When I first go this shell I would hike for miles and miles while wearing it.  It worked at keeping snow and rain off me but I ended up sweating a bunch.  Instead, I now prefer to stuff the Under Armour Ridge Reaper Jacket into my backpack and pull it out when I get to a spot to glass or sit for my hunt. If your hunting in a deer stand, the Men's Ridge Reaper Jacket would make a great outer layer to keep you dry from sun up to sundown.
Price: $380.00
When looking for a pair of big game hunting pants the first thing that I look for is how darn loud they are or the opposite.  If your pants are loud and creaky in the field sneaking up on big game is going to be tough.  Enter in the L.L. Bean Big Game Hunter Pants, the sort of pants you can crawl, hike, and rollover just about any obstacle you can imagine without making much of a sound.
These pants come in a standard fit and a Mossy Oak Country camo that really blends in well to your surroundings.  There are lots of pockets, my favorite is one of the cargo pockets that's perfect for holding your hunting license. I tend to switch between jackets during hunting season, not pants.  With a 4-way stretch material, low price and even anti-odor blocking control the L.L. Bean Big Game Hunter Pants are something you will truly enjoy wearing outdoors. These softshell pants are great for hunting in dry weather, especially if you're putting lots of miles in.
Price: $89.00
Cold hands suck for hunting, especially if you have an equally cold rifle in hand.  Leather Chopper Mitts are what kids in the midwest grow up wearing to play outdoors.  It's simple tech that's been used for ages.  No GORE-TEX here, just deerskin mittens.  And for added warmth a pair of good ole' wool liners.
Sizing tends to run small, so size up if you plan to use hand warmers or wool liners.  What makes Chopper Mitts rad for hunting is they come off quickly if you need to make a quick shot.  And with a mitten design, this is really the only and best way to keep your hands warm on long days hunting in the field. Add in some Kenetrek Waterproof Leather Wax and you're going to wonder why you haven't used these mittens before?
Price: $27.95
The Filson Skagit Jacket is the best piece of ducking hunting gear I own.  If you're hunting duck and geese and sitting around in the muck the Filson Skagit Waterfowl Jacket was made with you in mind.  One of the warmer hunting jackets out there, designed for sitting around for long periods of time near water. This Filson Mossy Oak camp pattern does well at blending into its surroundings but what sets it aside from other duck hunting jackets is the added 9 oz fleece liner. Plus it even has fleece-lined hand warming pockets, this is the sort of cozy warmth you want while out blasting ducks when it's below freezing out.
The Filson Skagit is built with reinforced material throughout the jacket in places I would have never thought to put it.  When walking through willows and other thick timber, you tend to put our arms out to block branches from hitting your face.  Filson added reinforced Nylon material to the outer parts of the arms and again on the lower back of this jacket.  Filson understands hunting, we sit against trees, in brush and might even take a nap from time to time. If you want a waterproof, heavy-duty comfortable camo jacket and get cold easily while duck hunting, the Filson Mossy Oak Skagit Waterfowl Jacket is a great buy. Sizing does run small, I wear a medium ski jacket, large in this Filson jacket.
Price: $350.00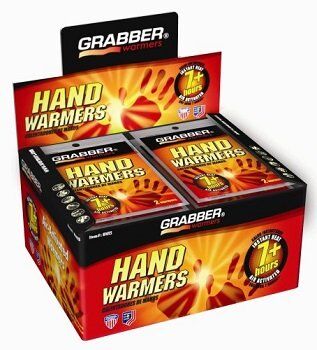 Cold hands suck for hunting and just about everything else in life.  This is why I always carry hand warmers with me hunting, numerous pairs for the matter.  The best hand warmers for hunting I have found are the Grabber 7 Hour Hand Warmers.  There are other hand warmers on the market that advertise keeping your hands warm longer but they don't actually work.  If you're going to be out from before sunup to after sundown bring a couple of pairs of these with you and swap them out midday.
And when it gets really cold you can even put these in your pant pockets, or against your chest to help warm you up.  Sitting around in the cold hunting takes a certain sort of patience, I find myself willing and able to stay out much longer just by bringing along hand warmers.  Hand warmers are an often-overlooked item that can make the difference between an enjoyable hunt and a brutal one. I won't leave the house to hunt without these hand warmers or my Chopper Mitts anymore.
Price: $27.99
Why should you wear a face mask while hunting?  Well if all the other gear your wearing hunting is camo, then most likely your face is going to stand out, a lot. Airhole Face Masks work to hide your face from animals, and it does the same for the sun's nasty UV rays.  I can be found wearing face masks year-round these days, especially lightweight ones like the Drylite series of masks.
This is the sort of mask you can forget your wearing, it's lightweight breaths incredibly well while hiking and does a great job at blending in when you need it to. Since the material is thinner, so you may want to consider bringing along a thicker merino style mask to wear under this while sitting around.  Once you start wearing Airhole Face Masks they will end up coming with you on most of your outdoor adventures.
Price: $19.99
Related Articles: