We breakdown some of the best hunting knives on the market.  Not only are these great hunting/survival knives they can also easily double as camping knives too, win-win.  Find out which knives we recommend in our knife roundup below.
Best Hunting Knives
True survivalist and tactical experts prefer the reliability of a fixed blade hunting knife for its precision cuts and long-term durability. If you're the sort of person that's hard on your gear, this is the knife for you.
When holding the knife, Coast uses a Nylon handle for added grip and dexterity. The knife also comes with a heavy-duty sheen that offers peace of mind when walking with the knife attached to your body.  Heck, I even had the Coast F402 Utility Knife attached to my backpack shoulder straps on a long hike through bear country without having to worry about this 9″ knife cutting me or falling out of the holder.
A great knife, that you can truly rely on and best of all is at a price most everyone can afford with a lifetime warranty. [Purchase: $27.00]
In the running for one of the best fixed blade survival knife is the Bear's Edge 61515. The blade on this knife has a rust-proof made of 440 Stainless Steel and coated with Black Epoxy. The Bear Edge 61515 was the knife that felt the most comfortable in the hands of our testers regardless of their hand size thanks to the finger groves built into the 5″ handle.
The knife features a partially serrated blade for when the super sharp 4-7/8″ modified drop blade won't cut it.  For the price, this survival knife built in the United States is a heck of a deal. [Purchase: $32.49]
For someone looking for a foldable knife, Victorinox has been the greatest pocket knife maker since they invented the Swiss Army Knife in 1884. Enter the Hunter Pro, most single-blade basic knife (no corkscrew on this one, sorry Dad) but for that reason also one of their most useful.
The Victorinox Hunter Pro Knife features an ergonomic handle and a 5″ polyamide blade making it a perfect tool for cleaning that deer. When fully opened the knife is 9″ in length. Instead of trying to excel at a bunch of doohickies (why are there two mini-saws?), this knife focuses that dedication into one bad-ass constant hunting companion. [Purchase: $99.95]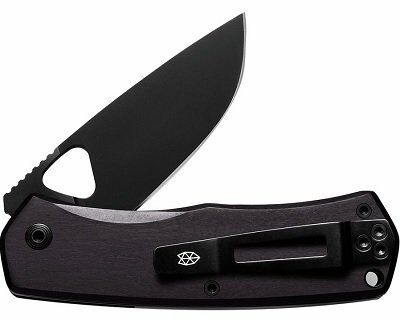 When you think of hunting knives or outdoor knives the word beautiful is not what comes to mind.  However, that's just the feeling this fine crafted James Brand Folsom Knife may bring out in you.  From the moment you go to open the knife with it's easy to get to thumb grove to flipping it open, the entire process is so smooth thanks to the James Brands use of Phosphor washers.  Look at the detail shown above on this knife, it's tough to compare, simply in a league of its own.
When folded up the James Brand Folsom Knife is barely noticeable with a small 4″ footprint.  When fully opened the 2.75″ blade brings the total length of the knife to a nice & manageable 6.75″ overall length. It's the sort of knife that just feels like it belongs in your hand. One of the best camping pocket knives we have ever tested. [Purchase: $144.95]
I just had my first chance to use my new Coast BX315 Hunting Knife while elk hunting in Wyoming. This knife worked great for quartering and skinning the large cow I had shot. I was really impressed with the large rubber-coated handle and the sure locking blade. This is not a thin pocket style knife such as a Spyderco Dragon Fly Knife, but more of a working hip mount blade with it's 8″ length.
While cutting up the elk my hands became very slick with blood and other fluids yet I always felt very secure handling this ultra-grippy knife. The deep finger groves keep your hand from slipping down the handle on to the blade.  The blade locking mechanism is in the rear of the handle which ensures you won't be accidentally closing the knife on your fingers.
All in all, this is a great, real-life work knife with its grippy, sturdy handle and locking, tough blade. It also comes with a handy made for a belt, Velcro case. I would definitely recommend this knife to folks who are looking for a hard-working blade that is meant to be carried on a belt, not in a pocket. In the running for one of the best wilderness survival knife of the year. [Purchase: $29.99]

I have used the Kilimanjaro Talbot Knife on an elk and pronghorn. I'm happy to say that the knife is nimble enough for the small surgical cuts and also, big enough for deep cuts. The arched knife face was suitable for skinning hides and de-boning, all while keeping an edge the entire time. The serrated lower section of the blade made cutting through a soiled hide a breeze. The serrated lower section of the blade made cutting through a soiled hide a breeze. With a larger size of 11.25″ this is a great camping cooking knife to bring along in your car.  [Purchase: $39.99]
The Kilimanjaro Shira Knife is an outstanding knife. I have had it for about six months, and have used it numerous times. I have gutted about 50 fish and was amazed at how it cut through them like hot butter. I've skinned a deer, two elk, and several rabbits with this and this knife is still sharp.
The Kilimanjaro Shira knife has great craftsmanship. I like how the handle fits perfectly in your hand. The steel blade is able to keep an edge and I have not had to sharpen it yet after all I have used it for. It is not a real heavy knife. The handle is a little heavier than the blade, which makes it a little unbalanced. That being said that is the only bad thing I have to say about this knife.
Everyone that I have let hold it or use it has said that they really like the way it feels, almost like it conforms in your hand. I would say that this is a very good knife and I carry it with me every day. I would definitely recommend this knife to any outdoor enthusiast. One of the best hunting knives in the world. [Purchase: $59.99]
Hunting Knives Price Comparison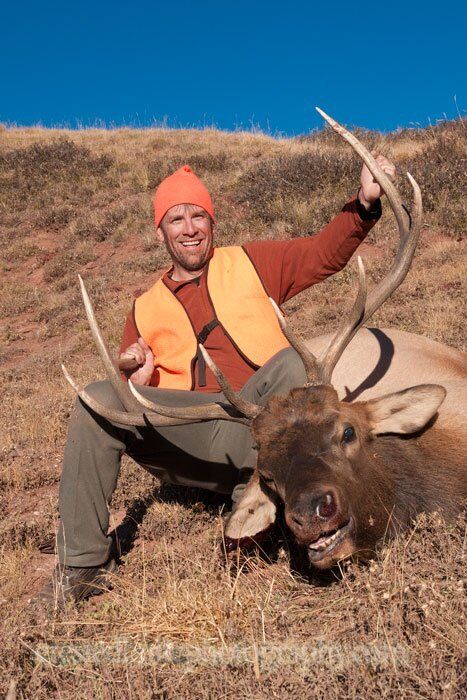 Colorado Elk Hunt Bull Elk