by Mike Hardaker
Similar to Mammut's high end Nordwand Thermo Jacket, Eddie Bauer's StormDay Jacket is the sort of outerwear a ski guide in B.C. would happily wear all day while working. With a regular not to puffy look combined with RDS Down insulation this Eddie Bauer Down Jacket will keep you warm, keep you dry and an added bonus, it won't restrict movement, infract the jacket actually moves freely with you.
With a 20,000k breathability rating, and 20,000k waterproof rating Eddie Bauer's Down StromDay Jacket allows you to be warm and comfortable even in the nastiest of weather.
Sizing: Regular Fit
Price: $375.00
The do it all, city, wear to work, go to dinner classy active ski and ride Arc'teryx Macai Jacket. Keeping with the athletic slimmer fitting puffy jackets the Macai has been a top seller in the Arc'teryx line for years. And for good reasons, you get all the warmth of a puffy without actually looking like you're wearing a big puffer jacket thanks to the Macai Jackets hard shell design.
Thanks to RDS-certified European goose down the Macai is one of the warmest puffy jackets you will ever own.  If you spend time in the cold, the city and like to look good while staying warm, stop here as this Arc'teryx Down Jacket is what you'll want to buy.
Sizing: Slimmer, Shorter Fit
Price: $999.99
Now we're getting to the thicker heavier "typical puffy" jacket.  The Black Diamond Belay Park is built for when it's really cold and someone wants to be toasty like they were still indoors. What I really like is the updated Belay Parka offered a better slimmer fitting style than Black Diamond Jackets in the past, and it's a puffy at that.
As the name implies the Black Diamond Stance Belay Parka was built for standing around outside on cold days. This is the brands warmest synthetic jacket featuring ThermoLite® insulation. Plan on climbing, and need to belay your partner?  This is the coat for you.  Also works great for super cold days skiing and riding on the mountain.
Sizing: Slimmer Athletic Fit than Past Black Diamond Puffys
Price: $249.99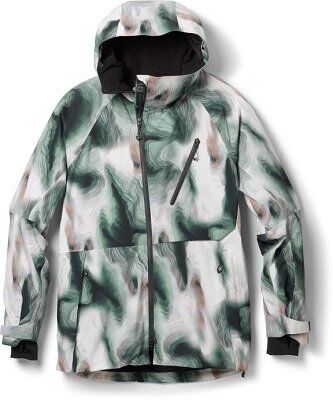 Is it down puffy jacket?  Not really, but what you get with the insulated 686 GLCR Hydra Thermagraph Jacket that utilizes body mapping insulation, adding layers of insulation just where you need it the most around your core and vitals. One of the best insulated snowboard jackets we tested and one of the top sellers in the 686 line.
Unlike some of the other puffy jackets in this years roundup the 686 Hydra Thermagraph is a snowboard jacket first and foremost.  One that will keep you warm and super dry. So it work's for riding in storms with it's 20,000k water proof membrane on nasty days and just as rad for bluebird days in the sun.  What you get here is a snowboard jacket with warmth, insulation without the bulk. If you can't afford to throw down for a puffy and a shell, go with this 686 Jacket that combines both.
Sizing: Relaxed Snowboard Fit
Price: $269.95
Salomon's Arctic Down Jacket is made for ripping skiers and riders. Not only that with a warm clean look, it's got more of a city style that still works for shred. Shorter in length than the longer jackets you might be used to for riding which would makes this perfect to wear to work or out to dinner.
With ample goose down you can guarantee to stay warm in the Salomon Arctic Down Jacket. And depending on your intended use it comes with removable powder skirt making this really a 2 in 1 jacket to wear on and off the slopes.
Sizing: Shorter, City Style Fit
Price: $450.00
Helly Hansen's Verglas Down Hooded Jacket is the sort of active goose down that you may find yourself wearing year round.  Although it's not the most waterproof, what the Helly Hansen Verglas Down Jacket makes up for is it's versatility, warmth and comfort and especially how packable and lightweight the jacket is.
The Men's Verglas Jacket is perfect to wear with layers or as a stand alone. Honestly it packs down so small, why wouldn't you want to bring this along on your next camping trip?
Sizing: Athletic Fit
Price: $275.00
The Grade VII is Patagonia's top end down jacket.  If you spend time in https://www.patagonia.com/product/grade-vii-down-parka/192964519138.htmlAK blizzards or similar weather this down jacket might be perfect for you. Patagonia uses 100% recyclable fabric which offers an interesting outer feel that seems to be more durable than other puffy jackets we tested. And we all know puffys can damage easily. So some durability is always appreciated.
For sizing, the Patagonia Grade VII Down Parks is on the bulky side, with that in mind it was built for warmth first and foremost. And you can feel good about wearing this down jackets as Patagonia uses Virgin, Advanced Global TDS Goose Down insulation. Anytime you put this jacket on, whether it be to use around town, camping, climbing or mountaineering people will know you mean business and most likely enjoy being out in the nastiest weather possible.
Sizing: Bulky Fit for Warmth
Price: $999.99
At the top of the list of best puffy jackets is the Mammut Nordwand Thermo Hard Shell. Although it's not what you would think of as a traditional puffy, the Mammut Nordwand Thermo HS is more of an insulated jacket for active use in the outdoors.  The Active looks is super clean as it doesn't have the traditional puffy look yet still works wonders at keeping you warm in really cold conditions. People might even ask if you're warm enough?
With Ajungilak OTI stretch insulation to keep you warm, a Pertex liner on the inside and all the benefits of a hard shell jacket on the outside including 2L GORE-TEX.  It's going to be tough to find a better all around insulated jacket to wear on the slopes, climbing and of course around town than the Mammut Nordward HS Thermo Hooded Jacket.
Sizing: European Athletic Fit
Price: $850.00
Nobis has transitioned to the city style as of late. The Nobis Oliver is an uber stylish jacket that can be worn to literally any event from casual to high end.  One of the things that makes this jacket stand out are the super cool pockets / vents on the front, along with the snap buttons on collar for added style.
This Nobis Down Jacket features lots of Canadian White Duck Down insulation, which is certified with a number and stamp on the tag showing the traceability of the down material. And if it's really cold, this jacket is rated for temps down to -22F. (-30°C)
Sizing: City Style Fit
Price: $975.00
Work on a job site?  If so you already own some Carhartt Gear. The Carhartt Yukon Extremes Jacket is a durable long lasting piece of outerwear designed for standing around, literally in the cold. Who's this for? The job site guy that wants to look like he's wearing hoody but really wearing a durable down jacket made of 500-denier Cordora Nylon on the outside and filled with 150g of Insulate Insulation.
You can be warm and look tough all in one while wearing the Carhartt Yukon Extreme Active Jacket. Plus the jacket has some waterproof and wind proof properties, most likely you'll be wearing this all day long at the job site regardless if you're inside or outside, working around your barn or anything that demands durable gear.
Sizing: Larger Boxy Fit
Price: $169.99