Snowboarding headphones carry the whole vibe of your ride. With a million ways to do that the question is, which headphones for snowboarding perform the best for what you do. Skiing, snowboarding and all other outdoor adventures can be seriously amplified with the use of tunes on the slopes.
Take a closer look at the top ten picks for the best headphones for snowboarding and choose your favorite.
Best Snowboard Headphones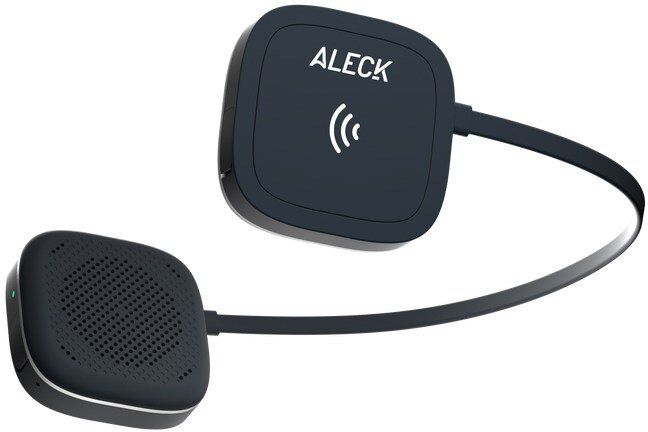 If you wear a helmet you don't have to let headphones get in your way. There's nothing worse than struggling with a chord, so don't. The Aleck 006 is not just another set of headphones. In fact, the Aleck 006 is more like a companion with wireless hi-fi audio, group communication, GPS mapping, all-day battery life and IPX4 water resistance. 40mm titanium drivers let you turn up the volume for an audio experience with in-app EQ, fine-tuned treble boosted bass and mid-range control for a signature sound. Turn it up! Aleck 006 delivers high-fidelity audio quality for push-talk audio ready chats on the fly.
Talk to anyone in your group so you never get separated. It's also easy to send out your exact location with GPS precision. In a pinch – Aleck 006 has you covered with a slew of additional features including a real-time friend finder, universal fit, low-profile design, lightweight packability, Bluetooth dual mode, micro USB charger, Qualcomm® cVc™ audio and more. Take on anything without a loss of motivation or communication in fresh pow with total audio, totally wireless and free.
Price: $130.00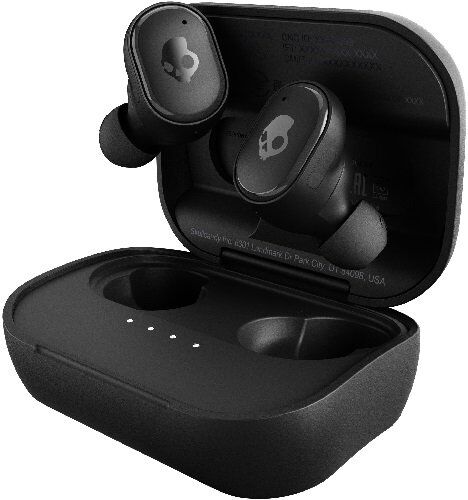 Personal preferences drive your playlist. When you take as good care of your record collection as you do your backcountry ride you have probably already tried a pair of SkullCandy headphones. When I found them I was replacing a corded set of earbuds that snapped while I was fumbling with my gear. Able to take on my ride with stay-aware mode, I never have that problem with these. Always on-point with voice control, comfort and high-tech features, the SkullCandy Grind True wireless earbuds are easy-to-use any place you're headed. Listen to your favorite music, podcasts or get in the zone on Spotify.
Skull-iQ Smart Feature Technology™ includes hands-free authority to change your mind with voice control. Play, pause, volume, track skip, calls and app launching is made possible without removing your gear. Go ahead and keep your gloves on while you activate your assistant, trigger your camera and snap a selfie. SkullCandy Grind True lets you focus on your ride. As Nature always provides obstacles you'll conquer them with the help of your Tile app and the built-in Tile finding technology that lets you track down lost SkullCandy earbuds. Even if you drop your earbuds in powder – it's okay! IP55 water-resistance protection will give you plenty of time to find them.
Price: $80.00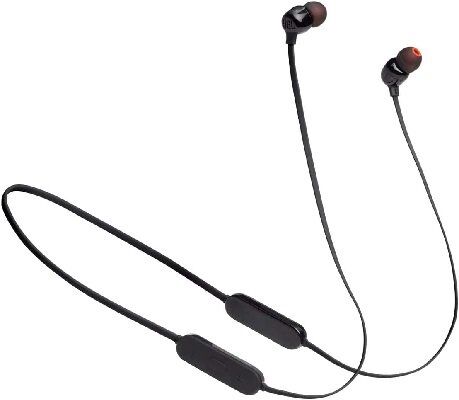 Casually comfortable and built for long-wear, the JBL Tune 125BT earbuds deliver signature sound. High-quality bass for deep, and powerful playlists or even a podcast, you can count on 16-hour battery life. Take your play time off-the-grid with Bluetooth 5.0 for constant streaming and no interruptions.
Get more out of your headphones leveraging a multipoint connection for a seamless switch from music to video, and calls. Use your voice assistant to access smart features of your phone with assistance of JBL Tune 125BT headphones. Directly connected without a struggle, a magnetic cable makes cord management simple. No tangling, flat cable delivered dangle-free charging capacity. The 3-button remote control microphone allows flexibility as you manage wireless calls, and music hands-free from your JBL headphones. Go anywhere with a wireless solution to bulky headphones. Excellently made for everyday listening, comfortable wear, and grab-and-go compatibility for your adventure lust.
Price: $29.95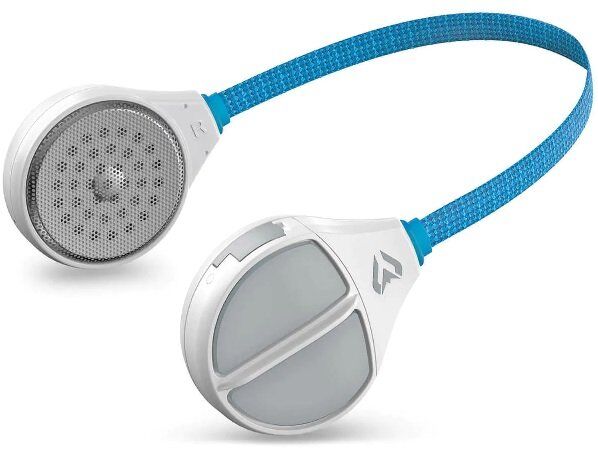 Crisp mountain air calls for compatible head gear. Hands-free calling makes everything easier because you never have to dig for your tech. Find your phone features easily with the intuitive design and Bluetooth connectivity for calling, Google voice and playlist accessibility. With a built-in microphone you can access premium sound with a single command. The Alta headphones deliver dynamic sound even for deep bass at any volume so crank it up and let 40mm drivers take over.
A compact design makes sliding the speakers into ear pad audio sleeves easy. Just run the connection cord behind the padding and you're ready for the mountain! Take all day and play with 10+ hours of battery life and fear no flurry. You'll have the protection of IP45 waterproof resistance even in the extreme cold (-4 C). Smash the gnarliest of slopes while you listen to music, answer phone calls, and even respond to text without even removing your gloves. Pairable with Siri and Google assistant with drop-in speakers designed to fit audio-ready helmet ear flaps. NOTE: To ensure customer satisfaction, check your helmet for compatibility and verify with the user manual for details.
Price: $99.99
Designed for the rider with a serendipitous spirit, the Outdoor Tech Chips 3.0 are NOT your grab-and-go headphones. In fact, these are made with the "stay-ready," type of snow rider who may catch a vibe and be on the mountain without warning. Show up on any day, in any condition ready to rip with 60 days of standby charge with these snowboard helmet speakers. Ready rapidly with a 45-minute charging time, the Outdoor Tech Chips 3.0 are an upgraded version of what we've seen before from this brand.
Additional features include an upgraded battery, low-energy Bluetooth v5.2 chipset, 13-hours of play time, button control, intuitive interface, and voice activated Siri and Google assistant access. In addition the Tech Chips 3.0 wireless speakers are designed for your ski or snowboarding helmet so you can listen to your favorite music, podcasts and recordings with your gloves on. Forget what's in your pockets and stay cozy, comfortable and dry while you talk to members of your ride team, or even (in an emergency) call for help. Rock out with your helmet out with 40mm speakerdrivers for hi-fi sound in any genre. Includes USB-C charger standard cable for advanced fast-charge capacity.
Price: $129.99
If you're an outdoor master, take a set of snowboard headphones or skier headphones that are compatible. Made to take on any audio as you set out into snow covered hills, OutdoorMaster Snow-BT01 Bluetooth Helmet Headphones work with Giro, Smith, Burton, K2, and many other helmets. Rough and rugged, these are all-condition headphones made totally wireless and water resistant with an IP45 rating able to withstand temperatures of -20°C/-4°F. Clear, and optimally tuned 40mm drivers keep you chirping with a stable 5.0 Bluetooth connection,15 hours of playtime and 500 hours of standby with a built-in microphone.
Take on pow without removing your gloves as you access your calls and other phone features directly. OutdoorMaster Snow-BT01 Bluetooth Helmet Headphones are speaker chip compatible with any condition with glove-friendly controls. Contribute to your favorite outdoor sport and take your helmet along without sacrificing the spirit of your favorite songs and podcasts. Stay connected without barriers to your tech devices and contact whoever you need. Do what you believe in and let OutdoorMaster Snow-BT01 Bluetooth Helmet Headphones take care of the clean and clear highs, big bass and shredding sounds.
Price: $69.99
NSA headphones are your new best-friend. If you work outdoors near chairlifts or in a snowcat these wireless earbuds are the ideal audio. No-strings-attached headphones make it easy to unplug and immerse yourself in custom-tuned superior sound and no distractions. Noise cancelation Elgin Rebel True Wireless headphones deliver best-in-class sound with 12+ hours of battery life (on one charge). Days on the mountain, on the road and anywhere really … The re-charging case delivers 50+ hours so you don't need to plan anything.
Boasting 25dB noise reduction rating so you can focus on what's ahead, the Elgin Rebel True Wireless earbud features weather resistance, earhook fit, omni-directional microphone, 12+ listening time and 50+ from the case, plus 10mm custom-tuned drivers. With your purchase every earbud box provides 2X earbuds, charging case, USB-C charging wire, small/large silicone tips. Extra comfortable with foam tip options, the Elgin Rebel True Wireless earbuds also include small, medium and large ear hooks. Professional grade design meets OSHA standard for workplace headphones. Made with the additional protection of IP65 water resistance rating.
Price: $129.00
Go out in the open air and enjoy anything with comfort in any surrounding. The open-ear design of the Shokz OpenRun Headphones allows you to stay aware of your surroundings. Afterall, safety is key when you're in the elements and the last thing you need is to lose contact with Nature's warning signs. You'll enjoy sweat and waterproofing with verified IP67 rating.
Get intense, go extreme and take on any terrain with safe-charging reliability. If pushing the boundaries comes easy to you – go Big! There is no worry about sound leakage even though the listening profile is designed for open-ear listening. Features of the Shoksz OpenRun headphones include 2.0+ technology, dynamic bass, small, angled transducers, 50% less sound leakage, 8-hour battery life, quick-charge, IP67 waterproof and dustproof rating, moisture detection and alert and more. A wireless, behind the neck open-ear option for people who cannot live without headphones.
NOTE: While the Shokz OpenRun Headphones provide a high IPX water resistance rating, they are not intended for swimmers.
Price: $129.95
You always want to be light on your feet when you're on a board. With a lightweight open-ear design the GravaStar Sirius P5 earbuds feature 12mm drivers and Qualcomm aptX high-definition for dynamic bass with a clear and crisp sound quality. Sirius P5 provides interchangeable shells along with an industrial approach to a sci-fi inspired style. You can enjoy 40 hours of play time and a multi-point connection with Bluetooth 5.2 connectivity and IPX4 water resistance.
A leader in the industry, Sirius is the first to offer collectable cases for the cyberpunk. Step it up with a designer appeal and zero interference sound able to confidently cover a range of frequencies with powerful volume and high-resolution sound. Connect to multiple devices and you can check back and forth between natural vocals and concert acoustics at the same time. Weighing in at just 5 grams the earbuds fit inside small spaces for any situation that even doubles as a wearable necklace. Never lose your GravaStar Sirius earbuds – and always defend them in the custom armor case.
Price: $139.95
Pro athletes play hard, and they take on long hours of training. Marathon runners, triathletes and extreme sports enthusiasts all need an earbud they can count on. For long hours of music, the charging case packs a powerful 5-minute Fast Fuel option for extra juice. Bring on further battery life with an auto on/off feature that idles automatically in sleep mode to conserve battery life. Ask Siri anything as you access your personal assistant simply by saying, "Hey, Siri," without even reaching for your iPhone.
Apple Beats Powerbeats ProWireless Ear Headphones deliver constant connectivity with Bluetooth earbuds extending full range with fewer dropouts for music, phone calls and external noise filtration. Can't find it? It's fine. Locate your Apple Beats Powerbeats Wireless Earbuds with Find My and other apps. Additional features of the Apple Beats Powerbeats ProWireless Earbuds include, up to 9 hours of listening time, with 24-hour charging case, true wireless with secure-fit earhooks, lightweight comfort, reinforced with IPX4 water resistance rating, volume and track control for each earbud plus hands-free command of phone calls, call handling, virtual assistant. Catch a vibe. The Apple Beats Powerbeats ProWireless Earbuds will be ready in 5 minus with 1.5 hours of playback, thanks to Fast Fuel charging.
Price: $199.99