We updated our annual list of the best snowboard pants and explained what conditions each pant is meant to be used in. Which ski or snowboard pants are made for you depends on what you expect from your experience, are you going to be sitting on a chairlift all days, or perhaps something for walking your dog, or maybe even ascending your local mountains.
If you're planning on playing in the cold and wet anytime soon, there's just one conclusion: your priority needs to be a bomber pair of pants.
Best Snowboard Pants
Know what I love about 686's Hydrastash Bib? Not getting dehydrated. With the 686 Hydrastash, there's no need to buy and wear bulky hydration packs; drink from the bladder that comes with the bib and has its own special custom pocket. Extra insulation in the seat and knees is there, especially for the knuckle-dragging hot-lapper. The WaffleKnitFleece inner waistband is about the most comfortable a waistband you could get but keeps that really crazy snow from getting down to your nethers. And with infiDRY 20K stretch fabric and DWR, you'll stay high and dry in the Hydrsatash bib between big booters and inbound steeps.
Price: $329.95
The Mountain Hardwear Boundary Ridge GORE-TEX Bibs are made when nothing less will do. Like this winter in the Tetons, with our wet, rimey storms that plaster ice to your pants. This GORE-TEX Bib has a 28000mm waterproof rating and no insulation — a light but powerful samurai armor for those most committing of days, whether booting up through gale-force gusts or riding the highest lift on repeat during a 2-foot day. Mountain Hardwear's Boundary Ridge GORE-TEX even has a drop seat (as previously heralded for the Patagonia Snowdrifters).
Price: $399.95
Patagonia's Snowdrifter Bibs are made for the serious alpinist. H2No outer that keeps your legs dry but breathable, into a stretchy spandex/nylon double-weave upper that hugs your stomach like a glove. Then throw in gaiters that can handle a crampon, a RECCO, a deep chest pocket, and most importantly, a drop seat. With Patagonia's unbeatable commitment to durability and a look that blends soul with ski-touring tech, the Patagonia Snowdrifter Pants are about the best leg-coverings you can get. All for less than $400.
Price: $349.00
Quiksilver's Utility Pants are just the newest offerings from arguably the top name in boardsports outerwear. Made with REPREVE recycled polyester — that is, made from recycled water bottles — they're taking up the charge to keep plastic out of our oceans. The 20K DryFlight Tech makes an impenetrable shield while being thin enough to prevent overheating. And like everything else Quiksilver makes, the Utility Collection the most stylish in the room.
Price: $175.95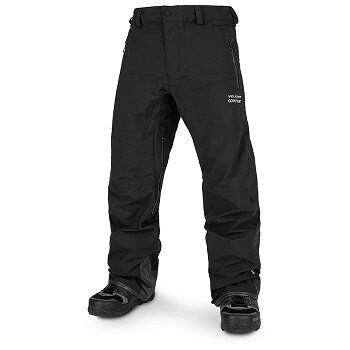 The Volcom Guide Pants are the first GORE-TEX set of pants on this list and for good reason. A lot of companies will just throw a ton of  GORE-TEX together and consider their pants done. But Volcom nails it – just enough of the super bombproof membrane to be waterproof without turning them into a stiff exoskeleton. These Volcom snowboard pants also have a flannel lining so they're good for more than just blocking wind and snow but also keeping warm, and they've got a beacon pocket with D-Ring to tether to it, made specifically for the fact that more and more avalanche professionals swear by carrying their beacon in a special pants pocket. For a Cali surf company, Volcom proved with its Guide Pants that they can get with the big mountains as good as anybody.
Price: $450.00
You might think given the brand name, the Burton AK Tusk Bib is made for the inbound charger. I mean it is. But it's really a versatile leg shield that you can wear riding the lifts as well as touring out of bounds with every bell, whistle, and airhorn you could imagine. With a Gore-Tex 28000mm waterproofing shell; kevlar kick panels as good for resisting the edge of your board as the edge of your crampon; inner thigh zips, where you really need ventilation when grinding uphill; a beacon loop in the left pocket (loving this new beacon pocket thing, it's like people are finally listening…) and a stretch woven upper for extra core comfort as well as a drop-seat, These Burton ak pants blended the best features of all the best bibs on this list into its AK Tusk Bib, making them one of the best snowboard bib pants of all time.
Price: $649.95
I've long been all about L.L. Bean's big mountain gear, and their North Col Gore-Tex Pro pants are no exception. These L.L. Bean GORE-TEX pants feature a waterproof breatheable Gore-Tex fabric that keeps you dry but not too hot. All 100% nylon throughout, with stretchy elastane on the seat and knees where you need a little extra movement, the thing I love about L.L. Bean's North Col Pants is that they're just as perfect for winter fun as for shoulder and even rainy summer season adventure. The 3/4 zip sides deliver unmatched versatility and ventilation. And they're the perfect halfway point between tight and baggy, flared and hipster. That's timeless style.
Price: $349.00
The Saga Anomie Bib Pants are eye-opening – you can't help but notice that all the most badass athletes in the Tetons seem to be wearing Saga gear. But behind all that unique styling, half tactical armor, and half Blade Runner getup, comes some serious tech. The Saga-Tek 2L Polyester Twill 2-layer with DWR finish keeps you dry on the wettest days. The media pockets ensure you keep your moment-catchers safe, dry, and accessible. But my favorite feature? The bib top zips off for spring days and uphill missions when pants just make more sense. And again, the style – from design to colorways – ensure Saga's Anomie Bib Pants stick out, even when your riding doesn't.
Price: $149.99
Snow Peak's Flexible Insulated Pants aren't just for layering while riding on crisp days. They're for just before; just after; and all dry, cold moments in between. Polartec Alpha Fabric with all the padding to keep your legs warm in the yurt, or walking around from hotel room to resort bar after riding, and especially when writing in your drafty cabin trying to make a deadline. Because whether you've just gone bell to bell, or parking lot to summit and back, once you're off your board the key to getting back on it as quickly as possible is keeping your legs warm while letting your muscles chill. Snow Peak's Flexible Insulated Pants nail the apres.