When you're on the slopes, having cold feet can turn a great powder day into a misery-fest. The right snowboard sock is a game-changer. But how do you know which socks are the best?
That's what we're here for. Below you'll find 17 of the best snowboard socks and ski socks around. Find one that sounds like a good fit for you, and grab a few pairs before it starts getting Antarctic-level cold on the slopes.
Smartwool PhD Medium Ski Socks – ($25.95)
There's a reason everyone has heard of Smartwool. They make warm, lightweight, highly wicking clothes—all characteristics of great socks. The Smartwool PhD Medium Ski Socks are exactly what you'd expect: medium weight, medium cushion, and a phenomenal fit. And it's made of Smartwool's Indestructawool . . . which is exactly what it sounds like. Ventilation zones keep you from overheating when you're riding hard, and 62% Merino wool construction wicks sweat without sacrificing warmth. [$25.95]
Lorpen T3 Ski Midweight – ($26.99)
Merino Wool is nice, but when you combine it with Primaloft yarn, you get even better wicking performance—and that's what the T3 Midweight is packing. It also has lots of cushioning on the sole and shin to keep you comfortable on long, hard-charging days. [Purchase: $26.99]
FITS Medium Ski Socks – ($29.95)
As you can probably tell by the name, FITS is all about making socks that fit your foot like . . . well, like a sock. The creatively named Medium Ski provides a good balance between warmth and weight; it might not be a great choice on the most frigid of ski days, but it also won't take up so much room that your boot feels weird. And with 68% Merino wool, it feels great. [Purchas: $29.95]
Bridgedale MerinoFusion Ultra Fit – ($24.00)
Expert skiers and snowboarders want a tight fit from their boots, and warm socks can get in the way of that. Bridgedale has addressed this issue with the Ultra Fit—it's 34% wool, but includes a graded compression fit to keep it as snug as possible. It's tough to balance warmth with expert-level fit, but that's what this sock is all about. [Purchase: $24.00]
SmartWool PhD Sock – ($25.95)
Graduate to an upper class of footwear performance with the SmartWool PhD Sock. Picking this pair might be the wisest decision you ever make when it comes to assembling your shred kit. This set does a killer job of protecting your toes from the chills, staying dry, and supporting your ankles. Bonus cushion has been installed in crucial areas, plenty of stretch for easy on/off, and the ability to not slip down your leg are just a few of the highlights that make these foot huggers so rad. [Purchase: $25.95]
Swiftwick Pursuit Twelve Sock – ($34.95)
Perhaps a lesser-known brand in the shred community, Swiftwick produces some socks that are perfectly suited to enhancing your experience on the mountain. The Swiftwick Pursuit Twelve is a compression model that covers your entire calf and sits just below your knee. Rock these for a few days on the hill and you will take note of their ability to promote good circulation, which keeps your legs performing at a higher level for longer. Crafted from Merino Wool, this pair never fails to keep your feet warm and dry. Many skiers and snowboarders who have given the Swiftwick Pursuit Twelve a shot now refuse to gear up with anything else. [Purchase: $34.99]
Lorpen T3+ Polartec Light Trekking Expedition Socks – ($70.99)
Are you headed into the backcountry on a frigid day? Taking a ski trip to Alaska? Or just have cold feet? Lorpen's T3+ is your sock. A double layer of Polartec Power Stretch fabric provides maximum warmth without making the sock overly bulky. It blocks wind, wicks sweat, and protects your feet and legs from ski-boot impacts. It's not cheap—probably due to the virtue of being hand-sewn in Spain—but it's one of the most serious socks out there. [Purchase: $70.99]
Hotronic XLP One Socks – ($269.00)
Heavy socks will keep your feet nice and warm . . . but if you don't have great circulation, or you're headed for some seriously cold high-alpine ski spots, you need something more. Hotronic makes battery-powered socks that provide heat for up to thirteen hours. With four settings (including a super-hot boost setting that reverts to a more reasonable temperature after a few minutes), you can ensure that your feet are always warm. Just hook up the battery pack (it stows in the top part of the sock), set it to your preferred temperature, and go. [$269.00]
Best Snowboard Socks
Burton Ultralight Wool Socks – ($24.99)
You can't go wrong with Burton; the company was born on the slopes, and they continue to make world-class products. The Burton Ultralight Wool Socks are no exception. This snowboard-specific sock has abrasion panels to protect your legs and feet where snowboard boots have the most impact, and the acrylic/nylon-heavy construction wicks away sweat on warm days. [Purchase: $24.99]
Burton [ak] Endurance Sock – ($29.95)
This sock is full of Burton's best tech. Muscle compression helps fight fatigue, while a synthetic blend (with a touch of Merino wool) keeps your feet insulated and sweat-free. Air channels in the insole of the Burton AK Enducare Socks keep air flowing freely, adding to comfort. All of this tech might not make you a world-class snowboarder, but you'll certainly feel like one when you're pulling them on. [Purchase: $29.95]
Burton Party Sock – ($29.00)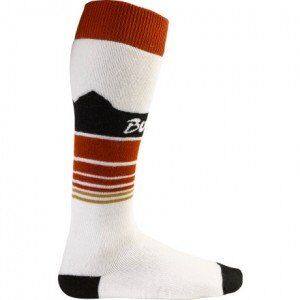 Why not get this festival of footwear started with the Burton Party Sock. When you rock this pair, your feet are free to rip and rage their way across the mountain in complete comfort. No matter how far the mercury plummets, your little piggies are going to stay all kinds of toasty. Whether you are getting knee deep in the fluffy stuff or stomping it all day in the park, the Burton Party Sock is here to keep the fiesta fantastically funky. [Purchase: $29.00]
16. Dakine Summit – ($25.99)
The Dakine Thinline Snow Socks do a phenomenon job of facilitating a genuine foot-to-boot connection that allows for better feel and control. Featuring a low-profile and reinforced high stress areas, this set has been known to get used day after day by active riders that would rather enjoy the slightly smelly comfort than daydream about them on the hill while the Thinlines gets dizzy in the wash. Allow your feet to develop a personal relationship with your boots thanks to the Dakine Thinline Snow Socks. [Purchase: $25.99]
For women's socks go here, to our article on the best women's snowboard socks.
Give your feet a hug with one of these top pairs and shred on.