So you've booked a yoga retreat, secured your river permit or just happen to be going on an island getaway, what types of shoes or sandals are you planning to bring along? Are you going to be on the river? Will you be on the beach, walking alongside tide pools or perhaps climbing over rocks? Is it going to be muddy?
Best Water Shoes for Men 2019
Salomon Techamphibian 3 Men's – (94.95)
The name says it all amphibian and tech, giving you the best of both worlds on land or in water. Great for grip on slippery rocks, as well as walking through dirt and mud. This is the pair to go with if you need water shoes that will go everywhere with you on and off the water. [Purchase: $129.95]
Keen Clearwater CNX – ($99.95)
Keen makes great sandals and shoes, the unique thing about Keen is their sandals have a Toe Cap, which is a great feature for protecting your toes from rocks, cactus, and various hazards. Keen also has contoured arches in their sandals which offers great support, which is not the norm in sandals. The Clearwater CNX is available in both a Men's and Women's version blending a closed toe shoe with a sandal for a mix of both worlds. [Purchase: $99.95]
Teva Terra Float Knit Sandal – ($99)
Teva has been making great shoes and sandals for years the Teva Terra Float Knit Travel is a great blend of the 2 shoes mentioned before. Covering more of the foot than the Chaco will allow the users to go beyond just river trips, but then again it isn't as rugged as the Salomon. The Teva Terra-Float Travel Knot Sandal is comfortable, lightweight and durable. [Purchase: $99]
Astral Hiyak High Top Water Shoes – ($125)
Astral has the shoe you want if you are kayaking before summer and need something to wear while scrambling up and down the trailhead while getting to and from your favorite rapids. Also good for boating if you are hopping on and off the boat and want to avoid urchins, rocks and especially live coral. This shoe is like a wet suit to put on your feet.  The Hiyak is a fast drying, lightweight and grippy river, and ocean water shoe. [Purchase: $125]
Astral Brewer 2.0 Shoe – ($110)
Editors Pick: I wanted to chime in here, with my pick for the best river shoe on the market.   New for 2018 is the Brewer 2.0 shoe from Astral that combines 5 years worth of feedback from their original water shoe into a new updated version that's well suited for just about every sort of water adventure you can imagine, especially for being on the river.  These shoes like most Astral shoes dry quickly, have a ton of grip for walking on wet rocks and plenty of protection for your feet.  If you find yourself on a guided river tour, most likely your guide will be wearing these shoes along with Astral's Green Jacket PFD.  (click here for our PFD review).  Trust the best and go buy a pair of Astral footwear. [Purchase: $110]
Open Toe Sandals
Or do you just need a really good pair of flip flops to rock to the pool and cabana?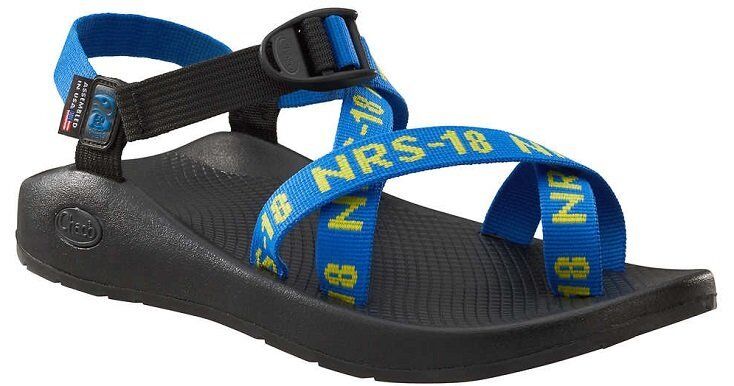 NRS Strap Chacos – ($130)
This is the sandal you want if you are going on a rafting trip and want grip, comfort but don't want to wear a closed shoe. Having an open toe is great for beaches and for time on the river, but be careful around cactus and thorns.  Chaco makes one of the most comfortable sandals out there and is the go-to for river rats everywhere.  Probably the best camp shoe/sandal on the list. Be sure to put sunscreen on your feet if you wear these for more than a few hours in the sun. [Purchase: $130]
Men's Reef Flip Flops with Bottle Opener – ($64.95)
If you're looking for a great pair of sandals to wear through airport security or to the ice machine at your hotel. Reef has what you need, the signature model named for professional surfer Mick Fanning has been a favorite of the Mountain Weekly for years. These are perhaps the most comfortable sandals in the world. [Purchase: $64.99]