Leonardo da Vinci once said, "The human foot is a masterpiece of engineering and a work of art". He's totally right. Our picks for best women's snowboard socks, guaranteed to keep your feet happy, warm and dry. Oh and PS these are also great women's ski socks.
Best Women's Snowboard Socks 2020
What if you could find a way to prevent wetness, odor, and blisters on your feet? The Wigwam Ultimax Snow Whisper Pro is designed for advanced riders. Made with exclusive Wigwam Ultimax moisture control, each pair of lightweight socks keeps you comfortable, and dry in powder, ice, and slush through every season. 
Breathable, stretchable fabric is ideal for your footwear in any condition. During snowboarding, and ski season, Burton women know that wicking away sweat is essential to performance. The midweight sock has the ideal combination of compression, venting, and padding to alleviate pressure. Enjoy the release of excess moisture, and heat that can rob you of vital body heat, and comfort zones strategically placed around your feet to reduce pressure. Additional features of Burton performance midweight socks include all-over elastic support, chafe-free link toe seam, DRYRIDE® Ultrawick Venting toe panels, quick-drying, and odor-resistant reinforced footbed, merino wool blend for breathable comfort. 
The mountain demands that you go hard, so you need the extra comfort of Smartwool. In the season's best snowboarding socks, the Smartwool Women's PhD Snow Medium socks feature cushioning on the shin, and calf, riding heel, and toe side, mesh zones, plus the 4-Degree elite fit system in ZQ Certified Merino wool ski socks. Look your best when you hit the powder in these Smartwool socks. Available in a range of bright colors so you look fresh, and feel comfortable on the slopes this season.
These all-weather performance Yeti socks are guaranteed for life: no strings attached. Made with the ultimate fiber for breathability, Merino wool delivers comfort in every condition. The True Seamless® Undetectable seam leaves your feet feeling smooth, and invisible in footwear. Darn Tough Yeti Socks are sturdy with mid-level cushioning underfoot with an over-the-calf height, plus fine gauge knitting for a put it on and forget it feeling. The performance fit socks deliver no slipping, no bunching, and no blisters! Put your feet into BEAST mode with these performance socks for a smooth ride. The perfect amount of cushioning, and durability makes these socks as legendary as the burly Yeti they are named after.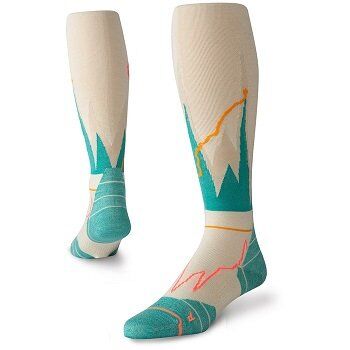 These thin snow socks are made for backcountry enthusiasts who want to maximize their performance. The snug fitting socks benefit your style with ultra-thin, and responsive Stance Off-Piste Ski Socks made of Wool Feel 360®  material in graduated compression to optimize blood flow. Your recovery speeds up so your performance can continue to excel in these Stance Off-Piste ski socks designed with a performance arch, mesh, reinforced heel, and toe, and machine wash care. Ideal for easing foot fatigue, the Stance Off-Piste ski socks are for preventing blowouts, muscle soreness, and strain. 
Adventure junkies know that the right pair of socks matter – especially when the difference between you, and a long week on the mountain could be as small as a blister. Most riders have personal preferences about their gear. You may also want to invest in making your feet happy by purchasing the best snowboard socks on the market made with non-itch Merino wool. Nothing is worse than hurting your feet during the peak of the snow season so, go ahead, and do yourself a favor with Pure Athlete socks. Socks that stay up, and keep you comfortable, and warm while you ride are invaluable. Keep your feet light, and free with anti-odor technology that stays comfortable all day in snowboard, or ski boots without sliding.