Bogs must have been invented with that old saying that in the Tetons that we have 3 seasons — summer, winter, and mud season. Because having gotten my first pair of Bogs just as everything started melting out freakishly quickly, the Bogs Bozeman Tall Boots have been nothing short of eye-opening.
Bogs Bozeman Tall Waterproofing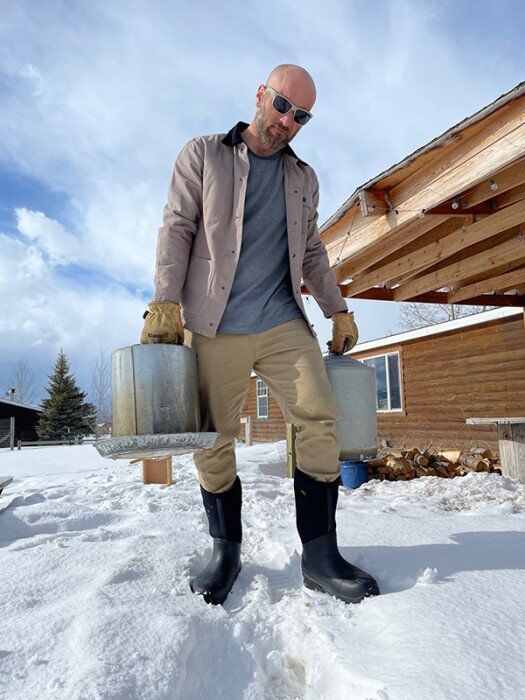 Let's start with one overarching fact: TL stands for Tall and these are what you need in any place where there is a big, muddy thaw around the corner. Some people may be fine with the ankle boot version but when I'm clomping around from a couple-foot-deep valley snowpack into quagmires and back, I end up mid-ankle deep in everything pretty quick.
But the TL is a foot high and 100% waterproof. With 7mm Neo-Tech waterproof insulation around the Yulex rubber (that's the most eco-friendly type of rubber, for those who don't know, doing the most to use bioprocessing of natural rubber) to guarantee your feet stay dry unless something creeps in over the top. And on that eco-friendly tip, the algae-based EVA footbed helps clean polluted water habitats.
The EveryDry and Bogs Max-Wick do the best job at ensuring your feet don't become a dank mess in these not-so-breathable super-galoshes. And despite all the ice I'm encountering in that interface between snow and mud, the slip resistant outsole works better than basically any of my conventional boots. And with a rating to -72F, you can play in the muck and mire for hours.
Finally, the Bogs Bozeman TL has a Neo-Tech stretch to really clamp down; I've actually got a pair a whole size down from my street shoe that fits perfectly, stretching enough to get my foot in while reducing the clunkiness inherent in needing a big waterproof boot.
Who Are These Boots For?
I'm not really a farmer. But I do have chickens. I have to tromp through snow into chicken mush to drop their food by the run, have to walk across my mostly-snowy yard to fill up their water, and there's nothing worse than wearing a "nice" pair of boots into the run to mush through thick mud filled with old food and, uhhh, excrement. Especially since I have to feed them first thing in the morning, when I'm functioning at quarter speed at best and hate having to put on boots. These Bogs slip on, then I'm ready to go.
And if it's mid-day, when it's as slushy as Wyoming's signature alcohol drink, I really fell in love with them. I'll add that the Vans Chore Jacket help complete an ensemble that you can rock in the yard but will fit in just as well bellying up at the bar.
But it's really my day-to-day life where I've rocked these. I can throw them on to run to drop off and pick up the kid at school, or to go to jiu jitsu where I've gotta take off my footwear upon arrival at the gym. And when I finish a day of snowboarding, in that mushy car-and-gravel-filled parking lot, let's just say that these Bogs are made for apres-comfort.
Overall Impression
Yeah, it's tough to find anything I hate about these boots. A lot of waterproof galoshes have little to no insulation, which doesn't work for me when I actually need waterproof boots. And then there's the whole cowboy boot thing, which may be durable and made for stomping through mud but I'd known friends to break an arm slipping on ice rocking them in winter, highly impractical these things. And if you have to do any yard chores, from feeding chickens or horses to planting a garden the second the spring thaw softens the soil enough, you want boots that you don't worry about getting completely splattered in mud and crap.
Pretty much if you're ever walking where wet snow and fresh mud collide, the Bogs Bozeman TL ($149.99) is a no-brainer.
Related Articles: