The newsest Burley creation is the Burley D'Lite Bike Trailer, the best bike trailer/jogger/baby transporter ever put together. Anytime you're moving on paved roads at a decent clip there's the danger of your child falling at high speed and hitting his or her head; when you're on dirt trails, you have to worry about what's too much vibration and what if coming around that corner you clip a stump.
Burley understands this. And it's this understanding that fueled the D'Lite
Burley D'Lite Bike Trailer Video
Burley D'Lite Stroller Kit
When my son was first born we didn't have a ton of money and just went for a low-to-mid-level option, a predecessor to Bell's Smooth Sailer Bike Trailer. I could feel it bouncing on every bump on the creek trail; had to wait a long time until my son was big enough to fit in the straps and even then he had to ride it in a helmet since he had plenty of wriggle room. In fact, for most of his first year of riding, I had to strap his car seat in to keep him from shaking baby syndrome. And I was never 100% that he wouldn't fall out.
The D'Lite's seats, on the other hand, are padded and molded like a cockpit, with straps that can wrap any size baby (there's even an optional infant insert). My boy stays dialed in and digs how much more comfortable the straps are than the previous bare straps.
The ride is smoother than any other jogging stroller/trailer I've ever tried, including other premium ones. Most because of the suspension, adjustable from one little one to two big'uns. I pulled my son for long road cruises and it felt considerably lighter than my other trailer. On the rolling trails of the Targhee Forest, the chatter was almost nonexistent and I didn't get as nervous when I caught a little bit of air. And in both sun and rain, my boy Jackson never once took on either thanks to a secure closure and strong UV protectant. The kid definitely dug it.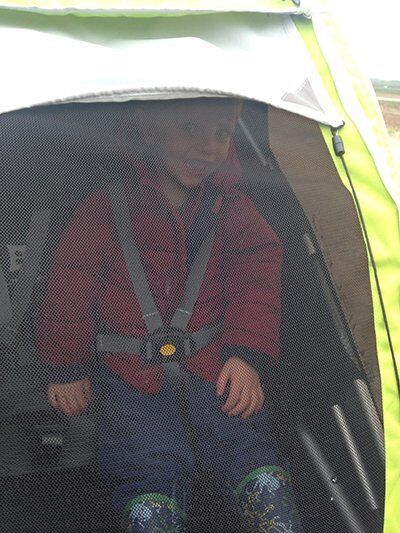 These make it far superior to any cheaper bike trailer and that security for your child combined with the efficiency of the ride makes it worth twice as much as its price tag. They also make it top of the line regardless of the competitor.
Burley D'Lite vs Thule Chariot
Where the D'Lite blows away all the competition — including Thule's Chariot, which is its main competitor for all intents and purposes — is its versatility. It has more cargo space for around-town commuting with the kid (grocery store trips are a great excuse for some exercise) than the Cougar 2 and with the fold-down seat, which no other trailer adds, you have a perfect bikepacking rig for when junior outgrows towing.
On the other hand, its ease of packing — flip two latches and it folds flat — comes in huge for throwing it in an any-sized car. And the vinyl UV protection windshield can be folded up, an option not seen in most other comparable models (Chariot, I'm looking at you.)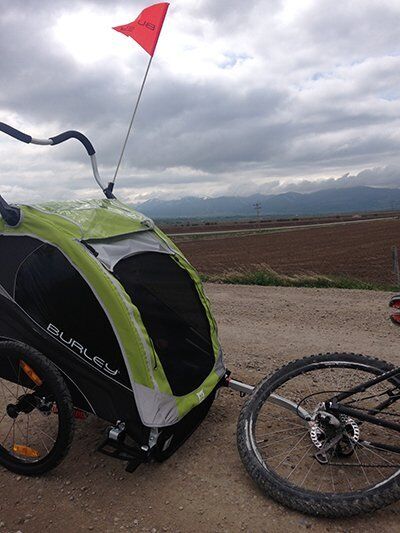 Not to be ignored is its adaptability to a running setup or a ski setup for the winter (with those kits on average cheaper than competitors' setups).
And with the D'Lite's unbeaten cargo space, it makes a great pulk setup if you want to use it to leave the kid behind and go for a weeklong winter trip.
Overall Impresion
As any outdoorsman or woman knows, cheap gear won't do. If you use it any considerable amount it'll break down. Its imperfections will slow you and, in many cases, can endanger you. Or in this case, your child.
Of every piece of gear you purchase, the Burley D'Lite ($700) will be the one you use the most. In the winter skinning down the trail or skate-skiing with a baby in tow. In the summer for long bike rides for exercise or even for commuting to the free concert at town square or the supermarket. We're all about dropping the carbon footprint these days and there's no better way than to minimize the amount of time you fire up the old truck. Your child will probably spend more time in this than anything else except for a backpack and, as he or she grows, even the backpack will be cast aside. A bike trailer is a piece of gear that will be a huge part of your outdoors life for years to come.
For a thing that has such an impact on your child's safety and will likely provide you with years of faithful service, you don't want to compromise. This is the best. Unless you want to give up your active life, I suggest any expecting put it on your baby registry; if you're already in parent, spend a bit of that rainy day on the D'Lite.
Of all the gear I recommend, I can guarantee this is the one you absolutely will not regret plunking down that hard-earned cash on.
Related Articles: