The Burton Hitchhiker Binding is a splitboard binding collaboration between Burton Snowboards and Spark R&D.  Burton wanted their own splitboard binding so they hit up our friends at Spark R&D to take over the manufacturing.
Spark R&D Tesla T1 System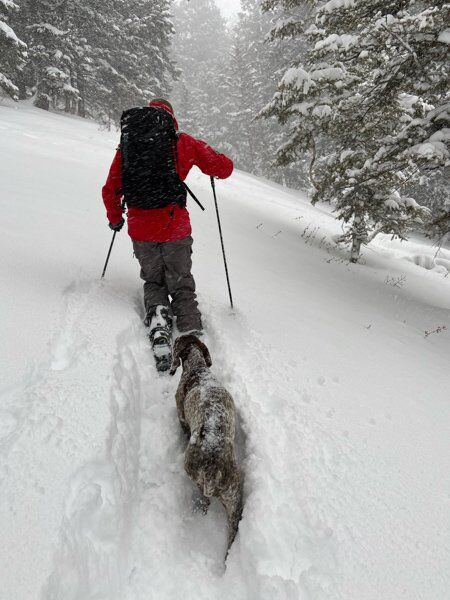 The Burton Hitchhikers functionality is for the most part exactly what you find with all the Spark R&D Bindings.  The frame of the binding is built off the tried and true Spark R&D Tesla T1 System.
For backcountry touring the bindings connects into the touring bracket via the snap ramp. The system is very foolproof.  Nothing much can go wrong here.
In ride mode the system allows the binding to slide over a set of pucks mounted to your splitboard and the snaps into place when in the proper ride position.
These bindings do not come with pucks to mount to your board, that's a separate purchase.  The Burton Hitchhiker Binding is compatible with Voile Splitboard Pucks ($55.00), the hard plastic ones that I recommend or Spark R&D has their own machined aluminum pucks available for sale.
The Hitchhiker Binding like all Spark R&D Bindings has 2 climbing wire settings built into the frame. If you feel the need to use the risers for steeper terrain you have two heights to choose from that are easily activated by pushing down on the Whammy Bars on the side of the binding.. Personally I like to put in skin tracks that do not require the use of a climbing wire. I will save that discussion for another article.
Highback
I have reviewed a lot of Spark bindings, this is one of the top 2.  Why?  Burton took one of Spark's great splitboard bindings and made it better.  The highback, the ratchet's and the straps on this Spark build got a serious upgrade from Burton.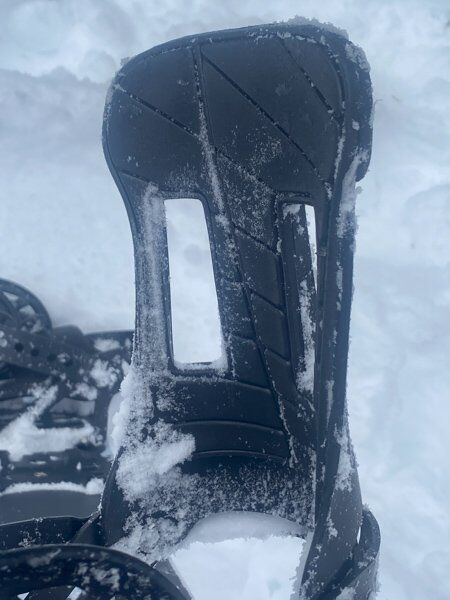 Lets start with the padded hi-back found on the Burton Hitchhiker Splitboard Binding. Spark typically uses a hard plastic carbon fiber composite highback, while Burton went a different direction and added some padding.  It makes sense Burton is one of the top snowboard binding manufactures in the world.  They know how to make comfortable, responsive snowboard bindings.
One thing that splitboard binding manufactures are using for marketing these days is making bindings with the ability to be negative forward lean for touring?  This is ridiculous at best.  You ankle flexes one direction.   In the photo below you can clearly see my highback, everything is moving forward, you could take the entire highback off and it wouldnt change a thing. It's barely even used.
Burton Straps and Ladders
For straps the Hitchhiker is outfitted with Burton's Hammockstrap and Supergrip Capstrap.  Both straps are incredible comfortable and have no pinch points which is important for long days touring.  I found the Hammockstrap stayed in place perfectly all day while at times the Supergrip Capstrap would actually move it's way a bit up my toe and sit atop my toe box instead of wrapped in front while touring in the Burton Spark Binding.  The strap still worked and performed, just looked kooky being over the top of my toes. Perhaps it was user error.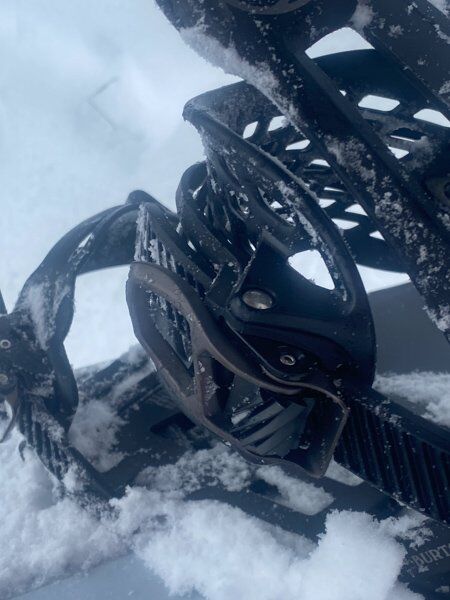 Spark has been using Burton buckles and ladders for years.  It's much easier to find spare Burton parts if you happen to break something and clearly Burton knows how to make a binding and all the little pieces that go with it. So for the ratchets Burton added their Double Take Buckles, these are burly ratchets ( you can see the teeth) what this does is allow you to buckle in twice as fast.  You may find it only takes 1 or 2 ratchets and your off.
With your straps and ladders on any Spark or even Union splitboard binding, be sure to put your feet in the binding first with your snowboard boot on before you hit the trail and realize you need to make a adjustment. Boots are wildly different in sizes these days, a thick toe box will require making the toe straps longer etc.  The trailhead is not really the best place to be bust our your screwdriver so dial this in at home.
Burton Splitboard Binding Sizing
Extra Small, 6-7
Small, 7-8
Medium, 8-10.5
Large, 11+
Regardless of where you fall in the middle of this spectrum you may need to make some adjust to the frame size of the binding before you mount it to your board.  Try and get an even amount of toe and heel drag.  Grab a tape measure and geek out a bit.
If you start making adjustments make sure the hardware is tight when you put it back together.  Splitboard screws are known to rattle out of place.  Locktite can work wonder to help keep everything in where it should be.
Overall Impression
It's sort of hard for me to believe Spark R&D would allow another company to make a better version of their bindings.  This is the case with the Burton Hitchhiker Binding ($489.99).  It takes all the best features of Spark Splitboard Bindings and mashes them with the technology and comfort that Burton Snowboard bindings are known for.  You really can't go wrong here.
The only thing Burton blew it by was not including a pad for the baseplate, however they're available for purchase directly from Spark R&D's website. I highly HIGHLY recommend you put the foam 3m baseplate pad on before using a metal framed binding. It will help cut down on chatter and the bottom of your feet will thank you later. And heck they only weigh 19g, you won't notice the weight I promise!
These bindings will sell out again this season.  heads up.
Related Articles: