A phenomenally rugged, stylish snowboarding boot, the Burton X Danner stands out from the rest.
In snowboarding, there's no name with more history than Burton. In hiking boots, Danner is in much the same position. So what do you get when the two collaborate?
Burton Danner Review
There's no mistaking the classic styling of the Burton x Danner collaboration. The brown and khaki colors echo the palette of many traditional hiking boots. The leather exterior of the boot brings to mind the boots worn by alpine explorers.
A few of the stylistic touches even harken back to the Danner Light, the first waterproof hiking boot with a Gore-Tex lining.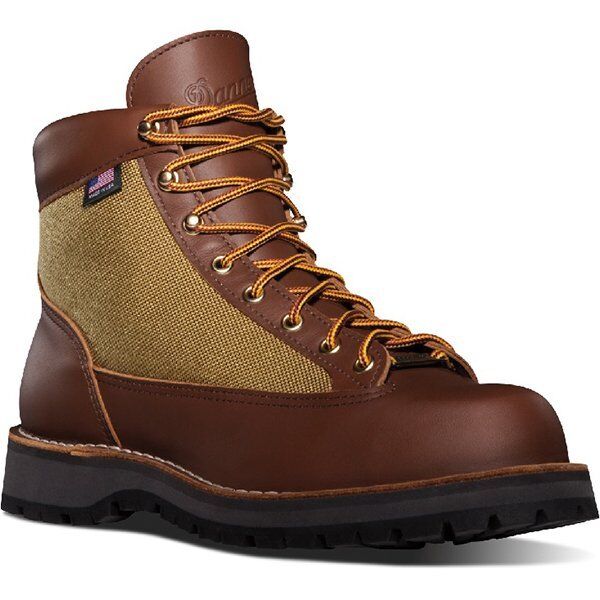 Danner brought this classic boot into the modern world with the Danner Explorer 650, and the influence of that boot on their collaboration with Burton is clear.
Burton Modern Technology
It's only the boots' looks that are classic, though. The technologies packed into the rest of it are as modern as any boot on the market.
Burton has been making world-class snowboard boots for a long time, and their expertise in fitting is on display. The Burton x Danner Boot utilizes Burton's IMPRINT™ 3 LINER and offers a 1:1 'medium-flex tongue' rating that makes for a really comfortable boot to wrap around your foot for hours on end.  One of the highlights is the use of Burton's Focus Cuff that will keep your heal in place, securely locked into the bottom of the boot.
The Vibram EcoStep rubber outsole is 30% recycled and built for a lighter construction, giving you tons of grip without a lot of extra weight. Whether you're on your board or in a chalet, you can be confident in the grip you get from this boot.
All of that grip usually comes with a cost: a bigger outsole. But Burton's Shrinkage technology means a size 10 has the footprint of a size 9 (how do they do that?!). This goes a long way in reducing toe drag.
And Burton's Sleeping Bag Reflective Foil traps body heat in the boot so you don't freeze your toes off on long days out in the cold. Whether you're riding the resort or shredding in the backcountry, Burton's warm tech will keep you more comfortable so you can focus on riding.
Overall Impression
There's a reason why both Burton and Danner are some of the biggest names in their fields. And this boots puts that heritage on display. There's no denying that the boot looks like like it came straight out of Danner's 1980s catalog.
But both companies have packed the boot with modern tech that keeps your feet warm and dry without adding a ton of weight. Add Burton's expertise in snowboard-boot fit and performance, and you have a boot that turns heads both for its looks and its ride characteristics.
If you want to stand out from the crowd, get the benefits of decades of collective experience and ride the latest technology, it's tough to beat the Burton x Danner Boot ($420)
Want to pair these boots with a solid snowboard from Burton.  We dig the tried and true Custom.  Learn more in our Burton Custom Flying V Snowboard Review.