2019 will see Capita Snowboards return to the splitboard world for the second year in a row. Find out what works with the Capita Neo Slasher Splitboard and what can be improved in my review below.
Positive Camber Under Foot
Over the past few months, I have had the opportunity to tour on Capita's Neo Slasher Splitboard here in the Tetons during a big La Nina snowfall winter. Where this splitboard excels is hands down on the descent.
Having never ridden a Capita until this board I was really stoked on how much fun the Neo Slasher was especially when it came to popping off small terrain features in the backcountry.
Perhaps that poppy feeling was due in part to Capita's use of traditional positive camber underfoot and flat camber in the rear. If you spent time snowboarding in the 90's or early 2000's, Capita's Neo Slasher's will offer a very familiar, responsive feel.
For everyone else especially those of you questioning how this board rides in the powder, see below.
As the video shows the Capita Neo Slasher Splitboard crushes powder, thanks in part to the addition of reverse camber where you need it most, at the tip and tail. Toss in layers of fiberglass in the top sheet and you have a splitboard that utilizes all the latest technology in snowboard manufacturing, hand built at Capita's Mothership factory in Austria.
Touring
Capita added Carbon Fiber beams to the nose of the Neo Slasher.  With this design, the board feels clunky on the skin track, especially while doing kick turns.  If you're going out on short tours the added weight in the nose is manageable.  Anything over a few hours and you will surely want a different board underfoot.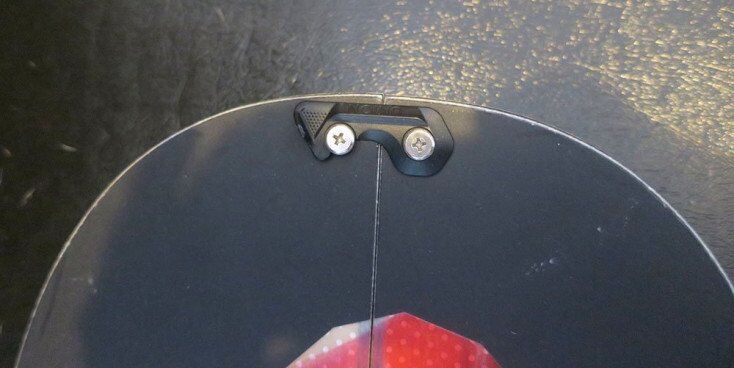 When it comes to putting the board back together Capita is using hardware from Union. The nose and tail clips will take a little getting used to and maybe tough to operate with a pair of snowboard gloves on.
The only downside I see here is a noticeable gap between the board.
Which never instills confidence.
The above becomes especially tricky if mounting Union's Expedition Splitboard Bindings to this board.  As if that gap shrinks or expands the Union interface will have a tough time going back together, it at all.
Overall Impression
If your focus is solely on the ride down, Capita's Neo Slasher Splitboard ($749.95) is a solid choice. After a few months demoing the Neo Slasher Split the durability is apparent especially with it's sintered base, heck the board looks practically brand new.  And more importantly still has as much snap as it did the day it arrived thanks in part to the tried and true camber profile.
You may even find yourself taking this board to the resort, it's truly a blast to ride.
Related Articles: