The Casio Pro Trek PRW2500 is a world class smart watch that punches high above its $330.00 price tag on any and all adventures. This is a high-powered machine with more automatic adjustments and configurations than a Google self-driver. All wrapped into a waterproof, crash-proof package that hugs your wrist like a good friend.
Casio Pro Trek PRW2500 Triple Sensor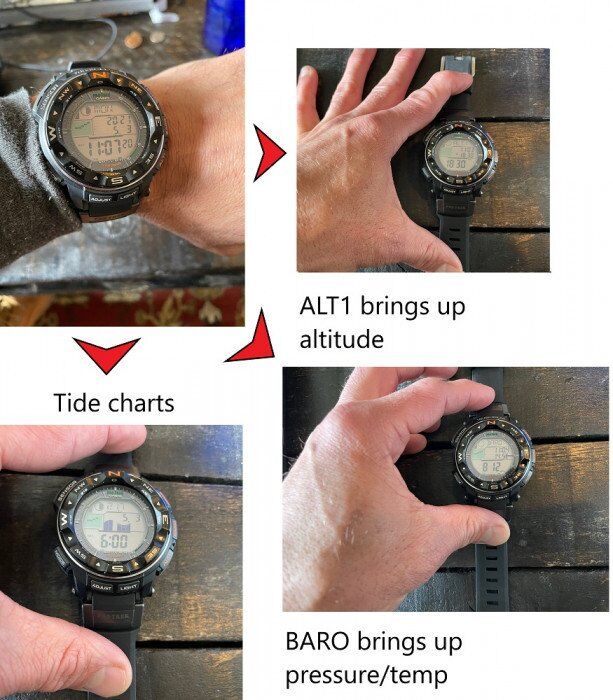 Let's start with the purpose of a watch — telling time. The Casio Pro Trek 2500 is hooked up to automatically receive atomic clock calibration in the U.S., England, Germany and Japan. But you gotta keep it working so it's equipped with a solar battery that seems to need hardly any direct sunlight but keeps running; apparently its battery can last up to 5 months without recharging.
There are triple sensors allowing easy operation for the altimeter, barometer, compass and thermometer. Since the altimeter tracks elevation from -2300 to 32800 ft., you'll pretty much never reach either limits unless you're on, like, an airplane. Check the barometric pressure with a graph that shows how it's fluctuating. The thermometer ranges from 14-140 degrees, so you might not ever hit the high though some snow adventures would probably hit the bottom. Throw in the tide-moon data graph and the 200m water resistance and it's just as good from peak to ocean. Seriously, the Pro Trek PRW2500 is everything you could ever want. At least on paper.
Casio Pro Trek PRW Performance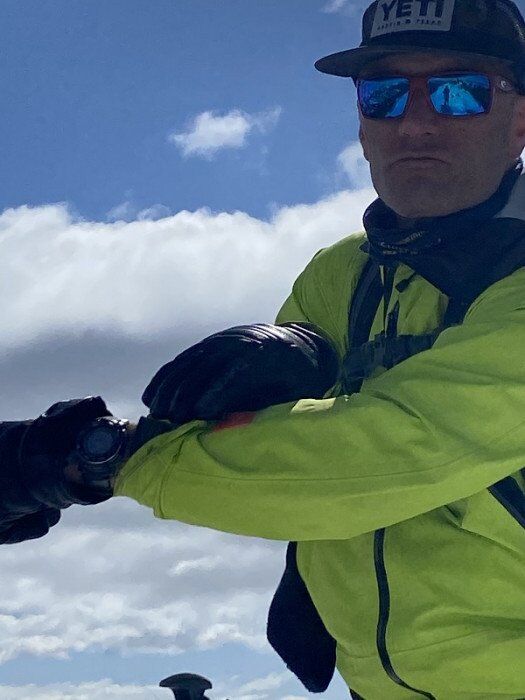 To start off, it was still on east coast time when I unboxed the watch. I figured, "okay, here it goes." It turns out that if you're not near an atomic clock transmitter, sometimes you have to manually reset it. Especially if you're blocked by mountains. So I flipped through the manual, tried a few times to link it to the Denver tower, and ended up manually connecting it to DEN. And that was the last thing I had to mess around with.
Everything else is super-intuitive. From the main clock screen, clicking on the ALT1 button will give an accurate altitude measurement from the sensor, unlike some watches where you need to put in a pre-known altitude and then it will measure increases or decreases. From the homescreen, I hit the BARO button and it immediately gave the pressure and the temperature surrounding you. But how does it handle?
Taking a watch on a ski tour can be tough. Wrapped in a glove, under the sleeves, smacking against trees, sweating hard. But the Casio Pro Trek PRW2500-1 hasn't even taken a scratch on short tours, bell-to-bell resort days, sled-to-skin missions. I worried about the buttons accidentally getting pressed but that never happened.
Finally, I took it out swimming and fishing, churning up water and reaching down into frozen, swift rivers. Not even a scratch. After months of constant wear, the Casio Pro Trek PRW2500's stainless steel and resin construction has the thing looking like it just got unboxed. But unlike other super-rubberized watches it doesn't pull hair out of my yeti-like arms.
Overall Impression
I've tried a few smart watches before and they were either too sensitive, needed too much manipulation, or just didn't seem to be up to the abuse I hand out to things, especially to things near my, well, hands. But in the Pro Trek PRW2500 ($330.00) I've found an adventure tool that performs like an Olympian, handles a beating like Fort McHenry, and is as easy to use as yelling out "Alexa, what's the weather?"
Yeah, it's a brave new world. And Casio has put the whole thing right on your wrist.
Related Articles: