The all-new Cyrusher Kuattro E-Bike has made a name for itself with an eye-catching paint job and quality specs to back up its bold aesthetic. The Kuattro's namesake (the number 4) makes reference to the fact that this electric bike is something more than your typical two-wheeler.
Priced at $2,099, the Kuattro is more expensive than rival budget models but its stylish design, powerful motor, and all-terrain attitude help to justify the extra cost. To see if it's really worth the extra cash, we got our hands on a Kuattro, ran it through tests, and included our thoughts below.
Backstory
Cyrusher (pronounced "sigh-rusher") is yet another Chinese-owned-and-operated electric bike brand, but it's been around longer than some of its competitors. This fall, they celebrated their 8th anniversary and launched the Kuattro electric bike at the same time. The brand's bread and butter are electric fat tire bikes and has historically focused on folding and mountain models. The Kuattro is just as beefy as other bikes in the line-up but is best suited for tamer uses like weekend joyrides or commuting.
Cool Paint Job
The first thing you'll notice about the Kuattro is its vibrant paint job and colorful rims. Amid so many rival brands fighting for a piece of the ebike pie, Cyrusher stands out by outfitting its bikes with colored rims— a rare sighting on fat bikes and certainly something that spices up the look.
So if bold colors are your thing, Cyrusher is a great brand to check out. The Kuattro comes in bright cyan as well as white for a more subdued option that's still unique.
Step-Thru Frame
Even for fat tire ebikes, the Kuattro is a massive bike. Cyrusher says this model is ideal for larger or heavier riders and I would agree. The one-size frame is rated to fit riders between 5'4" and 6'6" but I'd bump that up to a minimum recommended height of 5'6". The step-thru design works wonders for people with limited mobility or folks just getting back into riding who want to be able to mount and dismount the bike easily.
The total payload capacity is 330 lbs. The Kuattro weighs a hefty 74 lbs. so riders who want to transport the bike occasionally will need a specific bike rack that can handle the additional weight.
750W Rear Hub Motor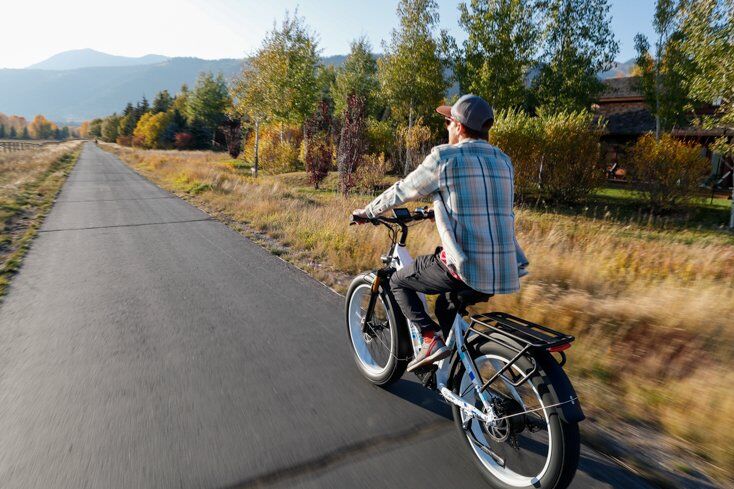 The high-powered Bafang 750W rear hub motor puts the "rush" in this Cyrusher model, pushing out 80Nm of torque and a top speed of 28 mph. It's slow at the start since there's no cadence sensor so you'll notice the Kuattro's serious heft as you get going. Once it's off the line though, this thing machine is impressively speedy— we clocked in at over 35 mph during our testing!
There are 5 pedal assist levels as well as a throttle mode engaged using a right-hand twist throttle. The bottom bracket area looks as if it would fit a mid-drive motor, but, of course, the Kuattro rocks a rear hub motor. This trend among several ebike brands is still throwing us for a loop; perhaps in the future riders can retrofit their bikes with individually-sold mid-drive units.
17Ah Battery
The Kuattro runs on a 17Ah battery housed inside the downtube. The beefy downtube connects to the seat tube with some extra frame material above the pedals that raises the step-thru height, but it's still accessible for a variety of riders. The range is estimated between 20-50 miles and I'd say the low 40s is closer to the actual distance on a single charge while riding in the lower pedal assist levels.
The battery loads along the bottom edge of the downtube and can be a bit tricky to remove with so little space between the frame and the front wheel. We discovered a trick of angling the front wheel and wiggling the battery out that way.
Components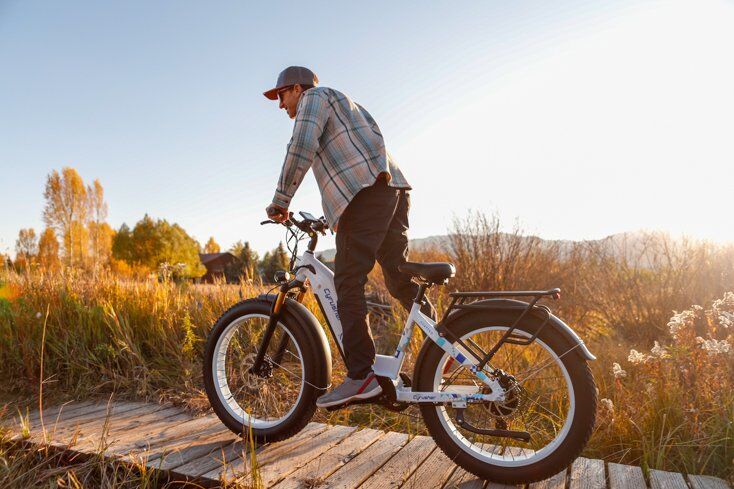 When it comes to its mechanical components, the Kuattro comes with a Shimano Tourney 7-speed drivetrain and SiS shifters. That ubiquitous budget ebike shifter saves costs, but I was expecting a higher quality trigger shifter considering the bike's price tag. The Kuattro falls short with its noticeably narrow handlebars. I'm hoping the next generation comes with wider handlebars that give more leverage to steer the big bike and fat tires. The stock handlebar grips were quite hard during testing, so I recommended doing your hands a favor and slapping on a pair of softer grips.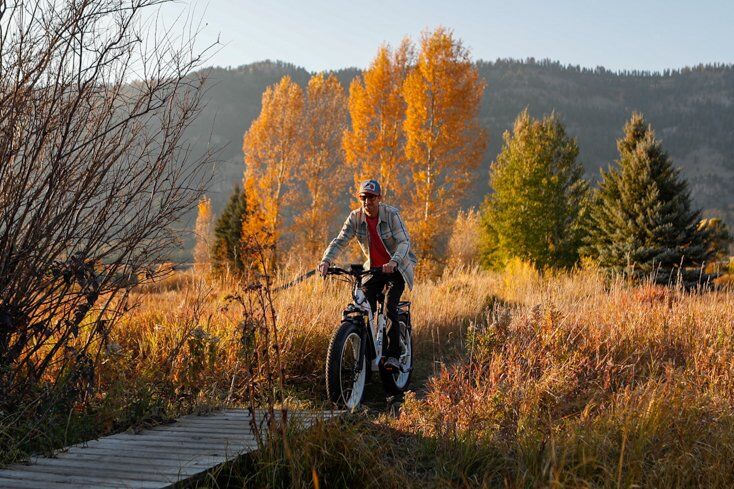 The Kuattro comes with 26"x4" Chao Yang fat tires. That rubber isn't anything to write home about, but it'll get the job done and look great installed on the colored rims. I appreciate Cyrusher's choice of 180mm hydraulic disc brakes over mechanical brakes for improved stopping power on such a burly ebike. The front fork has 80mm of travel to absorb potholes and navigate over choppy terrain.
Added Features
I was curious to see the Kuattro's accessories and finishing kit in action. At the front, there's a 250-lumen headlight with a built-in horn. Both can be button-activated on the handlebars and the impressive horn is loud enough for riding in traffic. The heavy-duty rear rack is sturdy and adds lots of utility with its large surface area— a rear light sits neatly tucked into the back of the rack. While on the bike, the beach cruiser-style seat is soft and comfortable with a bit of springiness.
LCD Screen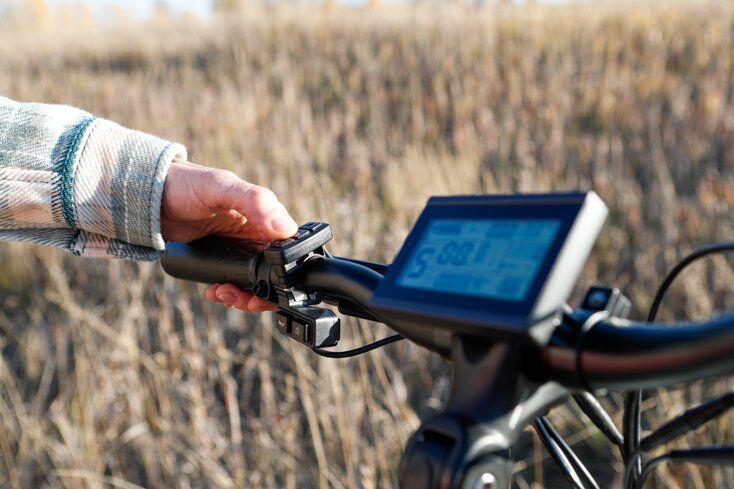 One feature that pleasantly surprised me was the 3.7" black and white LCD display. It even shows the outside temperature! It's not a full-color and app-integrated display like that of rival ebikes, but I love the back-to-basic approach that's simple, super intuitive, and actually easy to read at a glance. The blue backlit mode for night riding is great, too. The no-frills display reminded me of the simple stats shown on gym machines like rowers or stationary bikes and in this increasingly digital world, sometimes less is more.
Overall Impression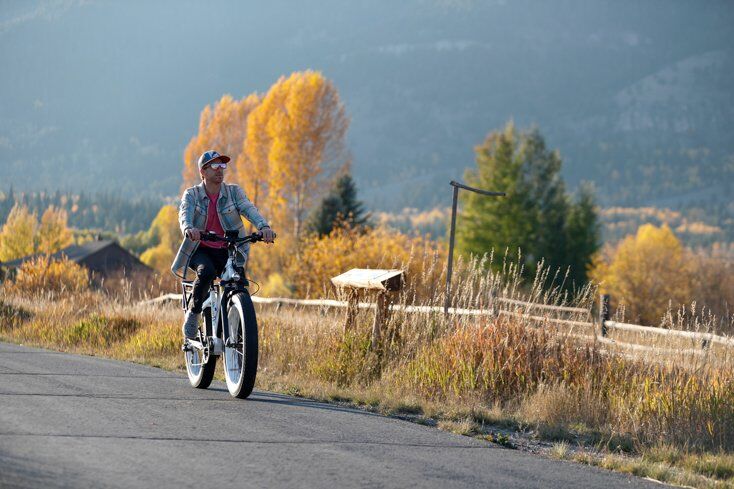 While not a purebred commuter or trail ebike, the Cyrusher Kuattro embraces a generalist approach and do-it-all-well attitude. The ebike is designed for comfort and boosting mobility for a range of users and is ideal for larger, heavier riders. The Kuattro feels at home on weekend joyrides and its beefy build lets you take fun detours onto dirt or gravel sections.
Compared to rival ebike brands, the Quattro's ($2,099) higher price pays for the bold design and paint job which can be well worth it for style-conscious riders. If you are looking to get back into cycling in a big way or to simply pimp your ride, the Crusher Kuattro surely makes a statement.
Related Articles: