Whether it's the shop next to the Auntie Anne's or the old Ford that brought them there, most people think of the mall when they think of Eddie Bauer. And that's not exactly fair, since EB was making legit outdoor gear since Edward Bauer made the first quilted down jacket back in 1940. Sure things got weird for a bit in the 90s, but really that's true for all of us. But EB is getting back to their roots, in more ways than one, with the Eddie Bauer MicroTherm 1000 Down Hoodie.
As part of the "First Ascent" line, the Eddie Bauer MicroTherm 1000 Down Hoodie is designed, and sold, as a legitimate piece of outdoor apparel. This isn't just a fashion fleece, or a budget puffer for challenging expeditions from the car to the restaurant. It's got everything you need an insulating midlayer to do in the backcountry, and it looks the part without looking over the top.
Outdoor Insulator
As with any down insulator, the most important part of the Eddie Bauer MicroTherm 1000 Down Hoodie is the bird bits. And talking about down means talking about fill-power, and EB has plenty to talk about with this one. It's rated at 1000-fill, the highest rating found in most down clothing. "Fill-power" measures how much space a down cluster will fill; the more space the more air it can trap the more heat it will retain.
This doesn't necessarily mean a jacket with a higher fill-power is warmer, as there's also the question of how much down there is in a jacket. Take for example The North Face Nuptse Jacket. It's iconic look comes from the absolutely massive amount of down it's filled with. Which is why despite being "only" 700-fill, the Nuptse is one of the warmest coats anywhere.
However all that down comes at a cost, literally as well as in how comfortable the jacket is to wear. Anyone who's spent time in an old-school "bubble goose" like the Nuptse knows they're warm, but they're also bulky and hard to move in. By using a higher fill power down the Eddie Bauer MicroTherm 1000 manages to pack warm warmth in while maintaining a lighter, and less bulky, fit that's perfect for more active pursuits.
Beyond that this jacket provides everything you'd expect from a "true" outdoor insulator. It's got a spacious hood designed to fit over a helmet (or over the skull of a reviewer with an extremely large head), and stuffs into it's own pocket for easy storage. Under the arms and extending into the back are stretchy fleece panels, improving breathability and mobility in a key area. Taken all together it makes for a very warm jacket, providing powerful insulation on cold days but never feeling oppressive on cool ones or when worn during more active pursuits.
Constructed from partially-recycled polyester, the structure of the jacket is a standard down insulator look and feel, with horizontal baffles that keep insulation distributed evenly while allowing for improved articulation while wearing. Note that it is "merely" water repellant, allowing you to shrug off light snow in town but it is still designed to be worn under a waterproof and windproof shell in the backcountry.
Eddie Bauer Down Vs Outdoor Industry
If the above description of the Eddie Bauer MicroTherm 1000 Down Hoodie sounds familiar, it's because practically every outdoor brand makes something like this. The North Face has their Summit Series Breithorn Hoodie, Outdoor Research the Helium Down Hoodie, Arc'teryx makes the Cermium SV Hoody and Patagonia has a few with the SugarDown or Fitz Roy Hoodies probably being the best match.
There are a few differences. As discussed the Eddie Bauer MicroTherm 1000 Down Hoodie features 1000-fill power down, just like the Cerium SV. Which is of course more than the 800-fill found in the offerings from TNF, OR, or Patagonia (or the comparably-priced Arc'teryx Cerium not-SV). Either this allows the EB offering to be warmer than the competition, or it provides the same warmth with less bulk. Either way, you win.
But if you hung them up on a rack, hid the labels, and asked someone to pick which was which, most people would have a hard time. Because the reality is that this type of jacket is extremely simple in it's design. They're all down insulators and while the MicroTherm 1000 may have an advantage in the quality of it's down it's not like the 800-fill jackets are miles behind.
Likewise the construction is practically identical. They all use thin synthetic fabric to maximize breathability while minimizing weight, and the quilted design is nearly a century old so it's not like there's new innovations on that front. Granted brands do have their distinctive tailoring, but the reality is across body types and simple matters of taste what fits one person best is less a matter of "good or bad" than simply being preference.
So what objective differences remain? The Eddie Bauer MicroTherm 1000 Down Hoodie is similarly-priced to the TNF and Patagonia Fitz Roy options, both of which only offer 800-fill down and without the stretch fleece underarms allowing for an extended range of motion. Likewise the construction on the OR Helium and Patagonia Sugar Down are simplified compared to the EB, in addition to their lesser down. Arc'teryx offers you a choice of comparisons, with the Cerium SV providing similar tech for $50 more or the 800-fill "regular" cerium for the same price.
Clean Look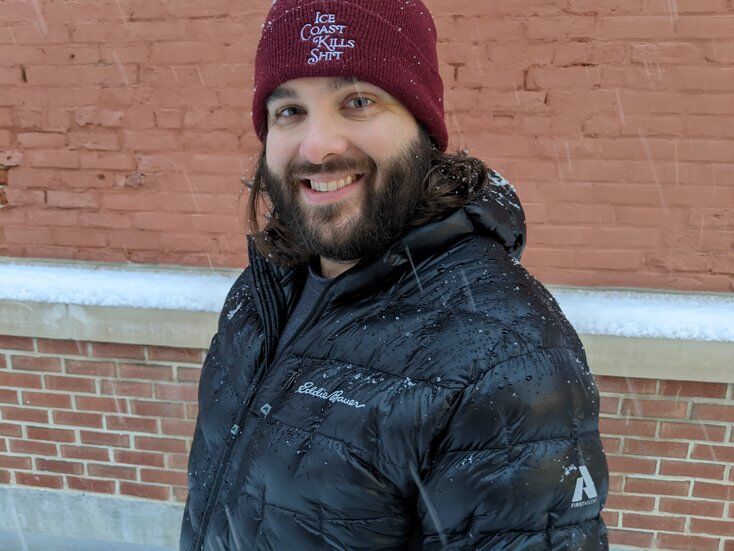 Of course in the real world you're probably not going to hide those labels. And for better or worse some people make assumptions about people they see wearing Arc'teryx or Patagonia. On the mountain they may think you're a try hard, and in town they may think you've got more money than sense.
But Eddie Bauer? They fly under the radar. The classic script wordmark is subtle, making it clear that this isn't some fashion-brand "performance" jacket you got online. But it also makes it clear that you're not trying to impress with a jacket that's more capable than you are. It's a blank slate, with no baggage attached. Which leaves you free to wear, and use it, as you see fit.
Overall Impression
So throw on a shell over the Eddie Bauer MicroTherm 2.0 Down Hooded Jacket ($259.99) and head for the mountains no matter the weather. Or wear it on it's own for quick trips around town. In either case you'll be well prepared for whatever you're facing.
Related Articles: