For most of us, our first introduction to the vast, magnificent world of the wild was a family camping trip.  With that in mind, below are the best family camping tents.
Best Family Camping Tents 2020
The REI Kingdom 6 Tent is about as close as I'll get to have my own portable army barracks, this 2-bedroom suite is great for big families or even smaller families that just want some space.  A zippered wall can split this into 2 rooms — a luxury when you're a loving couple with memories of backcountry romance from before you had to start sharing the tent with a couple of rugrats. At 20 pounds you're not carrying the REI Kingdom 6 Tent anywhere but when I plopped the 83-square-foot base 75-inch-high 75-denier nylon tent a couple of yards from my truck at the trailhead, I made a basecamp for days of adventures followed by the kind of sleep you just don't get in smaller tents. With the vestibule, you get basically a lean-to gear shack but add in the garage and it's bigger than my wife's and my first apartment together on Newport Peninsula. REI makes a great family camping Tent in the Kingdom 6.
The Marmot Limestone 4P Tent is practically bulletproof and, even more important, basically humidity-proof. With 40D polyester no-see-um mesh for an unmatchably breathable but bug-proof canopy and 68d Polyester Taffeta 190T 1500mm for the fly, you could be in the middle of a summer Assateague Island mosquito swarm with the fly off for stargazing and coolness and not get a single itchy bump or devolve into a sweaty mess. And the DAC DA17 Poles' simplicity and the canopy's freestanding design make it one of the easiest tents to put up, even if it's just you and the kids on your first 1-parent-only campout.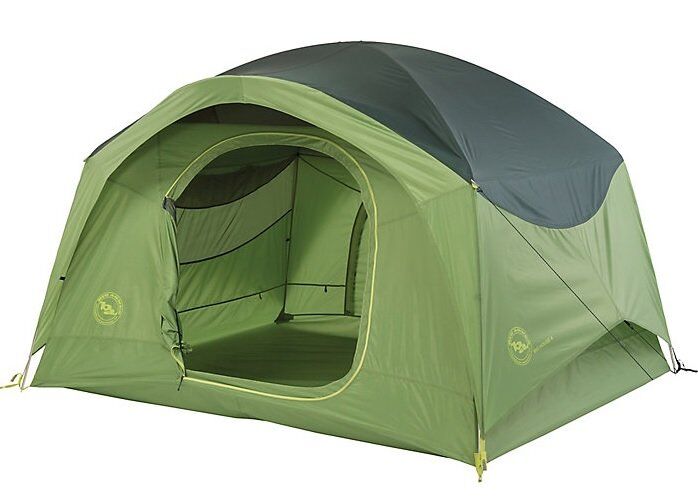 The Big Agnes Big House 4 is every bit a backpacker's basecamp tent with its 8lb 4oz weight. This is probably the best blend of price and quality when it comes to 3-season/4-person tents for rowdy backpackers, though you sacrifice some waterproofness with "only" 1500mm coating on the floor and fly. Still, with 6-foot ceilings that only have a slight curvature out towards wide square walls and its optional cavernous vestibules (highly recommended as they almost double your square-footage, a necessity when trapped inside by storms with a younger family, like I was just off the road in Nowhere, Idaho), there's no better backcountry/car camping Shangri-la for the American nuclear family than the Big Agnes Big House 4 Tent.  One of the best family camping tents 2020.

This is the most hi-tech engineered tent on this list. At less than 6 pounds in full, 4 pounds 11 ounces when taken to fast and light mode, you'd be hard-pressed to find a much lighter 4P. With 53-square-foot floor, the Pappa HubbaNX 4 Person Tent is more voluminous than its not-quite-4-foot ceiling would lead you to believe. Made of 20D ripstop with a 1500mm rain fly, this 4-person, 3-season, 2-door portable bedroom is so light you have plenty of room to carry the rest of the family's gear too and ensure the kids make that 7-mile hike without complaining. The MSR Papa Hubba NX Tent is my go-to for family camping adventures in the high alpine wilderness, like our mission to get the kid to our secret lake deep and high in the Winds.  One of the best camping tents of 2019.  Hands down.
The Eureka Copper Canyon 12 comes with 9 poles for setup. 14 by 12-foot floor and 7-foot high ceilings with big flat walls. A blend of 75D 190T Storm Shield and 1200mm coating ensures that family you introduce to the great outdoors don't get washed away during their first outing while the 2-room divider cuts down on the creep factor of two families, 1 tent. I really liked setting it up in the acreage-heavy backyard for a bonfire party where the kids could run in there and chill, then warm by the fire, then into the garage climbing wall and eventually pass out in a near-glamping situation while we grown-ups carried on into the late night.
The Mountain Smith Conifer 5 Tent has a height of 6'2" and 84 square feet of floor space (plus 33 feet of vestibule space), it's about the size of that hotel room you squeezed the family into on the last trip to San Francisco. Obviously for a 3-season (PU 2000 MM fly, poly breathable tent) super-suite with a suitcase-style stuff sack, you're talking a lot of weight and at almost 15 pounds you'd have to have your family-weight-distribution game on lock (it does incorporate Clip-pole attachment to get it down) to make it into a backpacking pack. But at 22inches by 10.5 by 10.5 the Mountainsmith Conifer 5 Tent it'll fit very easily in your overloaded car.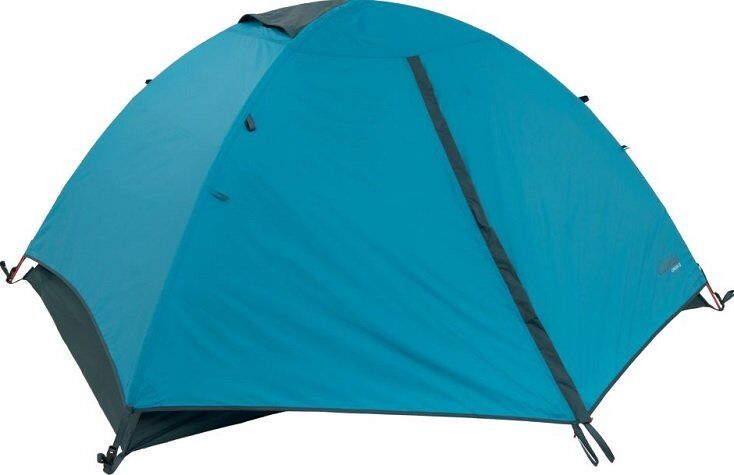 Do you need a tent that can take all nature throws at you and your small family in the backcountry for cheap, portable wilderness protection that doesn't break the bank? The Cabela's Orion 3 Tent weighs in at only 6 and a half pounds despite aluminum poles, a 47-square-foot footprint (with 8-foot vestibule) and 3000mm waterproofing (as well as a 1500 waterproofing fly). Plus it comes in a striking blue, perfect for spotting your tent after a day of wandering off in the middle of nowhere. With the Cabela's name and emphasis on ruggedness, this is probably the best tent you can find for you, the spouse and the kids for under $150 bucks.
Wondering where to go camping?  Take a look at the list of great family campgrounds below.
Family Campgrounds Near Me