The Five Ten Aleon is an aggressive sport climbing powerhouse to front point up the crag. There's every other climbing shoe company, and then there's Five Ten; at least that was one of my first climbing lessons.
Five Ten Aleon Rubber
Whether you agree or not, there's no debate that Five Ten Climbing Shoes Stealth C4 rubber grips rock tighter than Tyrone Biggums. And when Five Ten created the Aleon by combining C4 Rubber with a downturned toe and socklike upper, the world ended up with one of the most aggressive rock-huggers on the planet to send that mind-blowing sport route. If you can get your feet in.
Aleon Feel
Again, Stealth C4 has a well-deserved reputation as arguably the best climbing rubber out there. Five Ten calls the Aleon a moderate downturn but it feels like a bit more than that; in reality, it feels like it turns your toe into a ballet slipper frontpoint, especially with the concave toebox. The Primeknit upper give 5.10's Aleon the fit of watersock, so that they don't feel like a shoe but more an extension of your leg. Though my toes went into blistering pain the first time I put them on.
Five Ten Aleon Testing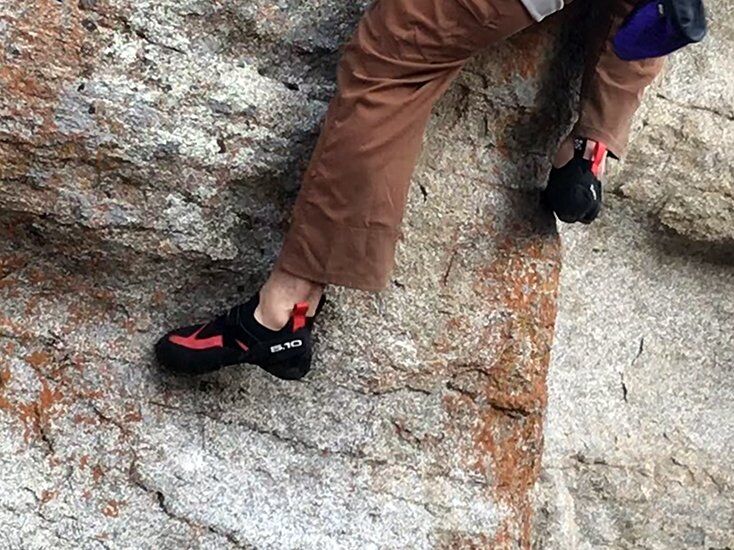 I was lucky enough to get in a last trip to City of Rocks last fall where I threw these Five Ten Aleons on fresh out of the box. The first thing I noticed was really how much they forced me to put all my weight on my big toe (even though it's not my longest toe so it didn't feel natural). Since then, I've been doing plenty of gym climbing and, since covid19 quarantine started, I've been climbing in my garage climbing wall. But with its downturned and concaved toebox, I've noticed how much easier it is to get my foot onto a small nub, but with its medium flex I could flatten it out a little for trying to smear. A LITTLE. This would be rough for a long slab. But obviously it's a great shape for toe and heel hooks. As long as you can handle the pain.
Aleon Fit
The first thing I noticed about these shoes, a size smaller than my street shoe (as I go on most climbing shoes, and some even smaller), was how painful they were out of the box. Like, after 15 minutes I was having trouble ignoring the pain enough to climb. They force your foot to value the big toe (unnaturally in my case, since my index toe is longer than my big toe. I climbed a 2pitch sport climb and by the end my foot felt like it was on fire. I did a couple more climbs and then my toes were in too much pain to climb the rest of the day, even after I changed into more comfortable shoes. I'd heard from people that you can't break in Five Ten downturn shoes like the Aleon but that's trash; you ABSOLUTELY need to try and expand these, or shrink your foot. Either way, after months of regular climbing on them I can finally put these shoes on without howling and leave them on for close to an hour. Still give a little pain. But as the saying goes, no pain, no gain. And the Five Ten Aleon is made to gain.
Overall Impression
If you're serious about getting that 5.13 sport route, you need shoes that are just as serious. With rubber that's stickier than Spiderman and a toe that shapes your foot into a mutant nubhanging super-appendage. Just remember the Five Ten Aleons are about the tightest climbing shoes I've ever tried on, and strong enough to resist breaking in anytime soon. But then again, who needs to feel your toes when you're punching it up miles above your previous paygrade? Because if all you care is sending the impossible short crazy route, the Five Ten Aleon ($189.95) is your perfect shoe.
Related Articles: