Perhaps the tackiest, confidence giving rubber comes underfoot in the updated Five Ten Guide Tennie. Find out how the Five Ten Guide Tennie approach shoes performed while hiking and scrambling in the Teton Mountains.
Five Ten Stealth Rubber
What makes this shoe work? Dotty™ tread coupled with Stealth® C4™ rubber outsole.
Talk about grip. The Five Ten Guide Tennie is a great all around shoe for hiking, climbing and just about any outdoor pursuit that has you going through mountainous and especially rocky terrain.
One of the great features of this pattern is the Dotty™ tread which allows you to easily balance on the smallest, sharpest rocks you can find. It almost feels like someone is holding you up in place while standing in a pair of the Guide Tennies.
Five Ten Guide Tennie Sizing
Have you ever worn climbing shoes before? If so the fit of the Five Ten Approach Shoes will feel normal to you. For everyone else, these shoes are a little tight when you first put them on out of the box. After a few minutes, however, the Guide Tennie (keyword here Tennie), starts to fit more like a pair of worn-in hiking boots or for the younger crowd a comfortable pair of skateboard shoes.
Even the laces on this shoe work well with an extended lacing option for even more flexibility and adjust-ability depending on the day's needs. Five Ten's Guide Tennie is an ankle-high shoe with Suede/synthetic material for the upper and heavy duty rubber outsole.
Overall Impression
Weighing less than a pound (13.2 oz) the Five Ten Guide Tennie is a shoe that can be worn on long days without much effort. You won't feel like you're lugging these approach shoes up the mountain, instead, they will as the name implies Guide you up the mountain.
Don't be fooled into thinking this is just an approach shoe or comfortable light hiker. The Five Ten Guide Tennie with it's beveled climbing toe can hold it's own on rock faces. And it's not just the toe, the entire front half of the shoe is wrapped with the Stealth® C4™ rubber making it a great shoe for rock climbing.
So far so good. I look forward to using the Five Ten Guide Tennie ($120) as my daily driver in the mountains this summer. To be honest you might even be able to run or bike in this shoe was well, although Five Ten has plenty of other footwear options to choose from for those disciplines.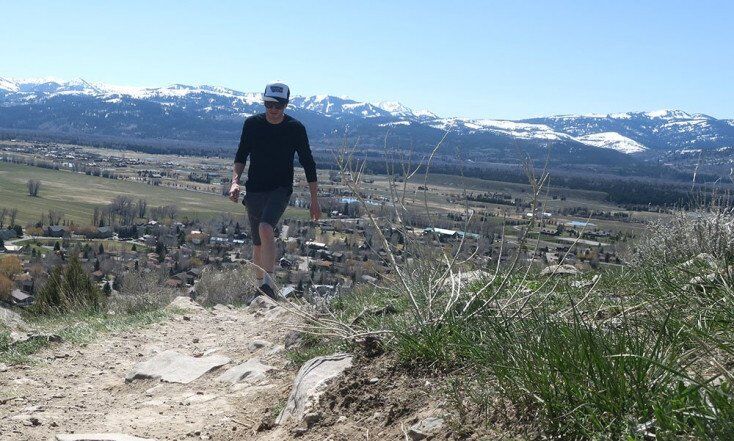 If you don't currently own a pair of Five Ten shoes, let's change that.
Related Articles: