If your fly fisher needs a new rod, you absolutely can't go wrong with the Redington Crux Fly Rod. It's one of Redington's top-of-the-line rods, complete with pre-compressed cork grip, Line Speed Taper tech, and increased connectivity between sections for superior feel. It's designed to work well for short-, mid-, and long-distance casting. In short, it's an amazing all-around fly fishing rod.
It's certainly an investment, but the Reddington Crux Fly Rod that will make any fly fisherman or fisherwoman smile, and keep them smiling for a long time. With fifteen different combinations of length, handle style, and rod weight, you'll be able to get the perfect rod for your recipient, no matter their style or preferred fishing spot.
If you haven't had the opportunity to throw an Echo 3 Fly Rod I would strongly recommend it. The Echo 3 shown above with an 18lb Coho is one of Echos most advanced rods, built with high modulus graphite fibers, equaling strong and light. I felt completely at ease letting the rod do the work battling pods of dime-bright, screaming coho. For me, the 10' 7wt is a great streamer stick for big water. And, for the price, it can't be beaten. Also, the lifetime warranty is crucial, even though that's par for the course these days, these guys had my rod back to me in two weeks.
Whether you're gifting a fly rod or you just know that your friend or a family member needs a new reel, you can't go wrong with one from Orvis. With tons of options like the affordable Clearwater Large-Arbor ($69-$129) to the ultra-lightweight Hydro SL ($239), there's a reel for every fly-fishing enthusiast.
We didn't recommend specific Orvis Fly Fishing Reels because each reel has a different best use. Some are for lighter rods, some are for heavier. Some have more drag, some have less. So your best bet here is to talk to a friend of your recipient to find out what they might like or do some snooping to see what will work best for them.
When you're standing thigh-deep in cold water, you need the best protection you can get. And when it comes to outdoor gear, there's no beating Patagonia. The Patagonia Rio Azul Waders are their lightest, most easily packable pair. With fully taped seams, neoprene booties, and waterproof-but-breathable construction, your fly fisher will be more comfortable than they've ever been.
These are men's waders, but Patagonia has fantastic women's waders as well—check out the Women's Spring River Waders that include a reach-through handwarmer pocket, convertible chest-or-waist height, and a female-specific fit.
Have an aspiring new fly fisher? The Orvis Clearwater Vest is the perfect setup with everything you need to get started and the quality to keep up with your progression. Lightweight, breathable and a pocket for everything you will want to carry make this one of the best fly-fishing vest of all time.

Once again, Patagonia is changing the game. Their new redesigned Patagonia Foot Tractor Wading Boots have aluminum bars built into the sole offering superior traction while wading. The malleable metal actually bends to match the slick boulders or algae-covered bedrock. Combined with Patagonia's durability and iron-clad guarantee, these boots will have you fishing for many years to come.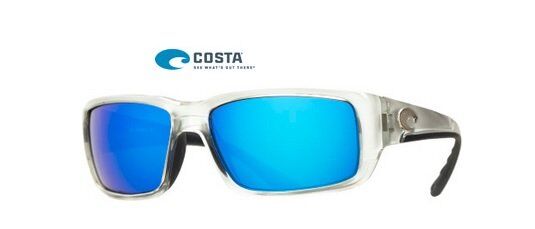 The best sunglasses on the market. The Costa Del Mar Fantail Sunglasses offer superior protection and clarity. With the Fantails spot those monsters lurking before they spot you and be able to read the water like never before. For the best clarity get the glass lenses.
You might not think of a plaid shirt as being a gift specifically for a fishing enthusiast . . . but Columbia packs so much fishing-friendly technology into this shirt that you might be surprised.
The shirt itself has UPF 30 sun protection, warding off sunburn on long days in the stream. Roll-up sleeves with tab holders make it great for a wide variety of weather. And there's even a rod holder above the left breast pocket for when your recipient needs to keep his or her hands-free. It really is made for fishing.
Fly fishing gear isn't cheap, and it can be hard to pick the right piece of equipment when everyone has their own setups and preferences. But this hat is beloved across the board. The Flexfit sizing makes it easy to find the right fit, and the patch on the front is an American flag with fish instead of stripes. What more could you ask for?
Top 20 Pieces of Fly Fishing Gear