I was hesitant to buy a SUP because I have a super cool Prius and limited storage space, and a kayak wasn't even in the cards. However, the Freein SUP 10'6 Inflatable Kayak folded up in its portable travel backpack immediately caught my eye.
Setup & Inflation
I was impressed with the Freein Kayak SUP from opening the box it was shipped in to zipping up the last corner of the travel backpack. Firstly, it was intuitive to get the Kayak SUP up and afloat. It was painless to inflate and deflate, the detachable fin took me about three seconds to figure out how to screw on (no additional tools necessary), and I got the kayak seat to clip on to the D-rings on the first try.
After pumping this bad boy up, it was so sturdy and solid that it unlocked another fear of mine- not being able to carry it from the car to the riverbank. However, the handle made maneuvering it easy, even for someone with T-Rex arms (I'm 5'2"). On the water, I had no problem keeping my balance, which I'd love to take the credit for, but I'd have to justly give it to the EVA traction deck.
One of my biggest qualms about air mattresses is that it calls for the use of every limb to get the deflated mattress back in the bag. This bag, however, was a generous, but not obnoxious size. After putting the Kayak SUP, oar, paddles, seat, pump- essentially everything that it came with, it was full but could still fit a towel and a water bottle. There was even a pocket inside if you want to store the smaller pieces.
The only downside I can think of is, as a kayak, since it's so buoyant, it sits higher on the water than a noninflatable kayak and thus catches more wind.
Features
There's a GoPro mount, a bungee to store a dry bag, extra D-rings if you have an occy strap and want extra security for your items, and a pump adaptor that allows you to hook up a bike or automatic pump.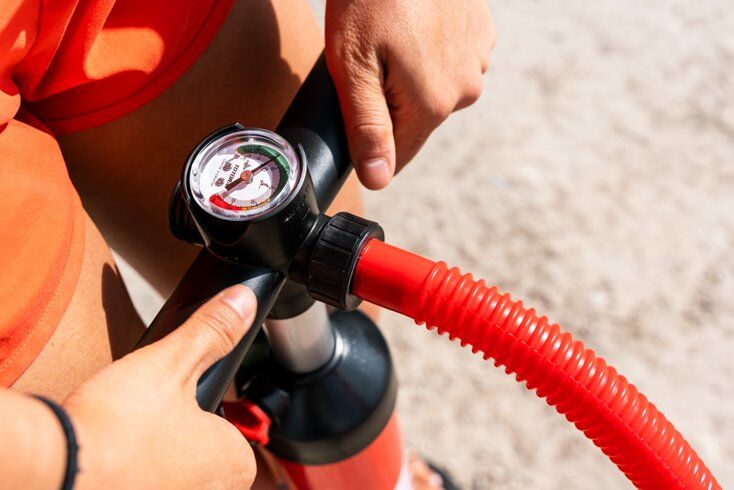 Who's This Board For?
The Freein Inflatable Kayak SUP is ideal for chill days on the lake or river and for anyone who wants dual functionality and values space. Paddling upstream on this Kayak SUP was effortless and stable yet easily maneuverable, so I'd recommend this product to beginners to intermediate riders.
Overall Impression
This product was very well designed and made well in every aspect, and I highly recommend it. With the Freein Kayak SUP on sale for $249 (which is 53% off the original price) with the board, seat, pump, paddles, and bag included, it's a total steal.
Related Articles: