Trying out the Giro Emerge MIPS Helmet, I was a little skeptical – it looked bulbous but stripped down. Still, I've been wearing helmets religiously since that one time I accidentally went inverted in the Steamboat park in 2001 and landed on the helmet I'd just gotten as a Christmas present. And so I've gone through quite a few. The Giro Emerge MIPS has proven much lighter than it looks, fits much better right out of the box than ANY snowboard helmet I've ever tried, and takes impact like a sumo wrestler.
Giro Emerge MIPS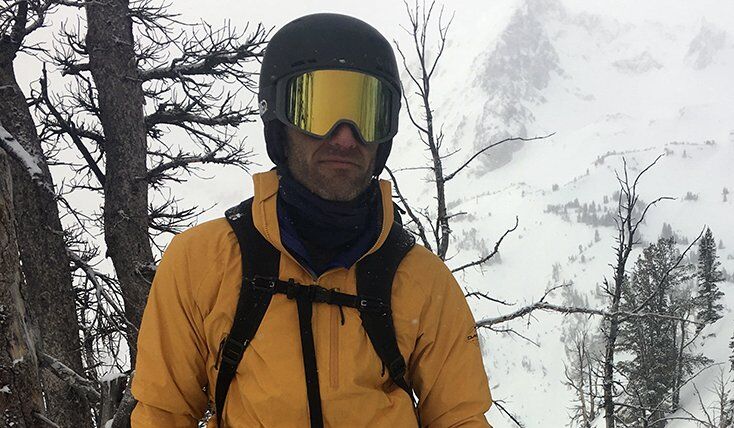 I'm not a big fan of helmets that make you look like a road biker who took a wrong turn on the last downhill. The Giro Emerge harkens back to my old Pro-Tec skater days – a bucket with a couple holes for ventilation. Simple but effective. And the slight brim lip not only maybe provides a little sun pro, it also seems to help keep the helmet flush with even the thickest of goggles to prevent gaper gap (or Jerry Gap?). But maybe it has that skate style because this is specially made for park hotlaps and kicker sessions. In which case, how did it hold up under impact?
Why MIPS?
The Giro Emerge MIPS Helmet uses, well, MIPS. That's probably the most important thing to look for when starting your helmet search if you ever spin even so much as a 180 – it's what allows your helmet to adapt to the weird glancing blows we get from slamming our head at a weird rotating angle, for example. Or a glancing blow from a branch when you catch one during a hard turn in the glades. I had some fun with it when I caught a barely submerged shark fin in the middle of a laid in turn (damn early season snowpack) and slammed against a downed log with the side of my head. The good news? I didn't crack my skull. Didn't even get a knot on my dome. In fact, it didn't even concuss me. The Giro Emerge MIPS has a ton of padding, and in fact if you really want to kick it up you can pile on more padding that it comes with, or tone it down if it's too cushiony. They call it the Stash Fit padding system. I call it dialing in your comfort however you want.
Which brings me to the final stuff, the extras. Ventilation holes. While the Stack Vent isn't adjustable (openable/closeable), I never felt cold enough to need to close them. Supposedly they're made to reduce goggle fogging; my goggles didn't fog up on both the super warm and that 1 super frigid day I tried it out. And I tested the waterproofness – my biggest issue with perma-open ventilators is when you get snow trapped in them, and then it falls down, and you get an ice cream headache. So I did a headstand, really drove it into the snow. When I stood up, the snow didn't get through the insulation padding inside the helmet. My head stayed warm and dry. Because for sure this internal Polartec padding is every bit as snug and comfy as you could want, but with the basic out-of-the-box configuration the snow doesn't trickle down from the vents onto your head.
Overall Impression
When I first looked at the helmet I was worried it would be big and sit high. I put it on and it sank onto my skull like an Eazy-boy, never once overheated, held tight and even took a few hard early-season blows without my skull even feeling it. With over 30 years of experience starting with bike helmets (which, let's be honest, bikers probably have a helmet on their dome almost more time than any other type of athlete given the long miles and hours), it makes sense that they'd put insane tech into a comfortable, tight little package found in the Giro Emerge MIPS Snow Helmet ($139.95). But in nailing that stripped-down boarder style I love – that's the icing on the cake.
Related Articles: