The all-new Granite Gear Crown2 38 Pack makes carrying a load of camping gear that much easier thanks to the use of an internal frame. Without the removable frame in place, the backpack drops it's weight down to a mear 1.6lbs.
Granite Gear Crown2 38 Storage
With a lightweight design and plenty of storage space, the Granite Gear Crown2 38 Backpack is one to consider for your next backpacking trip or as I prefer for long day hikes.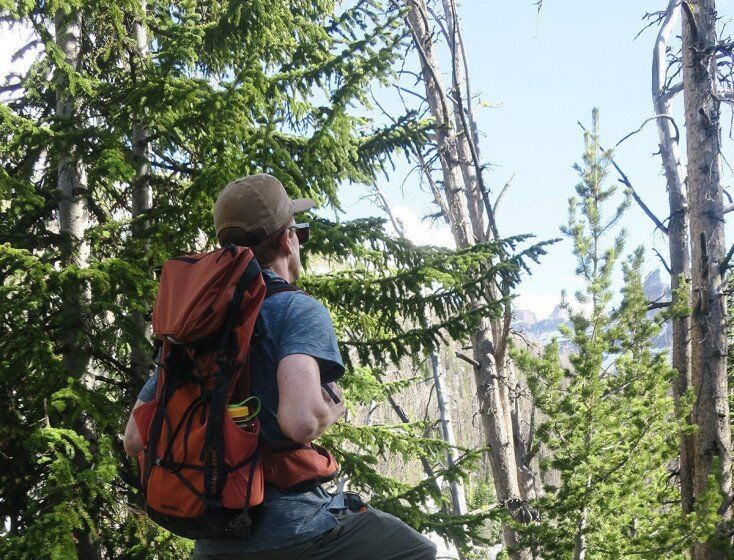 Granite Gear Crown2 38 Weight
At 2 lbs. 1.5 oz. Granite Gear has found a way to put all the bells and whistles typically found in larger framed packs from other manufacturers into a slim fitting backpack. If you want to shave more weight the Granite Gear Crown2 38 comes with a removable hood which brings the weight down to 2lbs. 1.0 ounces.
Speaking of removable, the adjustable hip belt can also be taken on and off. This makes for a nice solution when traveling through an airport or hiking without the need for lugging around added weight.
The Granite Gear Crown2 Backpack has a 35 lb (15 kg) load rating, and the ability to carry 38 liters / 2320 cu in.
Crown2 38L Storage Capacity
With 38L of storage space, the pack is ideally suited for carrying a load for an overnight backpacking trip or even 2-3 days. One of the nice features of the pack is the top-entry design. Packs like these seem to offer even more additional space than advertised, as felt in the case of the Crown2 38L Backpack from Granite Gear.
When packing the Granite Gear Crown2 38 Backpack for camping a sleeping bag, tent, and sleeping pad fit vertically inside with lots of leftover room atop the bundle. I hike off-trail a bunch, so putting everything inside the packs works for my needs. However, if you prefer to put a tent on the outside of your pack the Crown2 Backpack has a mesh sleeve in the middle along with attachment points at the bottom.
On the side of the Granite Gear Crown2 Pack is 2 larger open pockets for holding water bottles, bear spray tons of snacks, and more.
Overall Impression
With a light-weight feel, great breathability and a moisture-wicking back panel, Granite Gears Crown2 is the sort of backpack that's easy to forget you're wearing. And with a reasonable price tag of only $184.95 for the Crown2 Backpack.
Related Articles: