When Helly Hansen decided to pay homage to the Norse god Ullr, a legendary skier, hunter, skater, archer, etc… and possibly Thor's stepson, you best believe they put everything they had into it. And for my money (and yours), the Helly Hansen Sogn Shell Jacket is a jacket worthy of the winter sports gods.
Helly Hansen Sogn Jacket Warmth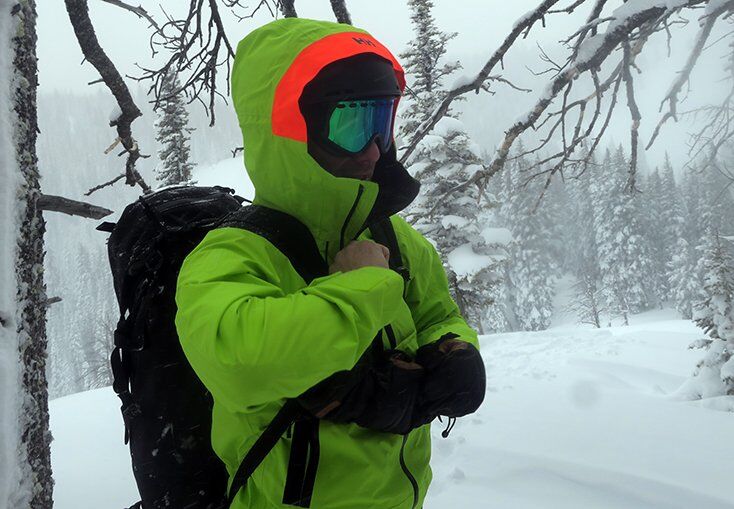 The Helly Hansen Sogn Shell was tested in a "Historic" storm. We'd had a slow year in the Tetons. And then January exploded, dropping like 10 feet of snow or something crazy in 2 weeks, closing (for a brief, claustrophobic afternoon) all roads into or out of Teton Valley and bestowing upon us a snowpack that just doesn't quit. Though I might've if I didn't have the right gear for wet-ass snow that doesn't even fully dry out when the howling winds slice it through me. JHMR called the snowfall historic (like joining a consortium of other ski resorts to create a superpass).
On the first day I tested the Helly Hansen Sogn Jacket, the temperature was supposed to be warmish (at least double digits) but the wind and the wet made it sleeper cold, so much so that my partner's split pin (that was part plastic) snapped when he cranked it down (the plastic part, that is). I didn't feel a thing. And my phone didn't freeze dead (thanks to the insulated pocket), though Mike's camera did.
Then booting up Glory, I hadn't realized it was cold anywhere but my face. When somebody pointed out the white tinges on my face, I just pulled up the Sogn Shell Jacket's monster hood and zipped up the flaring collar and kept on. A great thing about the hood is that it's big enough to comfortably fit over a snowboard helmet so I kept it up for the descent. Another great thing? The colors.
"Does that thing have a battery?" a ski patroller asked me as I passed by him at Targhee.
"No, but it's great for my son seeing me in a 'Ghee whiteout," I yelled back. Because seriously, this thing stands out more than a square suburban dad at a Lizzo concert. I got the Azid Lime jacket, with its blaring orange hoodbrim, and my son could see me from anywhere. So could Mike. It all but ensures your partners will be able to spot you. And looks great in those snowy glamour pics.
Helly Tech Profesional
The Sogn Tech Helly Tech Profesional 3L fabric with its DWR treatment is just water- and windproof enough to keep it from stinging and freezing (without being a restricting piece of water armor) but breathable and light enough to tour even without any dedicated ventilation (it has some ventilation through what I've been using as pockets but for that reason it wasn't super practical for me).
They put in RECCO for that one time you get lost in a drainage ("Wait, this isn't The Bearclaw?"). But probably one of my favorite things for the Helly Hansen Sogn Shell Jacket is the insulated device pocket. Not only is the smartphone the easiest highest-res camera you can tote along on your missions, it doubles as a way to call for help and you can download all sorts of useful GPS and topo apps on it. And Insta immediately to, you know, induce FOMO.
Or you could be like our publisher Mike and carry a sick handheld cam in the pocket. Because phone or handheld cam, they're both useless if they die and those damn things have a habit of dying when they're cold. Which, again, is why Helly Hansen added this insulated pocket to the Sogn Shell, right next to your heart. Obviously they know what's up.
Overall Impression
So from time to time I see Jimmy Chin posting a ridiculous pic and he notes that he took it on a simple iPhone. As the saying goes, "The best camera is the one you have on you." For tons of us that's a smartphone. Helly Hansen knows this, that's why they added an insulated breast pocket to their Ullr Freeride Sogn Shell Jacket. But that's also why they built a jacket that can withstand the rowdiest conditions while letting a mountain athlete breathe, especially perfect for the all-too- common mountain days that start in the negatives and end in the balmy 30s. Helly Hansen's Sogn Shell ($375) is that rowdy big mountain jacket especially great in the whitest of whiteouts, for a price even a dirtbag can swing, and with a brilliant but simple pocket, like the ones Paul Newman hits in "The Hustler", to ensure you can capture your biggest days for posterity (or summon a heli if you've punched a bit above your weight).
Related Articles: